Speaker Fee Range:
$15,000–$22,000
*Ranges are a guideline only, with the low end representing the speaker's virtual fee and the high end representing their in-person fee. Fees are subject to change. Contact us for an exact quote.
Travels From:
Colorado
Related Categories:
Jeff Evans
Adventurer, Expedition Leader, High Altitude Medic, Physician Assistant and Humanitarian
For over 25 years, Jeff Evans' global experiences as a world-class mountaineer, guide and emergency medic have helped him master the skills of servant leadership, handling adversity, teamwork, communication and trust which are the cornerstone themes in his keynote and breakout sessions. Jeff's amazing adventures and challenges have given him the tools to become one of the most dynamic and inspirational speakers on the circuit today, delivering his message to tens of thousands of audience members and changing the way we approach our roles within our work and family environments.
Jeff reminds us that, in fact, we are all guides in some capacity… professionally and personally. By utilizing real life stories, vivid images and thrilling video from his adventures around the globe, Jeff is able to extract impactful themes which are applicable for every audience member and weave them into memorable, humorous, thought- provoking and paradigm-shifting keynotes.
Jeff's…
Embracing Your "Expeditionary Mindset"

The Expeditionary Mindset is based on applying the optic of the mountain guide as we operate in our team settings. The guide is always willing to adjust the route up the mountain so that it's congruent with the set of variables and conditions that are presented to the team. A guide understands the value in unpacking our backpacks and inventorying the tools and equipment in order to confirm that we have all the appropriate tools for the job, and then making adjustments as necessary. The guide is always considering how the team is acclimatizing as they move up the mountain. For the terms of this conversational topic, we discuss how the team should always be diligent on how we ascend the mountain, giving our "bodies" our "teams" the time necessary to climb the mountain in a healthy way. Occasionally that means we have to listen to the signs, pump the breaks a bit and re-calibrate. This mindset also teaches us to manage the storms that circle around us…assessing forecasts and determining when and how we will move from camp to camp in a safe and efficient way.

Teamwork

Whether you are roped up in the mountains or roped up in a business initiative, you will win together or lose together. Either way, your fate is inextricably connected to those on your team. To promote positive rope team health, each member of the team should be constantly assessing, in real time, how they can contribute to the overall team dynamic. Jeff stresses that we are all connected by a rope…and in some cases, now a virtual rope. So undoubtedly it is more critical than ever to be paying attention to the "tension of the rope" that we're all connected to and nurturing the concept of The Collective Power of One that the rope creates. Jeff has lead countless rope teams throughout his career and one thing always rings true...the collective power of one that comes from aligning with teammates can propel us forward. It simply requires our attention.

Communication & Trust

Jeff has honed his communication skills guiding his blind adventure partner Erik on mountains, rock faces and races all over the world for over 25 years. This partnership has been successful only because the two men have placed the highest level of trust in each other…where every step, jump and move matter. Jeff uses many of the situations he has encountered while guiding Erik across challenging terrain to illustrate the power and effectiveness of a "High Comms, High Trust" team.

Discussion points…
• Using a very dramatic video clip of Jeff and his blind teammate Erik jumping off a 40ft cliff into a river below, Jeff illustrates the need for reciprocal trust.
• Encourage audience to develop collateral relationships based on trust and commitment to each other.
• Much of trust is built on open communication. Stepping out of our "silos" to reach each other.

Servant Leadership


Discussion points…
• Jeff describes the selfless attitude of the Sherpa to convey the nature of a Servant Leader. Working for the overall success of the team. Not interested in personal accolades or summits. No complaining or whining. Just go out and get the job done… for the people around them. That's the "Sherpa Attitude". Another term for that is Servant Leadership.
• Servant Leadership… leading from a place that is centered around fostering the success of others. Whether teammates, clients or family. Nurturing others to help them identify their models of success and guiding them up the route that optimizes their particular skillsets.
• The world needs more servant leaders. Adopt the Sherpa Attitude both professionally and personally.

Embrace your Inner Mountain Guide" Virtual Series


This live or alternatively prerecorded virtual keynote is a condensed, pandemic-specific event. Through the roughly 30-minute talk, Jeff distills out the learning opportunities that were baked into his life experiences as an Emergency Room Physician Assistant and international mountain climbing guide and draws out the parallels and relevance to the uncertain landscape we all find ourselves currently navigating, both professionally and personally. The result is an engaging, humorous, real-life storyline that provides the audience with solid take-home tools to move forward in these complex times.

Topics Include:
• Embracing your inner mountain guide. Tapping into the characteristics necessary to be an effective guide.
• Nurturing trust within the "rope team" in an unfamiliar and remote landscape.
• Learning how to communicate effective and transparently with your "rope team" in a remote and unfamiliar landscape.
• Implementation of the "Sherpa attitude" of stepping up and pulling your weight in complex times. Looking for ways to be a selfless leader.
• Mapping out new routes to climb upwards when the route you chose isn't fit for safe travel.
• Embracing accountability for yourself and your team.

Commitment


Discussion Points...
• Jeff reflects back on how he committed to digging out climbing ropes on Mt Everest @ 28,000 feet to secure his team's safe ascent. In doing so, he willingly "gave up his own summit." By showing the team his level of commitment, the team charged forward, inspiring Jeff to continue on as well. All 19 team members summited Everest together on the same day shattering the previous record of 9 from one team in one day.
• Encourage audience members to look for opportunities to show their team their level of commitment… to dig those ropes out when presented with a chance to do so.

Resiliency


Discussion points…
• Using Jeff's work with his No Barriers Warriors organization (wounded veterans), Jeff outlines examples of resiliency and fortitude in the face of adversity.

Being a "Guide"… Both Professionally and Personally


Discussion points…
• Regardless of your professional role (or title), we are all guides… both professionally and personally. Definition: One who shows the way by leading, directing or advising. We are advisors, leaders, problem solvers and members of multi-dimensional teams. Being a guide and problem solver requires balancing and optimizing a cocktail of leadership, communication, accountability and critical thinking.
• Jeff then introduces the Sherpa and the "Sherpa Attitude" which incorporates all of these attributes.

Adversity


Discussion points…
• Jeff uses the experiences he gleaned from his team's 2nd place finish on ABC's Expedition Impossible to showcase adversity in an exciting and fun way.
• Jeff reflects on his time as team lead/medic for a trauma team on the front lines of the war in Mosul, Iraq. It takes a high functioning team to work effectively in a V.U.C.A. (Volatile, Uncertain, Complex, Ambiguous) environment.
• Adversity happens. Landscapes change. Attitude and adaptability are the ingredients to guiding your team through adversity in a constructive way.
• As a leader, your team is watching how you manifest your reaction to adversity.
• Without ever having faced strong adversity, one cannot expect to be an effective leader. What's critical is to embrace the adversity and learn from it. Don't shy away or back down. Hit it head on.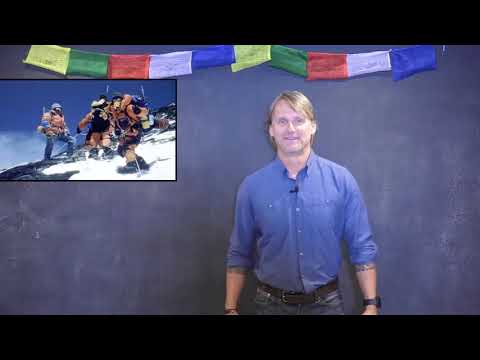 What is Jeff Evans's speaking fee?
The typical range for Jeff Evans's speaking fee is $15,000–$22,000. The low end of the fee range represents their standard virtual fee. The high end of the fee range represents their standard fee for a US-based in-person speaking engagement. Appearances which require an extended schedule of activities or international travel will possibly exceed this fee range. Speaker fees update frequently. To receive a personalized quote for Jeff Evans to speak at your event, please consult with a Key Speakers advisor for up to date information and assistance.
What factors influence the speaker's fee?
Other factors that influence a keynote speaker's fee include their reputation, expertise, demand, experience, duration of the presentation, travel requirements for the event location, and any additional services, activities or customization options they offer.
Are travel expenses included in the speaker's fee?
Travel expenses are typically not included in the listed speaker's fee and are quoted separately. If the speaker needs to travel internationally, fees will be higher. These expenses may include airfare, accommodation, ground transportation at home and in the event city, and meals. We can provide more detailed information about travel expenses and arrangements once you've selected a speaker.
How do I book Jeff Evans for my event?
The speaker booking process typically involves the following steps:
Browse our website or reach out to a Key Speakers advisor through our website to explore speaker ideas.
Select a keynote speaker based on their expertise, experience, and suitability for your event.
Contact Key Speakers to confirm the speaker's availability, fees, and any unique requirements. We can also help negotiate fees and terms.
Submit a firm offer to extend the invite to your speaker. These details will be used to create an agreement once the speaker accepts.
All parties coordinate and finalize the terms of the booking, including contract terms and conditions.
Confirm the booking by signing the contract and making the necessary payments.
What types of events do keynote speakers typically speak at?
Keynote speakers can speak at a wide range of events, virtual or in person, including conferences, corporate meetings, industry conventions, seminars, workshops, fundraising galas, educational programs, and other special occasions where an inspirational or informative address is desired.
How do I select the right keynote speaker for my event?
When selecting a keynote speaker, consider the following factors:
The speaker's expertise and knowledge relevant to your event's theme or industry.
Their speaking style, ability to engage the audience, and deliver impactful messages.
Past client testimonials, reviews, or references.
The speaker's availability and fee within your budget.
What are the payment terms and conditions?
A deposit is required upon signing the contract, with the remaining balance due 2–4 weeks before the event. If the event is taking place within 30 days, the full balance is due upon signing.
How far in advance should I book a keynote speaker?
It is generally advisable to book a keynote speaker as early as possible, especially if you have a specific speaker in mind or if your event is during a peak season holiday. Ideally, booking a speaker three to six months in advance can increase the chances of securing your desired speaker.
Can you help me with the logistics and technical requirements for the speaker's presentation?
Yes, we can assist you with the logistics and technical requirements for the speaker's presentation. We stay actively involved during pre-event planning to coordinate with you and ensure that the necessary audiovisual equipment, staging, lighting, and other technical aspects are in place for a successful presentation.
Are there any special requirements or accommodations that need to be considered for the speaker?
Keynote speakers may have specific requirements or accommodations that need to be considered, such as travel arrangements, accommodation preferences, dietary restrictions, or accessibility needs. Some speakers have a performance rider we include in the contract, others have minimal requirements.
Do keynote speakers offer customization options for their presentations?
Yes, many keynote speakers offer customization options for their presentations. They can tailor their content, examples, or case studies to align with your event's theme, industry, or specific audience. Discuss your customization needs with us so we can guide you accordingly.
Can the speaker participate in pre-event activities such as panel discussions or Q&A sessions?
Some keynote speakers are open to participating in pre-event activities such as panel discussions, Q&A sessions, or meet-and-greet sessions. Please share your specific requirements with us during the firm offer phase, so we can work on getting you everything you need.
How long is a typical keynote speech?
The duration of a standard keynote speech can vary depending on the speaker and the event's schedule. Typically, keynote speeches range from 30 minutes to 90 minutes, including any Q&A sessions or interactive elements. Some speakers can accommodate half or full day sessions and extended keynotes. Discuss the desired duration with your representative to determine the appropriate length for participation.
Can I provide feedback or reviews about the speaker's performance?
Yes, we encourage and appreciate feedback about the speaker's performance as well as our services. You can share your feedback via email after the event, or via our survey feedback form. Your feedback can help them improve our services and assist other clients in making informed decisions.
Are there any discounts or special offers available for booking multiple speakers or multiple events?
Often, yes. It's worth inquiring about such possibilities with your Key Speakers representative to explore any available cost-savings options.
Why book Jeff Evans though Key Speakers?
We provide a comprehensive service that takes the guesswork out of hiring a speaker—from speaker selection to logistics to post-event feedback. We know you have lots of responsibilities on top of finding and coordinating event speakers, so having a committed and proactive partner on your side that is an expert with the talent booking process is crucial. Every time you book a speaker with Key, your dedicated events manager will support you throughout the entire planning process. We work closely with you from speaker selection to post-event success and always ensure that your needs are addressed first.
We help you negotiate contractual details such as speaker fees and travel terms so that you end up with the most favorable deal. Leave the fine print to us so you can focus on other aspects of your event. Key Speakers mediates and absorbs some of the contractual risks that inherently come with booking a keynote speaker.
With our highly communicative booking and proposal model, you'll never be left in the dark with the status of your speaker. We pride ourselves on speedy response time and always keep you updated on all new developments relating to your event. Our experienced agents are personable (after our morning coffee!) and always eager to do whatever it takes to secure a fantastic speaker for your event.
To put it simply, Key Speakers is your one-stop resource for finding, booking and managing speakers for your event. We do the heavy lifting for you. Our dedicated and knowledgeable advisors ensure that your speaker's message and personal brand perfectly align to your event objectives.
Remember that the specific details and offerings may vary among different speakers, so it's always recommended to consult with your Key Speakers representative for accurate information and assistance.
Speaker Fee Range:
$15,000–$22,000
*Ranges are a guideline only, with the low end representing the speaker's virtual fee and the high end representing their in-person fee. Fees are subject to change. Contact us for an exact quote.
Travels From:
Colorado
Related Categories:
Request Jeff Evans
Connect with us to learn more about booking this speaker for your event.