Speaker Fee Range:
$25,000–$55,000
*Ranges are a guideline only, with the low end representing the speaker's virtual fee and the high end representing their in-person fee. Fees are subject to change. Contact us for an exact quote.
Travels From:
District of Columbia
Related Categories:
Katty Kay
U.S. Special Correspondent for BBC Studios, Award-winning Journalist, and Bestselling Author
Katty (pronounced CAT-TEE) Kay is the lead anchor for BBC World News America. She is seen in America on nearly 300 Public Broadcasting Stations which carry BBC World News America broadcasts. Katty's reports on the latest U.S. economic and political news are also carried by BBC News channels globally, giving her a vast international audience. In addition, Katty is also a frequent guest commentator on NBC's Meet the Press as well as a regular guest and substitute co-host on MSNBC's Morning Joe.
The daughter of a British diplomat, Katty grew up all over the Middle East. Her career with the BBC began in Zimbabwe in 1990 where she started filing radio reports for BBC World Service radio. From there she also covered the end of apartheid in South Africa. Katty then went on to work as a BBC correspondent in London, and later Tokyo, reporting on stories including…
The Confidence Code




Confidence! With it, we can take on the world; without it, we don't ask for raises, request that important meeting, begin novels or take risks. In the success equation, research shows that confidence is even more critical than competence. But what is confidence and where does it come from? Are we born with it or do we acquire it? And why do women have less of it than their talents deserve? In this speech Katty Kay answers these questions and inspires audiences – weaving the latest scientific research with anecdotes from her own career and the many women she interviewed for the book. "Neurologists have isolated a 'confidence gene,'" says Kay. "And when my own genes were tested for the book, I learned I am not genetically predisposed to being confident." Kay's experience is like that of so many women, even senior women, whose lack of confidence is what really holds them back from leaning in. But confidence is also art – impacted by how we choose to live with our genes. The good news – being confident is a choice. Kay's storytelling inspires audiences to take action – to go outside their comfort zones, to try new hard things, to take risks, to be prepared to fail and to discover the secret to success.

Moderator, Discussion Leader & Interviewer




As a journalist, Katty Kay regularly interviews scores of political dignitaries, business leaders, and cultural icons for her news broadcasts. She brings that talent to corporate, association, and organization events where she's interviewed noted figures from a wide variety of backgrounds including Condoleezza Rice, Anna Wintour, Dan Levy, Michael Lewis, Cynt Marshall, Lin-Manuel Miranda, Carlo Ancelotti, Anoush Ansari and scores more. The skill, grace and humor Katty brings to in-person and virtual events as a panel moderator, discussion leader, and interviewer will get the most out of her guest/panelists and create a memorable experience for the audience.

A Global Update




The world is changing at lightning speed. It's a world where many of the fastest growing economies are in Africa; where 300 million micro-bloggers challenge the supremacy of the Chinese state; and where one-third of the population of the Middle East is under thirty. It's a world where big challenges abound. As the European financial crisis eases, the social toll of high unemployment still threatens the Eurozone. America's economy is showing signs of resurgence, but its politicians have locked horns to impede real progress. Tension in the South China Seas raises concerns about Beijing's regional ambitions. And from Tunis to Damascus to Cairo we are still feeling the turmoil of the post-Arab Spring Middle East. Where is it headed? Global times call for global perspective. Katty Kay draws on experience reporting from five different regions – North America, the Middle East, Africa, Asia and Europe – to offer insights on where the world is heading and how it will impact you.

America From a Different Angle




Emerging from the pandemic, America is grappling with unprecedented social, cultural, workplace, economic, political, and technological change. Russia's invasion of Ukraine – and its new closer ties with China – further complicate the political and economic picture for the U.S. In this speech, veteran journalist Katty Kay gives audiences the latest news from Washington – unpacking politics and policies and their impact. As someone who's worked and lived in Asia, Europe, Middle East, Africa and (since 1996) Washington, D.C., Katty looks at America's challenges through a global lens. As a result, her insights are unique and refreshing. Even-handed with a light dose of British humor, Katty reminds audiences to keep the challenges in perspective.

Womenomics




At the 2013 World Economic Forum in Davos, IMF Chief Christine Lagarde called the advancement of women the greatest economic opportunity of our time. She is recognizing what Kay calls Womenomics, the extraordinary value of women in the workforce. Global studies show that companies who employ more senior women make more money. Women control 83% of consumer purchases; in America they even buy more cars than men. They have more degrees and are ideally suited to the demands of our talent-driven economy. But too many women in their mid-thirties hit the brick wall of kids vs. career and decide to leave the workforce. We can't afford to keep losing them. Kay marshals evidence from employers large and small to show how possible it is to help women meet the demands of family and career and keep these valuable contributors in the workforce. Flexible work schedules prove to be a win-win; when companies take the clocks off the wall and choose to measure output not input, they see productivity rise by an average of 40%. What starts as talent retention becomes a profit bonus any company would be happy to have. Kay's talks give an inspirational boost to women and a practical guide to employers, drawing on her own juggling of a demanding career and four children.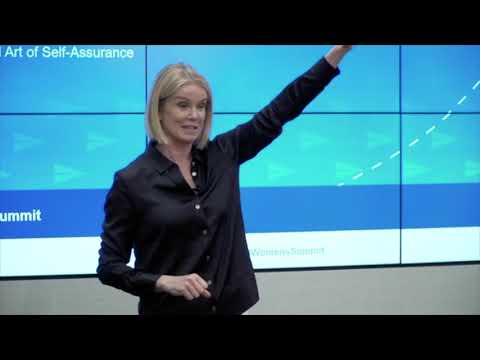 What is Katty Kay's speaking fee?
The typical range for Katty Kay's speaking fee is $25,000–$55,000. The low end of the fee range represents their standard virtual fee. The high end of the fee range represents their standard fee for a US-based in-person speaking engagement. Appearances which require an extended schedule of activities or international travel will possibly exceed this fee range. Speaker fees update frequently. To receive a personalized quote for Katty Kay to speak at your event, please consult with a Key Speakers advisor for up to date information and assistance.
What factors influence the speaker's fee?
Other factors that influence a keynote speaker's fee include their reputation, expertise, demand, experience, duration of the presentation, travel requirements for the event location, and any additional services, activities or customization options they offer.
Are travel expenses included in the speaker's fee?
Travel expenses are typically not included in the listed speaker's fee and are quoted separately. If the speaker needs to travel internationally, fees will be higher. These expenses may include airfare, accommodation, ground transportation at home and in the event city, and meals. We can provide more detailed information about travel expenses and arrangements once you've selected a speaker.
How do I book Katty Kay for my event?
The speaker booking process typically involves the following steps:
Browse our website or reach out to a Key Speakers advisor through our website to explore speaker ideas.
Select a keynote speaker based on their expertise, experience, and suitability for your event.
Contact Key Speakers to confirm the speaker's availability, fees, and any unique requirements. We can also help negotiate fees and terms.
Submit a firm offer to extend the invite to your speaker. These details will be used to create an agreement once the speaker accepts.
All parties coordinate and finalize the terms of the booking, including contract terms and conditions.
Confirm the booking by signing the contract and making the necessary payments.
What types of events do keynote speakers typically speak at?
Keynote speakers can speak at a wide range of events, virtual or in person, including conferences, corporate meetings, industry conventions, seminars, workshops, fundraising galas, educational programs, and other special occasions where an inspirational or informative address is desired.
How do I select the right keynote speaker for my event?
When selecting a keynote speaker, consider the following factors:
The speaker's expertise and knowledge relevant to your event's theme or industry.
Their speaking style, ability to engage the audience, and deliver impactful messages.
Past client testimonials, reviews, or references.
The speaker's availability and fee within your budget.
What are the payment terms and conditions?
A deposit is required upon signing the contract, with the remaining balance due 2–4 weeks before the event. If the event is taking place within 30 days, the full balance is due upon signing.
How far in advance should I book a keynote speaker?
It is generally advisable to book a keynote speaker as early as possible, especially if you have a specific speaker in mind or if your event is during a peak season holiday. Ideally, booking a speaker three to six months in advance can increase the chances of securing your desired speaker.
Can you help me with the logistics and technical requirements for the speaker's presentation?
Yes, we can assist you with the logistics and technical requirements for the speaker's presentation. We stay actively involved during pre-event planning to coordinate with you and ensure that the necessary audiovisual equipment, staging, lighting, and other technical aspects are in place for a successful presentation.
Are there any special requirements or accommodations that need to be considered for the speaker?
Keynote speakers may have specific requirements or accommodations that need to be considered, such as travel arrangements, accommodation preferences, dietary restrictions, or accessibility needs. Some speakers have a performance rider we include in the contract, others have minimal requirements.
Do keynote speakers offer customization options for their presentations?
Yes, many keynote speakers offer customization options for their presentations. They can tailor their content, examples, or case studies to align with your event's theme, industry, or specific audience. Discuss your customization needs with us so we can guide you accordingly.
Can the speaker participate in pre-event activities such as panel discussions or Q&A sessions?
Some keynote speakers are open to participating in pre-event activities such as panel discussions, Q&A sessions, or meet-and-greet sessions. Please share your specific requirements with us during the firm offer phase, so we can work on getting you everything you need.
How long is a typical keynote speech?
The duration of a standard keynote speech can vary depending on the speaker and the event's schedule. Typically, keynote speeches range from 30 minutes to 90 minutes, including any Q&A sessions or interactive elements. Some speakers can accommodate half or full day sessions and extended keynotes. Discuss the desired duration with your representative to determine the appropriate length for participation.
Can I provide feedback or reviews about the speaker's performance?
Yes, we encourage and appreciate feedback about the speaker's performance as well as our services. You can share your feedback via email after the event, or via our survey feedback form. Your feedback can help them improve our services and assist other clients in making informed decisions.
Are there any discounts or special offers available for booking multiple speakers or multiple events?
Often, yes. It's worth inquiring about such possibilities with your Key Speakers representative to explore any available cost-savings options.
Why book Katty Kay though Key Speakers?
We provide a comprehensive service that takes the guesswork out of hiring a speaker—from speaker selection to logistics to post-event feedback. We know you have lots of responsibilities on top of finding and coordinating event speakers, so having a committed and proactive partner on your side that is an expert with the talent booking process is crucial. Every time you book a speaker with Key, your dedicated events manager will support you throughout the entire planning process. We work closely with you from speaker selection to post-event success and always ensure that your needs are addressed first.
We help you negotiate contractual details such as speaker fees and travel terms so that you end up with the most favorable deal. Leave the fine print to us so you can focus on other aspects of your event. Key Speakers mediates and absorbs some of the contractual risks that inherently come with booking a keynote speaker.
With our highly communicative booking and proposal model, you'll never be left in the dark with the status of your speaker. We pride ourselves on speedy response time and always keep you updated on all new developments relating to your event. Our experienced agents are personable (after our morning coffee!) and always eager to do whatever it takes to secure a fantastic speaker for your event.
To put it simply, Key Speakers is your one-stop resource for finding, booking and managing speakers for your event. We do the heavy lifting for you. Our dedicated and knowledgeable advisors ensure that your speaker's message and personal brand perfectly align to your event objectives.
Remember that the specific details and offerings may vary among different speakers, so it's always recommended to consult with your Key Speakers representative for accurate information and assistance.
Speaker Fee Range:
$25,000–$55,000
*Ranges are a guideline only, with the low end representing the speaker's virtual fee and the high end representing their in-person fee. Fees are subject to change. Contact us for an exact quote.
Travels From:
District of Columbia
Related Categories:
Request Katty Kay
Connect with us to learn more about booking this speaker for your event.