Speaker Fee Range:
$7,000–$19,000
*Ranges are a guideline only, with the low end representing the speaker's virtual fee and the high end representing their in-person fee. Fees are subject to change. Contact us for an exact quote.
Travels From:
Virginia
Related Categories:
Jeff Goldsmith
Healthcare Futurist, National Advisor, and President of Health Futures, Inc.
Jeff Goldsmith is President of Health Futures, Inc and former National Advisor, Navigant Healthcare. He is also Associate Professor of Public Health Sciences at the University of Virginia. For eleven years ending in 1990, Jeff Goldsmith was a lecturer in the Graduate School of Business at the University of Chicago, on health services management and policy. He has also lectured on these topics at the Wharton School of Finance, Johns Hopkins, Washington University and the University of California at Berkeley. Jeff Goldsmith's interests include: biotechnology, health policy, international health systems, and the future of health services.
From 1982 to 1994, Jeff Goldsmith served as National Advisor for Healthcare for the firm Ernst and Young, and provided strategy consultation to a wide variety of healthcare systems, health plans, supply and technology firms. Prior to 1982, he was Director of Planning and Government Affairs at the University of…
Reaching Beyond COVID

In this lecture, Jeff Goldsmith looks beyond the immediate financial challenges to hospitals and health system to the years 2021 and 2022. These years could be challenging if the immediate financial downturn lingers or deepens. Recessions have predictable impacts on healthcare payment systems and on the demand for care. Mr. Goldsmith has observed five prior recessions, and discusses the major risks hospitals and health systems face, and how to set strategic priorities in an uncertain time.

Seven for the Twenties

In this lecture, Jeff Goldsmith looks ahead to the next decade, and explores both the challenges and potential breakthroughs that could change healthcare in the United States. These include: the challenges of drug resistant infections and cyberterrorism; artificial intelligence (AI); potential major progress in critical care and the fight against schizophrenia; the outlook for baby boomers; Jeff's surprising candidate for the dominant corporate actor in healthcare; and the outlook for hospitals.


Disruption: Navigating the Turbulence in Changing Health System

Health system executives have focused increasingly on the potential for technology and large corporate enterprises disrupting their traditional care enterprise. They have also neglected the disruptive potential of economic and political forces that may alter how healthcare is paid for. This presentation divides the potential disrupters into three broad classes: technology (e.g. AI/machine learnings, digital care and telehealth, genomics, etc), corporate entities (Amazon, CVS/Aetna, Optum,. etc) and economic./political developments ("Medicare for All", rising popuilsm, recessions, etc.) and handicaps the potential risks they pose in particular local and regional markets. It also examines how disrupters can be partners in the strategic development of the health enterprise.

What Makes a Health System?

Health care organizations have grown steadily larger and more complex over the past thirty years. Most of them call themselves "health systems". But are they really systems and have patients and those who pay for care benefited from this growth and complexity? Why has "health system" operating performance deteriorated sharply since the historic Affordable Care Act coverage expansion? How can health systems make changes in their operations and management that patients notice? What does it mean to be a health system?

2037: A Healthcare Odyssey




In 1986, in Hospitals', Jeff Goldsmith looked ahead fifty years to the US healthcare system in 2036. In 2016, Jeff revisited these forecasts, noting both accurate and inaccurate predictions, and looked ahead yet again to the health system in twenty years time. In 2037: A Healthcare Odyssey, Jeff examines the digital health revolution he foresaw in his 1986 piece, and how it is likely to affect care. He also looks at the concluding chapter of the baby boomer's saga, as well as promising new progress in the neurosciences and produces a fresh forecast for the US health system in twenty years.

Opiate Crisis: Tip of a Population Health Iceberg

In 2016, more than sixty thousand Americans died of drug overdoses, 42 thousand from opioids. Drug death are the SuperStorm Sandy of public health threats, likely to claim more victims than the AIDS Epidemic. Yet it is the most visible manifestation of a more troubling trend-declining American life expectancy. In both 2015 and 2016, American life expectancy declined, the first two-year decline since the early 1960's. During the same two years, the US spent nearly $7 trillion on healthcare. What are the underlying drivers of this deeply troubling trend., and what can policymakers and the care system do about it?

Slouching toward Value: The Future of Health Care Payment

One major theme of health reform has been to change how healthcare is paid for to reward higher value care. In a $2.8 billion industry, the uncertainty about future payment models has created confusion about strategic direction in hospitals and systems, physician communities and health insurers, as well as anxiety among patients and their families. Ironically, a Democratic health reform has produced Republican outcomes- high degrees of consumer economic exposure, narrowing networks, and a welter of confusing new choices. Meanwhile, new payment models- pay for performance, bundled payment, accountable care organizations, patient centered medical homes- have been given fresh impetus. How will all these experiments turn out? How SHOULD healthcare be paid for? This talk focuses on the winners and losers in the search for more accountable and affordable care, and the models and strategies that are likely to prevail.

What Will the Trump Presidency Bring to Healthcare?




Donald Trump won an unexpected Presidency in part by promising to repeal ObamaCare, the landmark 2010 Obama administration health reform law. This law provided coverage for 20 million formerly uninsured people and hundreds of billions in new funding for hospitals and care systems. How will unwinding and replacing this law affect those who render care? What role did poor health play in Trump's election? How will a divided Republican Party decide where to cut and how to restructure Medicare and Medicaid, the twin mainstays of public funding for health services? Where will Trump succeed and where will he fail? What strategies best position hospitals and physicians to cope with a new wave of policy uncertainty?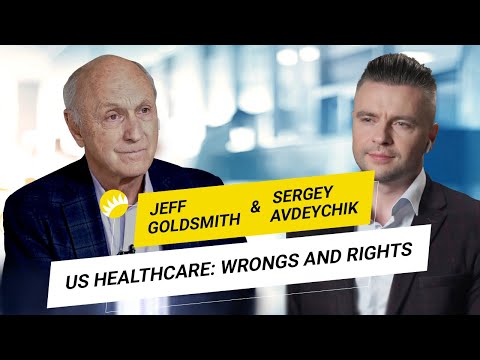 What is Jeff Goldsmith's speaking fee?
The typical range for Jeff Goldsmith's speaking fee is $7,000–$19,000. The low end of the fee range represents their standard virtual fee. The high end of the fee range represents their standard fee for a US-based in-person speaking engagement. Appearances which require an extended schedule of activities or international travel will possibly exceed this fee range. Speaker fees update frequently. To receive a personalized quote for Jeff Goldsmith to speak at your event, please consult with a Key Speakers advisor for up to date information and assistance.
What factors influence the speaker's fee?
Other factors that influence a keynote speaker's fee include their reputation, expertise, demand, experience, duration of the presentation, travel requirements for the event location, and any additional services, activities or customization options they offer.
Are travel expenses included in the speaker's fee?
Travel expenses are typically not included in the listed speaker's fee and are quoted separately. If the speaker needs to travel internationally, fees will be higher. These expenses may include airfare, accommodation, ground transportation at home and in the event city, and meals. We can provide more detailed information about travel expenses and arrangements once you've selected a speaker.
How do I book Jeff Goldsmith for my event?
The speaker booking process typically involves the following steps:
Browse our website or reach out to a Key Speakers advisor through our website to explore speaker ideas.
Select a keynote speaker based on their expertise, experience, and suitability for your event.
Contact Key Speakers to confirm the speaker's availability, fees, and any unique requirements. We can also help negotiate fees and terms.
Submit a firm offer to extend the invite to your speaker. These details will be used to create an agreement once the speaker accepts.
All parties coordinate and finalize the terms of the booking, including contract terms and conditions.
Confirm the booking by signing the contract and making the necessary payments.
What types of events do keynote speakers typically speak at?
Keynote speakers can speak at a wide range of events, virtual or in person, including conferences, corporate meetings, industry conventions, seminars, workshops, fundraising galas, educational programs, and other special occasions where an inspirational or informative address is desired.
How do I select the right keynote speaker for my event?
When selecting a keynote speaker, consider the following factors:
The speaker's expertise and knowledge relevant to your event's theme or industry.
Their speaking style, ability to engage the audience, and deliver impactful messages.
Past client testimonials, reviews, or references.
The speaker's availability and fee within your budget.
What are the payment terms and conditions?
A deposit is required upon signing the contract, with the remaining balance due 2–4 weeks before the event. If the event is taking place within 30 days, the full balance is due upon signing.
How far in advance should I book a keynote speaker?
It is generally advisable to book a keynote speaker as early as possible, especially if you have a specific speaker in mind or if your event is during a peak season holiday. Ideally, booking a speaker three to six months in advance can increase the chances of securing your desired speaker.
Can you help me with the logistics and technical requirements for the speaker's presentation?
Yes, we can assist you with the logistics and technical requirements for the speaker's presentation. We stay actively involved during pre-event planning to coordinate with you and ensure that the necessary audiovisual equipment, staging, lighting, and other technical aspects are in place for a successful presentation.
Are there any special requirements or accommodations that need to be considered for the speaker?
Keynote speakers may have specific requirements or accommodations that need to be considered, such as travel arrangements, accommodation preferences, dietary restrictions, or accessibility needs. Some speakers have a performance rider we include in the contract, others have minimal requirements.
Do keynote speakers offer customization options for their presentations?
Yes, many keynote speakers offer customization options for their presentations. They can tailor their content, examples, or case studies to align with your event's theme, industry, or specific audience. Discuss your customization needs with us so we can guide you accordingly.
Can the speaker participate in pre-event activities such as panel discussions or Q&A sessions?
Some keynote speakers are open to participating in pre-event activities such as panel discussions, Q&A sessions, or meet-and-greet sessions. Please share your specific requirements with us during the firm offer phase, so we can work on getting you everything you need.
How long is a typical keynote speech?
The duration of a standard keynote speech can vary depending on the speaker and the event's schedule. Typically, keynote speeches range from 30 minutes to 90 minutes, including any Q&A sessions or interactive elements. Some speakers can accommodate half or full day sessions and extended keynotes. Discuss the desired duration with your representative to determine the appropriate length for participation.
Can I provide feedback or reviews about the speaker's performance?
Yes, we encourage and appreciate feedback about the speaker's performance as well as our services. You can share your feedback via email after the event, or via our survey feedback form. Your feedback can help them improve our services and assist other clients in making informed decisions.
Are there any discounts or special offers available for booking multiple speakers or multiple events?
Often, yes. It's worth inquiring about such possibilities with your Key Speakers representative to explore any available cost-savings options.
Why book Jeff Goldsmith though Key Speakers?
We provide a comprehensive service that takes the guesswork out of hiring a speaker—from speaker selection to logistics to post-event feedback. We know you have lots of responsibilities on top of finding and coordinating event speakers, so having a committed and proactive partner on your side that is an expert with the talent booking process is crucial. Every time you book a speaker with Key, your dedicated events manager will support you throughout the entire planning process. We work closely with you from speaker selection to post-event success and always ensure that your needs are addressed first.
We help you negotiate contractual details such as speaker fees and travel terms so that you end up with the most favorable deal. Leave the fine print to us so you can focus on other aspects of your event. Key Speakers mediates and absorbs some of the contractual risks that inherently come with booking a keynote speaker.
With our highly communicative booking and proposal model, you'll never be left in the dark with the status of your speaker. We pride ourselves on speedy response time and always keep you updated on all new developments relating to your event. Our experienced agents are personable (after our morning coffee!) and always eager to do whatever it takes to secure a fantastic speaker for your event.
To put it simply, Key Speakers is your one-stop resource for finding, booking and managing speakers for your event. We do the heavy lifting for you. Our dedicated and knowledgeable advisors ensure that your speaker's message and personal brand perfectly align to your event objectives.
Remember that the specific details and offerings may vary among different speakers, so it's always recommended to consult with your Key Speakers representative for accurate information and assistance.
Speaker Fee Range:
$7,000–$19,000
*Ranges are a guideline only, with the low end representing the speaker's virtual fee and the high end representing their in-person fee. Fees are subject to change. Contact us for an exact quote.
Travels From:
Virginia
Related Categories:
Request Jeff Goldsmith
Connect with us to learn more about booking this speaker for your event.