Speaker Fee Range:
$43,000–$63,000
*Ranges are a guideline only, with the low end representing the speaker's virtual fee and the high end representing their in-person fee. Fees are subject to change. Contact us for an exact quote.
Travels From:
California
Related Categories:
Van Jones
CNN Host and Dream Corps Founder

Van Jones is a CNN host, political commentator, Emmy Award-winning producer, and author of three New York Times best-selling books: The Green Collar Economy (2008), Rebuild the Dream (2012) and Beyond the Messy Truth: How We Came Apart, How we Come Together (2017).
Van has also found success as a social entrepreneur, having founded and led many thriving enterprises including the REFORM Alliance, Color of Change, the Ella Baker Center for Human Rights and the Dream Corps, which works to close prison doors and open doors of opportunity in the green and tech economies.
In 2009, as the Green Jobs Advisor to the Obama White House, Jones oversaw an $80 billion dollar investment in clean energy jobs.
Jones was the main advocate for the Green Jobs Act. Signed into law by George W. Bush in 2007, the Green Jobs Act was the first piece of federal legislation…
The Fight to Save Our Planet




Media personality and change-maker Van Jones is an environmental leader heralded for his solutions-oriented approach to climate change and promoting green business. Drawing on his experience working with President Barack Obama on environmental policy and the Green Jobs Act, and the research for his New York Times bestselling book The Green Collar Economy, Jones provides illuminating insight into the fight to save our planet and the policy initiatives that work. Delivering a much-needed economic and environmental two-pronged approach, he shares a wise, necessary, and eminently achievable plan for both saving the earth and rescuing working class Americans.

Rebuild The Dream: The Next American Economy




Imagine a new economy, where the founding principle of our country— liberty and justice for all—is deeply rooted in our economic philosophy and design, where businesses can profit alongside flourishing communities. The next American economy must value production over consumption, savings over credit and ecological restoration over ecological destruction. To achieve sustained prosperity, we need to transform our ideas and understanding around ownership and wealth—transcending consumerism, transforming corporations, and revitalizing communities.

Green Jobs Not Jails: Criminal Justice + Ecology




The USA has only five percent of the world's population. Yet we produce: (a) about 25 percent of its greenhouse gasses and (b) about 25 percent of its prisoners. Coincidence? Van Jones doesn't think so. He sees "mass incarceration" and the "mass extinction" as twin outcomes of the same false ideology: disposability. Industrial society behaves as if we have a throwaway planet – and throwaway people, too. To reverse course, Van says we must shrink the prison system and grow the green economy.

Beyond Prisons: Don't Criminalize – Humanize




Civil rights attorney and TV personality Van Jones seeks peaceful streets through approaches that are smarter, fairer and less costly. His organization, Dream Corps Unlimited, houses the Beyond Prisons campaign. That initiative works to safely and smartly reduce the prison population by at least 50 percent – by promoting proven, bipartisan solutions. Neither Democrats nor Republicans see much sense in locking people away for long periods of time, often for petty offenses, and then denying them a chance to work, vote, rent an apartment or get a student loan for the rest of their lives.

#YesWeCode: Race, Gender & The Digital Divide




Former Obama advisor and CNN personality Van Jones created #YesWeCode to find real solutions. Housed at Dream Corps Unlimited, #YesWeCode is working to help 100,000 young adults of color – both women and men – find employment in the technology sector. Learn from the many insights that Van has gleaned by working directly with dozens of major tech firms, the Obama White House, and the nation's top accelerated training programs. Hear how cultural barriers – on both sides of the divide – may be the biggest obstacles to an inclusive tech sector.

Green For All: Can Environmentalism Include Everyone?




The solar industry is booming. The fight for climate solutions is accelerating. The movement for a greener future is regaining steam. But will this renewed "green wave" lift ALL boats? Or will some places enjoy clean energy, green jobs and organic food, while others fall further behind? How can we avoid "ecological apartheid"? Van Jones has answers. He was the primary advocate for the Green Jobs Act of 2007. He is the founder of Green For All, a national organization working to grow the green economy in communities of color. He wrote the bestseller, The Green-Collar Economy – the definitive book on green jobs. And he was the special advisor on green jobs and innovation to the Obama White House.

Protest & Politics In Age Of Twitter




Van has unique insight into America's turbulent political scene. He has worked closely with political players at all levels – and across the spectrum. On the left, he has been allied with everyone from Richard Branson to Black Lives Matter. On the right, he has campaigned to win criminal justice reform alongside Newt Gingrich and Koch Industries. George W. Bush signed his first legislative proposal, the Green Jobs Act. Then President Obama appointed him to be special advisor on green jobs. Most recently, Van was "on the ground" in Ferguson, Charleston and Selma (for the 50th anniversary of the historic civil rights march there).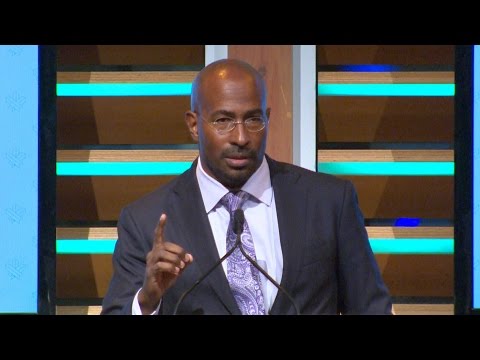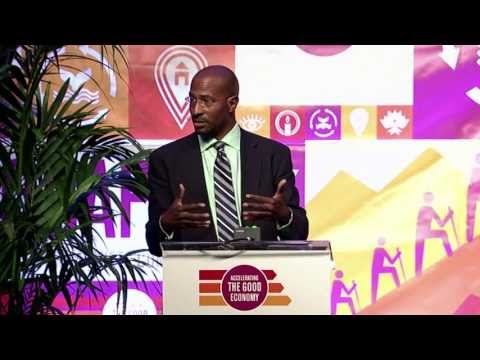 What is Van Jones's speaking fee?
The typical range for Van Jones's speaking fee is $43,000–$63,000. The low end of the fee range represents their standard virtual fee. The high end of the fee range represents their standard fee for a US-based in-person speaking engagement. Appearances which require an extended schedule of activities or international travel will possibly exceed this fee range. Speaker fees update frequently. To receive a personalized quote for Van Jones to speak at your event, please consult with a Key Speakers advisor for up to date information and assistance.
What factors influence the speaker's fee?
Other factors that influence a keynote speaker's fee include their reputation, expertise, demand, experience, duration of the presentation, travel requirements for the event location, and any additional services, activities or customization options they offer.
Are travel expenses included in the speaker's fee?
Travel expenses are typically not included in the listed speaker's fee and are quoted separately. If the speaker needs to travel internationally, fees will be higher. These expenses may include airfare, accommodation, ground transportation at home and in the event city, and meals. We can provide more detailed information about travel expenses and arrangements once you've selected a speaker.
How do I book Van Jones for my event?
The speaker booking process typically involves the following steps:
Browse our website or reach out to a Key Speakers advisor through our website to explore speaker ideas.
Select a keynote speaker based on their expertise, experience, and suitability for your event.
Contact Key Speakers to confirm the speaker's availability, fees, and any unique requirements. We can also help negotiate fees and terms.
Submit a firm offer to extend the invite to your speaker. These details will be used to create an agreement once the speaker accepts.
All parties coordinate and finalize the terms of the booking, including contract terms and conditions.
Confirm the booking by signing the contract and making the necessary payments.
What types of events do keynote speakers typically speak at?
Keynote speakers can speak at a wide range of events, virtual or in person, including conferences, corporate meetings, industry conventions, seminars, workshops, fundraising galas, educational programs, and other special occasions where an inspirational or informative address is desired.
How do I select the right keynote speaker for my event?
When selecting a keynote speaker, consider the following factors:
The speaker's expertise and knowledge relevant to your event's theme or industry.
Their speaking style, ability to engage the audience, and deliver impactful messages.
Past client testimonials, reviews, or references.
The speaker's availability and fee within your budget.
What are the payment terms and conditions?
A deposit is required upon signing the contract, with the remaining balance due 2–4 weeks before the event. If the event is taking place within 30 days, the full balance is due upon signing.
How far in advance should I book a keynote speaker?
It is generally advisable to book a keynote speaker as early as possible, especially if you have a specific speaker in mind or if your event is during a peak season holiday. Ideally, booking a speaker three to six months in advance can increase the chances of securing your desired speaker.
Can you help me with the logistics and technical requirements for the speaker's presentation?
Yes, we can assist you with the logistics and technical requirements for the speaker's presentation. We stay actively involved during pre-event planning to coordinate with you and ensure that the necessary audiovisual equipment, staging, lighting, and other technical aspects are in place for a successful presentation.
Are there any special requirements or accommodations that need to be considered for the speaker?
Keynote speakers may have specific requirements or accommodations that need to be considered, such as travel arrangements, accommodation preferences, dietary restrictions, or accessibility needs. Some speakers have a performance rider we include in the contract, others have minimal requirements.
Do keynote speakers offer customization options for their presentations?
Yes, many keynote speakers offer customization options for their presentations. They can tailor their content, examples, or case studies to align with your event's theme, industry, or specific audience. Discuss your customization needs with us so we can guide you accordingly.
Can the speaker participate in pre-event activities such as panel discussions or Q&A sessions?
Some keynote speakers are open to participating in pre-event activities such as panel discussions, Q&A sessions, or meet-and-greet sessions. Please share your specific requirements with us during the firm offer phase, so we can work on getting you everything you need.
How long is a typical keynote speech?
The duration of a standard keynote speech can vary depending on the speaker and the event's schedule. Typically, keynote speeches range from 30 minutes to 90 minutes, including any Q&A sessions or interactive elements. Some speakers can accommodate half or full day sessions and extended keynotes. Discuss the desired duration with your representative to determine the appropriate length for participation.
Can I provide feedback or reviews about the speaker's performance?
Yes, we encourage and appreciate feedback about the speaker's performance as well as our services. You can share your feedback via email after the event, or via our survey feedback form. Your feedback can help them improve our services and assist other clients in making informed decisions.
Are there any discounts or special offers available for booking multiple speakers or multiple events?
Often, yes. It's worth inquiring about such possibilities with your Key Speakers representative to explore any available cost-savings options.
Why book Van Jones though Key Speakers?
We provide a comprehensive service that takes the guesswork out of hiring a speaker—from speaker selection to logistics to post-event feedback. We know you have lots of responsibilities on top of finding and coordinating event speakers, so having a committed and proactive partner on your side that is an expert with the talent booking process is crucial. Every time you book a speaker with Key, your dedicated events manager will support you throughout the entire planning process. We work closely with you from speaker selection to post-event success and always ensure that your needs are addressed first.
We help you negotiate contractual details such as speaker fees and travel terms so that you end up with the most favorable deal. Leave the fine print to us so you can focus on other aspects of your event. Key Speakers mediates and absorbs some of the contractual risks that inherently come with booking a keynote speaker.
With our highly communicative booking and proposal model, you'll never be left in the dark with the status of your speaker. We pride ourselves on speedy response time and always keep you updated on all new developments relating to your event. Our experienced agents are personable (after our morning coffee!) and always eager to do whatever it takes to secure a fantastic speaker for your event.
To put it simply, Key Speakers is your one-stop resource for finding, booking and managing speakers for your event. We do the heavy lifting for you. Our dedicated and knowledgeable advisors ensure that your speaker's message and personal brand perfectly align to your event objectives.
Remember that the specific details and offerings may vary among different speakers, so it's always recommended to consult with your Key Speakers representative for accurate information and assistance.
Speaker Fee Range:
$43,000–$63,000
*Ranges are a guideline only, with the low end representing the speaker's virtual fee and the high end representing their in-person fee. Fees are subject to change. Contact us for an exact quote.
Travels From:
California
Related Categories:
Request Van Jones
Connect with us to learn more about booking this speaker for your event.