Speaker Fee Range:
$17,500–$20,000
*Ranges are a guideline only, with the low end representing the speaker's virtual fee and the high end representing their in-person fee. Fees are subject to change. Contact us for an exact quote.
Travels From:
Illinois
Related Categories:
Matt Mayberry
Former NFL player, Entrepreneur, Columnist, and Peak Performance Speaker

Matt Mayberry, a former NFL linebacker for the Chicago Bears, is currently one of the most-read columnists for Entrepreneur Magazine, as well as an acclaimed keynote speaker, author, and peak-performance strategist. Using a real-world approach, He specializes in maximizing the performance of organizations, teams, and individuals all over the world.
As an athlete and business professional, Matt has a real-world understanding that success is based on the key areas of peak performance, overcoming adversity, motivation, culture, and teamwork. From the football field to being the head of business development for a multi-million dollar healthcare company, to becoming a successful entrepreneur, Matt has the credibility to deliver a keynote speech with a strong focus on actionable ideas and strategies designed to maximize business and personal performance.
Matt is Indiana University's current record holder for most sacks in a single game and was the team recipient…
Culture Is the Way: How Leaders at Every Level Build an Organization for Speed, Impact, and Excellence

Energize employee engagement and drive cultural excellence throughout your organization

Based on his Wall Street Journal bestselling book "CULTURE IS THE WAY", keynote speaker Matt Mayberry delivers an incisive and hands-on blueprint to employee engagement and peak productivity. In this inspiring keynote, attendees will learn how leaders at every level can build a workplace culture that drives organizational excellence and unleashes the full potential of every employee. Mayberry draws on the most recent and relevant research and data and translates it into hands-on and practical prescriptions that any company ― no matter its size ― can apply immediately. It is an antidote to the cutthroat philosophies that put profits before well-being and, in the process, fail to maximize either. Attendees will walk away with an essential roadmap to organizational transformation with an unbending focus on the importance of workplace culture.

Learning Objectives:
• How to build a culture where people can become the best version of themselves and transform organizational performance.
• Discover five common roadblocks that prevent leaders from using culture to get the best from their people and how to overcome them.
• How to implement your playbook for cultural excellence across your entire organization.

Breakthrough Sales Performance


This dynamic keynote is guaranteed to challenge, educate, and provide sales professionals with the tools and strategies that will revolutionize breakthrough sales performance. Much like athletics, sales professionals must be competitive if they want to survive. Soliciting business, generating leads, closing sales, and reaching quotas is the name of the game. Much like athletics, breakthrough sales are a constant battle. They both require a relentless desire to work on their craft, know their competition, and elevate their game every single day. They both demand an enormous amount of preparation in order to perform at the highest level. Being a great salesman or woman is not about closing a lot of sales. It's about listening to the customer, the market, and knowing how to create value where it's needed. It's about creating relationships and nurturing them. Breakthrough sales do not allow any room for ego. You will be told "No" more than you will be told "Yes." You must learn how to face daily adversity and setbacks, head-on. Matt teaches how to create a mindset shift that instead channels these obstacles as the catalyst for breakthrough growth. The outcome of this keynote will be sales professionals who will understand how to create value, increase sales, build relationships, stand out from the competition, and surpass quotas.


Building a World-Class Team and Culture


A Strong Team Can Carry Your Vision to the End Zone! Matt often talks about how the team and culture within an organization are everything. This high-impact keynote examines how to attract and retain a world-class team, by implementing a clear and attainable culture for all members to buy into. Matt examines what top performing teams are doing differently to continually win, innovate, and maximize performance in an ever-changing world. Being an athlete for much of his life, and majoring in Sports Management, Matt uses his expertise to teach how success extends far beyond talent. Matt has been on teams that reached the top and teams that didn't get anywhere. Since moving away from the playing field, he has drawn the parallels to the business arena. He outlines the importance of teamwork and culture, and how the two can carry your vision to the end zone, every single day. The correlation between top performing athletic teams and top performing corporate teams is nearly identical. Matt teaches invaluable lessons on the competitive advantage of developing the individuals and culture within, and how they can outshine external talent and competition every time. Matt teaches how to create a plan of action that can begin implementation immediately.


TRANSFORMATIONAL LEADERSHIP - The Building Blocks to Becoming a Game-Changing Leader


This keynote equips individuals, future leaders, executives, and management teams with innovative ideas and strategies to thrive in today's ever-changing business world and become a game-changing leader. Matt explores the challenges that leaders face and how to break through the barriers, lead through change, and make a significant impact on your team and organization. This presentation dives deep into what true leadership really is. True leadership is much more than titles, authority, and recognition. Leadership is about developing people, helping others reach their full potential, and creating other leaders. It's about equipping those you are leading with the right tools and strategies to not only maximize the success of the organization, but as individuals. This thought-provoking keynote teaches leaders how to create momentum and mindset shifts that effectively transform their leadership styles and their organization as a whole. Whether you run a team of five or 5,000, the outcome of this keynote will be leaders who are inspired and prepared to lead more effectively, increase employee morale and retention, and drive the performance of everyone within the organization to the next level.


DOMINATE TODAY! The Playbook for Dominating Both Your Personal and Professional Life


This keynote helps attendees dominate in both their personal and professional lives by unleashing every ounce of their talent and ability into the world. Matt helps the audience discover that they were not born to be average and how to escape the over-crowded space of mediocrity. We live in a complex world of constant distraction. It is our job to clearly prioritize the areas of importance, and minimize the obstacles preventing us from becoming the best version of ourselves. This motivational and action-packed presentation challenges attendees to step out of their comfort zone and expand their vision as to what's possible for their life. Matt shares breakthrough insights on human potential, performance, and coaches attendees through personal and professional goal-setting exercises, personal branding, and peak performance strategy. The audience will walk away with actionable ideas and tools that they can immediately implement into their everyday lives to help increase productivity, and streamline their development personally and professionally.


WINNING PLAYS - Tackling Adversity and Achieving Success in Business and in Life




Based off of Matt's highly acclaimed book,

Winning Plays

, this passionate and incredibly inspiring keynote captivates audiences with a message that resonates long after he exits the stage. In this paramount message, Matt shares his personal story of being on a downward path to destruction, struggling through drug addiction and a career-ending injury in which he eventually transformed into meaningful and lasting success. Matt introduces key insights and techniques about personal motivation, overcoming adversity, goal setting, and turning circumstantial hardship into opportunities for winning plays. He provides actionable strategies and thought-provoking dialogue that is sure to maximize the performance of individuals and teams. This keynote, both entertaining and engaging, serves as a massive call to action for those looking for a surefire way to elevate their potential and reach new heights of achievement. Attendees will be equipped with the tools and strategies to go out and create a game plan of winning plays, for themselves, and their team.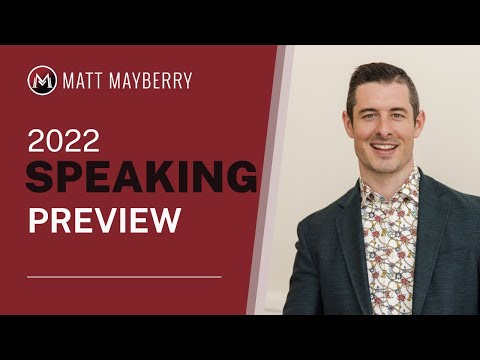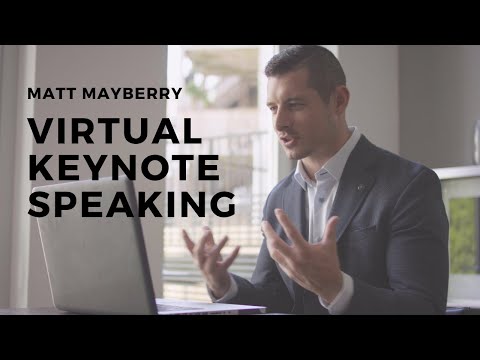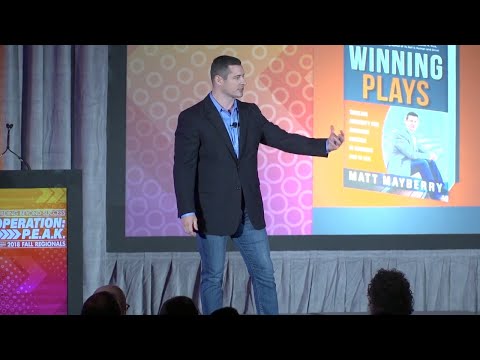 What is Matt Mayberry's speaking fee?
The typical range for Matt Mayberry's speaking fee is $17,500–$20,000. The low end of the fee range represents their standard virtual fee. The high end of the fee range represents their standard fee for a US-based in-person speaking engagement. Appearances which require an extended schedule of activities or international travel will possibly exceed this fee range. Speaker fees update frequently. To receive a personalized quote for Matt Mayberry to speak at your event, please consult with a Key Speakers advisor for up to date information and assistance.
What factors influence the speaker's fee?
Other factors that influence a keynote speaker's fee include their reputation, expertise, demand, experience, duration of the presentation, travel requirements for the event location, and any additional services, activities or customization options they offer.
Are travel expenses included in the speaker's fee?
Travel expenses are typically not included in the listed speaker's fee and are quoted separately. If the speaker needs to travel internationally, fees will be higher. These expenses may include airfare, accommodation, ground transportation at home and in the event city, and meals. We can provide more detailed information about travel expenses and arrangements once you've selected a speaker.
How do I book Matt Mayberry for my event?
The speaker booking process typically involves the following steps:
Browse our website or reach out to a Key Speakers advisor through our website to explore speaker ideas.
Select a keynote speaker based on their expertise, experience, and suitability for your event.
Contact Key Speakers to confirm the speaker's availability, fees, and any unique requirements. We can also help negotiate fees and terms.
Submit a firm offer to extend the invite to your speaker. These details will be used to create an agreement once the speaker accepts.
All parties coordinate and finalize the terms of the booking, including contract terms and conditions.
Confirm the booking by signing the contract and making the necessary payments.
What types of events do keynote speakers typically speak at?
Keynote speakers can speak at a wide range of events, virtual or in person, including conferences, corporate meetings, industry conventions, seminars, workshops, fundraising galas, educational programs, and other special occasions where an inspirational or informative address is desired.
How do I select the right keynote speaker for my event?
When selecting a keynote speaker, consider the following factors:
The speaker's expertise and knowledge relevant to your event's theme or industry.
Their speaking style, ability to engage the audience, and deliver impactful messages.
Past client testimonials, reviews, or references.
The speaker's availability and fee within your budget.
What are the payment terms and conditions?
A deposit is required upon signing the contract, with the remaining balance due 2–4 weeks before the event. If the event is taking place within 30 days, the full balance is due upon signing.
How far in advance should I book a keynote speaker?
It is generally advisable to book a keynote speaker as early as possible, especially if you have a specific speaker in mind or if your event is during a peak season holiday. Ideally, booking a speaker three to six months in advance can increase the chances of securing your desired speaker.
Can you help me with the logistics and technical requirements for the speaker's presentation?
Yes, we can assist you with the logistics and technical requirements for the speaker's presentation. We stay actively involved during pre-event planning to coordinate with you and ensure that the necessary audiovisual equipment, staging, lighting, and other technical aspects are in place for a successful presentation.
Are there any special requirements or accommodations that need to be considered for the speaker?
Keynote speakers may have specific requirements or accommodations that need to be considered, such as travel arrangements, accommodation preferences, dietary restrictions, or accessibility needs. Some speakers have a performance rider we include in the contract, others have minimal requirements.
Do keynote speakers offer customization options for their presentations?
Yes, many keynote speakers offer customization options for their presentations. They can tailor their content, examples, or case studies to align with your event's theme, industry, or specific audience. Discuss your customization needs with us so we can guide you accordingly.
Can the speaker participate in pre-event activities such as panel discussions or Q&A sessions?
Some keynote speakers are open to participating in pre-event activities such as panel discussions, Q&A sessions, or meet-and-greet sessions. Please share your specific requirements with us during the firm offer phase, so we can work on getting you everything you need.
How long is a typical keynote speech?
The duration of a standard keynote speech can vary depending on the speaker and the event's schedule. Typically, keynote speeches range from 30 minutes to 90 minutes, including any Q&A sessions or interactive elements. Some speakers can accommodate half or full day sessions and extended keynotes. Discuss the desired duration with your representative to determine the appropriate length for participation.
Can I provide feedback or reviews about the speaker's performance?
Yes, we encourage and appreciate feedback about the speaker's performance as well as our services. You can share your feedback via email after the event, or via our survey feedback form. Your feedback can help them improve our services and assist other clients in making informed decisions.
Are there any discounts or special offers available for booking multiple speakers or multiple events?
Often, yes. It's worth inquiring about such possibilities with your Key Speakers representative to explore any available cost-savings options.
Why book Matt Mayberry though Key Speakers?
We provide a comprehensive service that takes the guesswork out of hiring a speaker—from speaker selection to logistics to post-event feedback. We know you have lots of responsibilities on top of finding and coordinating event speakers, so having a committed and proactive partner on your side that is an expert with the talent booking process is crucial. Every time you book a speaker with Key, your dedicated events manager will support you throughout the entire planning process. We work closely with you from speaker selection to post-event success and always ensure that your needs are addressed first.
We help you negotiate contractual details such as speaker fees and travel terms so that you end up with the most favorable deal. Leave the fine print to us so you can focus on other aspects of your event. Key Speakers mediates and absorbs some of the contractual risks that inherently come with booking a keynote speaker.
With our highly communicative booking and proposal model, you'll never be left in the dark with the status of your speaker. We pride ourselves on speedy response time and always keep you updated on all new developments relating to your event. Our experienced agents are personable (after our morning coffee!) and always eager to do whatever it takes to secure a fantastic speaker for your event.
To put it simply, Key Speakers is your one-stop resource for finding, booking and managing speakers for your event. We do the heavy lifting for you. Our dedicated and knowledgeable advisors ensure that your speaker's message and personal brand perfectly align to your event objectives.
Remember that the specific details and offerings may vary among different speakers, so it's always recommended to consult with your Key Speakers representative for accurate information and assistance.
Speaker Fee Range:
$17,500–$20,000
*Ranges are a guideline only, with the low end representing the speaker's virtual fee and the high end representing their in-person fee. Fees are subject to change. Contact us for an exact quote.
Travels From:
Illinois
Related Categories:
Request Matt Mayberry
Connect with us to learn more about booking this speaker for your event.