Speaker Fee Range:
$15,000–$25,000
*Ranges are a guideline only, with the low end representing the speaker's virtual fee and the high end representing their in-person fee. Fees are subject to change. Contact us for an exact quote.
Travels From:
Canada
Related Categories:
Eric Termuende
Workplace Culture and Leadership Expert; Best-Selling Author,
Rethink
Work
Eric Termuende is a best-selling author, internationally recognized thought leader, and keynote speaker on all things future of work, leadership, workplace culture, and talent management. After years spent studying the world's greatest places to work, he has deciphered what sets amazing leaders apart from the rest, and what it takes to build incredible teams that are resilient, innovative, and ready for the future.
His research and insights have inspired category-leading companies like Amazon, Coca-Cola, Nationwide, IBM, Zoom, Nokia, John Deere, and Toyota, to name a few. Eric's perspectives and accomplishments have also been featured in Forbes, Fast Company, Inc., and many other prominent publications.
In addition to the hundreds of keynotes he has delivered around the world, Eric is an entrepreneur and leader in his own right. As co-founder of NoW of Work, Eric has been named one of the world's Top 100…
Leadership and AI: Building High-performing Teams in the New World of Work

Weaving its way into nearly every conversation from the boardroom to the dinner table, we talk about AI like we talk about any news story of the day. AI though, isn't just a news story, nor is it a flash-in-the-pan, it is a revolutionary technology that is turning the page and starting a brand-new chapter in the world of work and leadership. Today, leaders of category-leading companies, associations, and non-profits need to not only understand what AI truly is, but where it came from, how it will change the world of work in the years to come, and how the foundations of building trust, belonging, and connection haven't changed one bit. The very best leaders don't just know what AI is, they know how to build high-performing teams as AI continues to invade the workplace.

In this insightful, actionable, and eye-opening keynote, leaders will understand specifically how to build resilient, trusting, and engaged teams both because of and despite AI in a world that is changing faster than we'll ever understand. While AI won't replace us, the leaders that understand AI and know what to do about it most certainly will. In this keynote, Eric Termuende will teach exactly how to be a better leader in a world dominated by AI.

Attendees will learn:
• What AI really is, how it is changing the world of work, and what to watch out for
• How to build trust on their team when change appears to be constant
• 3 tips to boost engagement, remove friction, and navigate uncertainty
• Why AI is a tool and not a threat
• Strategies to boost camaraderie and experimentation across teams
• The ethics of AI and what we truly need to know

Blueprint to the Future: Leading a New World of Work

While the trends, charts, graphs, and predictions about the future of work are interesting, the rhetoric around the future of work is often stuck on what it might look like, not how we get there. Instead of wasting time trying to predict what's next, leaders need to better understand the specific steps we need to take to focus on building incredible teams that thrive in the face of adversity and uncertainty; and have each other's backs along the way.

In this engaging, insight-filled, and actionable presentation, workplace culture and leadership expert Eric Termuende shares his research-backed blueprint for successful leadership in a world that has yet to be created.

Attendees will receive a practical guide to building teams that are more productive, engaged, creative, and innovative. They'll learn from the experiences of the National Football League, category-leading companies,
and trailblazers from around the world about the importance of building trust, removing friction, and creating a culture of experimentation. Attendees will discover ways to 'future-proof' their teams by making a series of one- degree shifts that result in an improved sense of belonging, psychological safety, and engagement. Attendees will walk away with immediate, actionable, budget-free steps to become the type of leader that builds resilient, innovative teams, no matter what else is going on in the world.

What audiences come away with:
• Practical strategies to boost trust, resilience, and camaraderie
• Research-backed insights on building team agility and excitement toward impending change
• An understanding of how to harness the power of one-degree shifts
• Methods for finding and reducing friction within teams
• Actionable steps to cultivate a culture of experimentation, risk free
Perfect for those looking to:
• Understand what to expect in the future of work
• Navigate lasting talent shortages
• Build an action plan to navigate uncertainty
• Discover trends in talent/work location/demographics/economic trends
• Build agile, human-centered leaders


Unwavering: Building Incredible Teams for the Future of Work

Uncertainty is inevitable in the new world of work. In the face of ongoing change, will we see our people running for the exits, or will they be there to support and help each other? Change is happening faster than ever before and building unwavering teams that are resilient, ultra-collaborative, and even excited about that change has never been more important. But how do we build unwavering teams? Trust, empathy, and ongoing experimentation.

Workplace culture and leadership expert Eric Termuende has spent nearly a decade decoding exactly what creates unwavering teams: those that are resilient, rooted in belonging, and have a deep sense of safety and inclusivity. These are the types of teams that thrive through change because they know that while change may be difficult, the only thing worse is standing still. Eric has created a playbook for cultivating unwavering teams, and in this session, attendees will both learn it and be able to take it home with them.

By discovering how to enhance collaboration, developing excitement for all of the possibilities experimentation yield, and deciphering the root of trust across a team, attendees will come away from this session understanding how to become the incredible leader who inspire their teams to perform at their best and stand strong through anything the future may hold.

What audiences come away with:
• Deep knowledge about the root of collaboration and how to enhance it across the team
• Research-backed insights trust, psychological safety, and belonging at work
• How to enhance excitement about change and how to involve the whole team in the process
• The most important question to ask to get engagement and buy-in
• Why the future is something to be excited about, not scared of
Perfect for those looking to:
• Improve team resiliency
• Instill a sense of belonging and psychological safety in their teams
• Effectively lead remote/hybrid teams
• Navigate uncertainty smoothly and successfully

Snowflakes and Fingerprints: How to Attract Top Talent in the Future of Work

Regardless of where we look, talent shortages are impacting every industry, and competition is fierce. With an entire generation on the precipice of retirement, and not enough workers ready to replace them, the situation is only going to get fiercer. More than ever before, we need to do whatever we can to attract and retain top talent – but what is that? After a decade of research on the world's greatest places to work, workplace culture and leadership expert Eric Termuende has the answer.

Like snowflakes and fingerprints, it all comes down to uniqueness. The days of job listings demanding an extensive list of skills and attributes from potential employees are gone. Instead, we need to talk about the larger workplace experience and the difference our organizations are making in the world. To attract the right talent in today's environment, we must plant our metaphorical flag in the ground and emphasize what makes us, as employers, different from the rest.

This means highlighting not only how and where we work, but also the more intangible aspects of our organization, like our purpose and values. It means leveraging our current employees' experiences and sharing why they love their jobs. To attract talent in the future of work we need to be loud and proud about the things that make us uniquely us.

In this fun and takeaway-filled presentation, attendees will not only learn how to create their own compelling stories to attract the right talent to their organization, but they'll also leave with a talent attraction framework they can continue to refine as the world of work keeps evolving.

What audiences come away with:
• Actionable ways to create and share a unique, sticky, and impactful employee value proposition
• Key strategies for leveraging your best recruiters (your existing team)
• An understanding of why creating a 'best' place to work might not mean what you think it does (and what licorice, cilantro, and pineapple pizza has to do with it)
• Knowledge of where culture lives, and how to adapt your story based on the team/location you're hiring for
Perfect for those looking to:
• Stand out from competing companies and attract and retain talent
• Turn existing employees into ambassadors/storytellers
• Reignite excitement about the potential of their team/business with new talent

Generation All: How to Build and Lead Multigenerational Teams

Regardless of which workplace resource we look at, we're inundated with information about how to ensure harmony, productivity, and alignment when the different generations come together as co-workers. But what if we're answering the wrong questions? Instead of asking 'how do we get different generations to work together?' we asked, 'how do we build deeper connection, trust, and awareness of the people we work with every day?'

In

this refreshing, insightful, and actionable presentation, workforce expert and bestselling author Eric Termuende shares insights gleaned from his years of research into how to build a better workforce – one that includes all generations, perspectives, and experiences. After studying the topic for years and surveying tens of thousands of people, Eric knows exactly what it takes to lead multigenerational teams. While the future of work may be unpredictable, one thing is certain: those who are able to build strong, multigenerational workplaces will have the advantage.

What audiences come away with:
• Actionable ways to improve engagement and alignment across all generations in the workplace
• Strategies for leading different generations
• An understanding of the role of company purpose, and why it is secondary to workplace experience
• Knowledge of the differences and similarities across generations as employees and teammates
• The skills needed to promote idea sharing, creativity, and inclusivity across generations
Perfect for those looking to:
• Understand the needs of the next generation of workers
• Bust generational myths
• Promote cross-generational mentorship/collaboration
• Attract and retain the next generation of work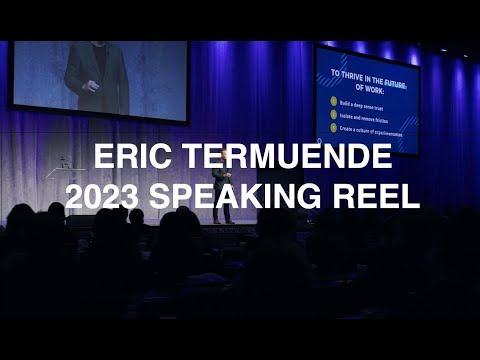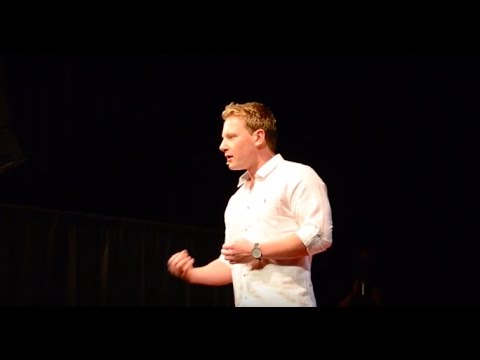 What is Eric Termuende 's speaking fee?
The typical range for Eric Termuende 's speaking fee is $15,000–$25,000. The low end of the fee range represents their standard virtual fee. The high end of the fee range represents their standard fee for a US-based in-person speaking engagement. Appearances which require an extended schedule of activities or international travel will possibly exceed this fee range. Speaker fees update frequently. To receive a personalized quote for Eric Termuende to speak at your event, please consult with a Key Speakers advisor for up to date information and assistance.
What factors influence the speaker's fee?
Other factors that influence a keynote speaker's fee include their reputation, expertise, demand, experience, duration of the presentation, travel requirements for the event location, and any additional services, activities or customization options they offer.
Are travel expenses included in the speaker's fee?
Travel expenses are typically not included in the listed speaker's fee and are quoted separately. If the speaker needs to travel internationally, fees will be higher. These expenses may include airfare, accommodation, ground transportation at home and in the event city, and meals. We can provide more detailed information about travel expenses and arrangements once you've selected a speaker.
How do I book Eric Termuende for my event?
The speaker booking process typically involves the following steps:
Browse our website or reach out to a Key Speakers advisor through our website to explore speaker ideas.
Select a keynote speaker based on their expertise, experience, and suitability for your event.
Contact Key Speakers to confirm the speaker's availability, fees, and any unique requirements. We can also help negotiate fees and terms.
Submit a firm offer to extend the invite to your speaker. These details will be used to create an agreement once the speaker accepts.
All parties coordinate and finalize the terms of the booking, including contract terms and conditions.
Confirm the booking by signing the contract and making the necessary payments.
What types of events do keynote speakers typically speak at?
Keynote speakers can speak at a wide range of events, virtual or in person, including conferences, corporate meetings, industry conventions, seminars, workshops, fundraising galas, educational programs, and other special occasions where an inspirational or informative address is desired.
How do I select the right keynote speaker for my event?
When selecting a keynote speaker, consider the following factors:
The speaker's expertise and knowledge relevant to your event's theme or industry.
Their speaking style, ability to engage the audience, and deliver impactful messages.
Past client testimonials, reviews, or references.
The speaker's availability and fee within your budget.
What are the payment terms and conditions?
A deposit is required upon signing the contract, with the remaining balance due 2–4 weeks before the event. If the event is taking place within 30 days, the full balance is due upon signing.
How far in advance should I book a keynote speaker?
It is generally advisable to book a keynote speaker as early as possible, especially if you have a specific speaker in mind or if your event is during a peak season holiday. Ideally, booking a speaker three to six months in advance can increase the chances of securing your desired speaker.
Can you help me with the logistics and technical requirements for the speaker's presentation?
Yes, we can assist you with the logistics and technical requirements for the speaker's presentation. We stay actively involved during pre-event planning to coordinate with you and ensure that the necessary audiovisual equipment, staging, lighting, and other technical aspects are in place for a successful presentation.
Are there any special requirements or accommodations that need to be considered for the speaker?
Keynote speakers may have specific requirements or accommodations that need to be considered, such as travel arrangements, accommodation preferences, dietary restrictions, or accessibility needs. Some speakers have a performance rider we include in the contract, others have minimal requirements.
Do keynote speakers offer customization options for their presentations?
Yes, many keynote speakers offer customization options for their presentations. They can tailor their content, examples, or case studies to align with your event's theme, industry, or specific audience. Discuss your customization needs with us so we can guide you accordingly.
Can the speaker participate in pre-event activities such as panel discussions or Q&A sessions?
Some keynote speakers are open to participating in pre-event activities such as panel discussions, Q&A sessions, or meet-and-greet sessions. Please share your specific requirements with us during the firm offer phase, so we can work on getting you everything you need.
How long is a typical keynote speech?
The duration of a standard keynote speech can vary depending on the speaker and the event's schedule. Typically, keynote speeches range from 30 minutes to 90 minutes, including any Q&A sessions or interactive elements. Some speakers can accommodate half or full day sessions and extended keynotes. Discuss the desired duration with your representative to determine the appropriate length for participation.
Can I provide feedback or reviews about the speaker's performance?
Yes, we encourage and appreciate feedback about the speaker's performance as well as our services. You can share your feedback via email after the event, or via our survey feedback form. Your feedback can help them improve our services and assist other clients in making informed decisions.
Are there any discounts or special offers available for booking multiple speakers or multiple events?
Often, yes. It's worth inquiring about such possibilities with your Key Speakers representative to explore any available cost-savings options.
Why book Eric Termuende though Key Speakers?
We provide a comprehensive service that takes the guesswork out of hiring a speaker—from speaker selection to logistics to post-event feedback. We know you have lots of responsibilities on top of finding and coordinating event speakers, so having a committed and proactive partner on your side that is an expert with the talent booking process is crucial. Every time you book a speaker with Key, your dedicated events manager will support you throughout the entire planning process. We work closely with you from speaker selection to post-event success and always ensure that your needs are addressed first.
We help you negotiate contractual details such as speaker fees and travel terms so that you end up with the most favorable deal. Leave the fine print to us so you can focus on other aspects of your event. Key Speakers mediates and absorbs some of the contractual risks that inherently come with booking a keynote speaker.
With our highly communicative booking and proposal model, you'll never be left in the dark with the status of your speaker. We pride ourselves on speedy response time and always keep you updated on all new developments relating to your event. Our experienced agents are personable (after our morning coffee!) and always eager to do whatever it takes to secure a fantastic speaker for your event.
To put it simply, Key Speakers is your one-stop resource for finding, booking and managing speakers for your event. We do the heavy lifting for you. Our dedicated and knowledgeable advisors ensure that your speaker's message and personal brand perfectly align to your event objectives.
Remember that the specific details and offerings may vary among different speakers, so it's always recommended to consult with your Key Speakers representative for accurate information and assistance.
Speaker Fee Range:
$15,000–$25,000
*Ranges are a guideline only, with the low end representing the speaker's virtual fee and the high end representing their in-person fee. Fees are subject to change. Contact us for an exact quote.
Travels From:
Canada
Related Categories:
Request Eric Termuende
Connect with us to learn more about booking this speaker for your event.