Speaker Fee Range:
$25,000–$50,000
*Ranges are a guideline only, with the low end representing the speaker's virtual fee and the high end representing their in-person fee. Fees are subject to change. Contact us for an exact quote.
Travels From:
California
Related Categories:
Juliet Funt
High Energy Global Speaker, Advisor to the Fortune 500 on Surviving the Age of Never Enough
Juliet Funt is the CEO of WhiteSpace at Work, a training and consulting firm that helps organizations, their leaders and employees flip the norms of business in order to reclaim their creativity, productivity and engagement. With thought-provoking content and immediately actionable tools, she has become a nationally recognized expert in coping with the Age of Overload in which we all live and work.
Juliet helps attendees learn the pivotal difference between activity and productivity. She teaches them a streamlined method for personal process improvement – leading to more creativity and engagement. She helps executives, managers and teams answer the critical question "What thoughts deserve my full attention today?"
Juliet regularly wows audiences as a high-impact, high-energy speaker. Yet her deeper mission is to show organizations how WhiteSpace® can change the negative patterns and behaviors that prevent them from achieving optimum results. Her clients include a number of Fortune…
DE-CRAPIFY YOUR WORKFLOW! | Solving the Equation of Too Much Work and Too Few People

Are your talented teams drowning in meetings, emails, decks, and to-dos without the foggiest clue about how to reduce the pile? Today's organizations are aggressive in their goals, and workers often lack the skills to choose the right focus for their energies. Eventually, they can't bear the workload anymore and leave, fail or quietly disengage. The solution, however, isn't as simple as hiring more hands. Instead, it requires a significant paradigm shift in how we perceive activity vs. true productivity. This session offers a roadmap to this shift, providing practical tools, strategies, and frameworks to reevaluate, prioritize, and streamline your team's workload. It champions the adoption of a Reductive Mindset, which emphasizes efficiency and effectiveness by ruthlessly eliminating unnecessary and non-value-adding touchpoints of the day.

YOU'RE ON MUTE | Strategies for Communicating in a Hybrid World

Hybrid work is here to stay, and so are the communication challenges that accompany it. As teams spread geographically, the dynamics of interpersonal communication morph, necessitating a transformation in our traditional strategies to maintain connection and efficacy. This session delves into the fundamental aspects of communication crucial for hybrid work success. It provides insights into our virtual presence, expressing ideas clearly and persuasively across various mediums, and on strategies to foster a cohesive team dynamic that transcends geographical dispersion. The session also outlines the perfect balance between synchronous and asynchronous communication, optimizing productivity while mitigating the risks of communication overload in a hybrid work environment.

WOW THEM | How to Build a Presentation from Start to Finish

Many professionals, even those with ample experience, either don't have a system in place to plan a presentation or skip planning entirely, diving headfirst into assembling their elements without foresight. This approach rarely leads to success. Instead, this session will show them how to take a comprehensive, step-by-step approach to transform their presentations into persuasive and inspiring stories that command attention. The process is segmented into five critical stages: Material Gathering, Emotional Arc, Vivid Illustration, Honing, and Slide Creation. Each stage is a stepping stone in your journey to master the art of presentations, giving you the confidence and expertise to captivate any audience.

THE VIRTUAL SALES STAR: How to consistently nail your online presentations

For those who sell, present, or represent a brand in any way, the future will now forever be a blend of in-person and virtual relationship building and selling. We must learn to both charm in the room and charm on camera—and the latter is tough. When forced to present important material through the tiny lens of a webcam, many executives, sales teams, and other professionals still are making cringe-worthy mistakes, even almost three years into using the medium.

It's time to create a uniform standard of excellence—not just good-enough-ness—whether the goal is landing a client, building a relationship, or closing a sale. A content-rich first half of this session will segue into live coaching for three participants, allowing interactive learning to occur as the rest of the audience observes. Elevate your skills and you'll elevate your results.

Outcomes:
• Upgrade critical virtual presence and pitches
• Stop embarrassing mistakes online that reduce your brand's status
• Reap the revenue rewards of increased online confidence
• Improve production, tech support, and visuals

THE

GREAT

HEADCOUNT

UNLOCK | Expand

the

power

of

your

team

for

a

fraction

of

the

cost

The American worker needs a witness. Almost three years ago, there was a crisis. Like most good people do in a crisis, they dug in. Then, the sprint they signed up for changed. The race became a marathon in duration yet maintained the intensity of that sprint for months and eventually years. Now, as burnout has become latent and ingrained—where employees' tanks are empty, the fumes are faint—it's time for a recession-wary lockdown on headcount and resources. It's no wonder people are quitting and disengaged; leaders are sandwiched between the teams they love and the goals they're given.

The solution is to aggressively increase team prioritization skills; learn models and formulas for eliminating projects that don't have direct benefits; and reduce wasteful work, emails, and meetings so that 10 workers can go back to doing the work of 10. In this session jam-packed with tools, techniques, and usable frameworks, Juliet will show you how.

Outcomes:
• Adopt the powerful tool of the Reductive Mindset
• De-crapify your workflow by reducing emails and meetings
• Reallocate expensive talent time to high-value work
• Learn models and techniques that keep quality work out in front

FEED

THE

FIRE

| How

taking

a

minute

to

think

changes

the

nature

of

work

Do you wish you could stop the mayhem of work and life for a brief moment and just take a minute? Do you sense that you could contribute more if there was a little more room in the day? Many people feel this way but taking a restorative pause has felt impossible—until now.

Today's global workforce is so fried that it belongs in the food court of a county fair, and 3:00 a.m. insomnia provides the day's only unscheduled time to think. What we need in our lives is the missing element of white space—short periods of open, unscheduled time that, when recaptured, change the very nature of work. White space is the stepping back, the strategic pause, and the oxygen that allow the sparks of our efforts to catch fire. It's yours to reclaim, and this session based on Juliet Funt's popular book A Minute to Think will show you how.

Outcomes:
• Reduce burnout and exhaustion
• Increase time for creative, innovative, and meaningful work
• Unify hybrid teams with mental models and shared language
• Maximize talent capacity to do the right work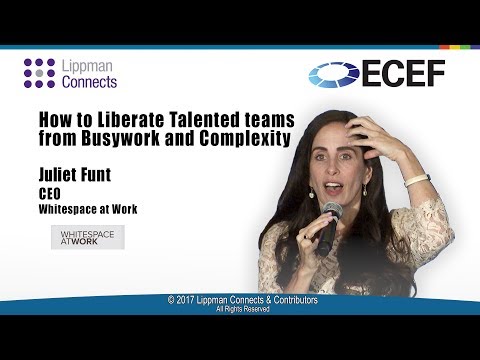 What is Juliet Funt's speaking fee?
The typical range for Juliet Funt's speaking fee is $25,000–$50,000. The low end of the fee range represents their standard virtual fee. The high end of the fee range represents their standard fee for a US-based in-person speaking engagement. Appearances which require an extended schedule of activities or international travel will possibly exceed this fee range. Speaker fees update frequently. To receive a personalized quote for Juliet Funt to speak at your event, please consult with a Key Speakers advisor for up to date information and assistance.
What factors influence the speaker's fee?
Other factors that influence a keynote speaker's fee include their reputation, expertise, demand, experience, duration of the presentation, travel requirements for the event location, and any additional services, activities or customization options they offer.
Are travel expenses included in the speaker's fee?
Travel expenses are typically not included in the listed speaker's fee and are quoted separately. If the speaker needs to travel internationally, fees will be higher. These expenses may include airfare, accommodation, ground transportation at home and in the event city, and meals. We can provide more detailed information about travel expenses and arrangements once you've selected a speaker.
How do I book Juliet Funt for my event?
The speaker booking process typically involves the following steps:
Browse our website or reach out to a Key Speakers advisor through our website to explore speaker ideas.
Select a keynote speaker based on their expertise, experience, and suitability for your event.
Contact Key Speakers to confirm the speaker's availability, fees, and any unique requirements. We can also help negotiate fees and terms.
Submit a firm offer to extend the invite to your speaker. These details will be used to create an agreement once the speaker accepts.
All parties coordinate and finalize the terms of the booking, including contract terms and conditions.
Confirm the booking by signing the contract and making the necessary payments.
What types of events do keynote speakers typically speak at?
Keynote speakers can speak at a wide range of events, virtual or in person, including conferences, corporate meetings, industry conventions, seminars, workshops, fundraising galas, educational programs, and other special occasions where an inspirational or informative address is desired.
How do I select the right keynote speaker for my event?
When selecting a keynote speaker, consider the following factors:
The speaker's expertise and knowledge relevant to your event's theme or industry.
Their speaking style, ability to engage the audience, and deliver impactful messages.
Past client testimonials, reviews, or references.
The speaker's availability and fee within your budget.
What are the payment terms and conditions?
A deposit is required upon signing the contract, with the remaining balance due 2–4 weeks before the event. If the event is taking place within 30 days, the full balance is due upon signing.
How far in advance should I book a keynote speaker?
It is generally advisable to book a keynote speaker as early as possible, especially if you have a specific speaker in mind or if your event is during a peak season holiday. Ideally, booking a speaker three to six months in advance can increase the chances of securing your desired speaker.
Can you help me with the logistics and technical requirements for the speaker's presentation?
Yes, we can assist you with the logistics and technical requirements for the speaker's presentation. We stay actively involved during pre-event planning to coordinate with you and ensure that the necessary audiovisual equipment, staging, lighting, and other technical aspects are in place for a successful presentation.
Are there any special requirements or accommodations that need to be considered for the speaker?
Keynote speakers may have specific requirements or accommodations that need to be considered, such as travel arrangements, accommodation preferences, dietary restrictions, or accessibility needs. Some speakers have a performance rider we include in the contract, others have minimal requirements.
Do keynote speakers offer customization options for their presentations?
Yes, many keynote speakers offer customization options for their presentations. They can tailor their content, examples, or case studies to align with your event's theme, industry, or specific audience. Discuss your customization needs with us so we can guide you accordingly.
Can the speaker participate in pre-event activities such as panel discussions or Q&A sessions?
Some keynote speakers are open to participating in pre-event activities such as panel discussions, Q&A sessions, or meet-and-greet sessions. Please share your specific requirements with us during the firm offer phase, so we can work on getting you everything you need.
How long is a typical keynote speech?
The duration of a standard keynote speech can vary depending on the speaker and the event's schedule. Typically, keynote speeches range from 30 minutes to 90 minutes, including any Q&A sessions or interactive elements. Some speakers can accommodate half or full day sessions and extended keynotes. Discuss the desired duration with your representative to determine the appropriate length for participation.
Can I provide feedback or reviews about the speaker's performance?
Yes, we encourage and appreciate feedback about the speaker's performance as well as our services. You can share your feedback via email after the event, or via our survey feedback form. Your feedback can help them improve our services and assist other clients in making informed decisions.
Are there any discounts or special offers available for booking multiple speakers or multiple events?
Often, yes. It's worth inquiring about such possibilities with your Key Speakers representative to explore any available cost-savings options.
Why book Juliet Funt though Key Speakers?
We provide a comprehensive service that takes the guesswork out of hiring a speaker—from speaker selection to logistics to post-event feedback. We know you have lots of responsibilities on top of finding and coordinating event speakers, so having a committed and proactive partner on your side that is an expert with the talent booking process is crucial. Every time you book a speaker with Key, your dedicated events manager will support you throughout the entire planning process. We work closely with you from speaker selection to post-event success and always ensure that your needs are addressed first.
We help you negotiate contractual details such as speaker fees and travel terms so that you end up with the most favorable deal. Leave the fine print to us so you can focus on other aspects of your event. Key Speakers mediates and absorbs some of the contractual risks that inherently come with booking a keynote speaker.
With our highly communicative booking and proposal model, you'll never be left in the dark with the status of your speaker. We pride ourselves on speedy response time and always keep you updated on all new developments relating to your event. Our experienced agents are personable (after our morning coffee!) and always eager to do whatever it takes to secure a fantastic speaker for your event.
To put it simply, Key Speakers is your one-stop resource for finding, booking and managing speakers for your event. We do the heavy lifting for you. Our dedicated and knowledgeable advisors ensure that your speaker's message and personal brand perfectly align to your event objectives.
Remember that the specific details and offerings may vary among different speakers, so it's always recommended to consult with your Key Speakers representative for accurate information and assistance.
Speaker Fee Range:
$25,000–$50,000
*Ranges are a guideline only, with the low end representing the speaker's virtual fee and the high end representing their in-person fee. Fees are subject to change. Contact us for an exact quote.
Travels From:
California
Related Categories:
Request Juliet Funt
Connect with us to learn more about booking this speaker for your event.