Speaker Fee Range:
$17,000–$35,000
*Ranges are a guideline only, with the low end representing the speaker's virtual fee and the high end representing their in-person fee. Fees are subject to change. Contact us for an exact quote.
Travels From:
Michigan
Related Categories:
Josh Linkner
Tech Entrepreneur, Hyper-Growth CEO,
NY Times
Bestselling Author, Venture Capitalist
Josh Linkner is a Creative Troublemaker. He passionately believes that all human beings have incredible creative capacity, and he's on a mission to unlock inventive thinking and creative problem solving to help leaders, individuals, and communities soar.
Josh has been the founder and CEO of five tech companies, which sold for a combined value of over $200 million and is the author of four books including the New York Times Bestsellers, Disciplined Dreaming and The Road to Reinvention. He has invested in and/or mentored over 100 startups and is the Founding Partner of Detroit Venture Partners.
Today, Josh serves as Chairman and co-founder of Platypus Labs, an innovation research, training, and consulting firm. He has twice been named the Ernst & Young Entrepreneur of the Year and is the recipient of the United States Presidential Champion…
Rethink. Reboot. Reinvent: How to Drive Disruption and Accelerate Transformation.

We're living in a rate of change like none other in history. The hard truth is that we can no longer rely on the models of the past and expect the same results. In this energizing and actionable keynote, you'll gain a deeper understanding of rapid change and how to respond confidently and intentionally. New York Times bestselling author and lifetime disruptor Josh Linkner shares a proven model for you to take control and reinvent your own future. This keynote serves leaders & teams who are:

•Struggling to keep up with the rate of change.
•Overwhelmed with competitive threats, technology advancements, and shifting
•disruptive market forces.
•Recognizing the need for reinvention but struggling to gain traction.

Big Little Breakthroughs: How small, everyday ideas drive gigantic results


The pressure to generate big ideas can feel overwhelming. We know that bold innovations are critical in these disruptive and competitive times, but when it comes to breakthrough thinking, we often freeze up.

Instead of shooting for a $10 billion IPO or a Nobel Prize, the most prolific innovators focus instead on

Big Little Breakthroughs

– small, creative acts that unlock massive rewards over time. By building a daily habit of creativity, leaders and organizations not only enjoy a high volume of small wins, but also the daily practice of micro-innovations — the fastest route to discover the massive breakthroughs we seek.

How did a convicted drug dealer use a Big Little Breakthrough to launch and scale a massively successful fitness company? Why was a nurse practitioner able to use daily micro-innovations to solve healthcare problems that the biggest corporations couldn't crack? How did a tattoo lead to a 30% boost in performance for a publicly traded restaurant company?

Big Little Breakthroughs isn't just for propeller-head inventors, fancy pants CEOs, or hoodie-donning tech billionaires. Rather, it is a simple yet effective method for all of us to cultivate the power of human creativity. Focusing on a simple and deliberate approach to daily practice, the system enables people from all backgrounds, training, and walks of life to expand their creative skillset and mindset. It helps everyday individuals and leaders unlock inventive thinking and harness innovation to tackle tough challenges and seize bold opportunities.

The Big Little Breakthroughs framework provides a specific and practical approach to unlocking dormant creative capacity. Instead of wild, risky and expensive moonshots, participants learn to unleash small, daily creative acts to drive gigantic results over time. In fact, cultivating high volumes of micro-innovations not only de-risks the creative process, it builds the much-needed skills that lead to colossal transformations...and the creative confidence to take responsible risks.

Find A Way: A Proven Innovation Framework to Solve Problems, Accelerate Opportunity and Sustain Growth

As we enter a new era of business, 50% of leaders in the United States have lost confidence in their ability to make decisions in the face of uncertainty. The level of disruption, technology threats, and volatility can be paralyzing. We are in a leadership crisis and must embrace a new model to meet today's challenges. Prolific entrepreneur, venture capital investor, and innovation expert Josh Linkner helps you Find A Way™ through his proven 5-step innovation framework for cultivating full-organization ingenuity. Whatever outcomes you crave the most - from sales growth to competitive advantage to employee engagement - you'll walk away with specific tools to drive sustainable success.

The

Find a Way™ framework prioritizes agility over brute force, creativity over hustle, and improvisation over perfect planning. Leaders who embrace the model are inspired and better equipped. They feel confident to move forward into the darkness and have a newfound capacity to win consistently, no matter the circumstances. This keynote serves leaders & teams who are
●Facing uncertainty and volatility.
●Seeking better ways to drive the outcomes they crave the most.
●Struggling to keep up with the pace of change.The audience will leave with
●A proven model for harnessing ingenuity to solve any problem and seize any opportunity.
●Innovative strategies to drive better results every day.
●The confidence to walk into the unknown and emerge victorious.


The 5 Mindsets of Innovation: How the world's most innovative leaders think and act.




Having interviewed hundreds of top innovators, leaders and organizations around the world,

New York Times

bestselling author and tech entrepreneur Josh Linkner uncovered the five most powerful mindsets that are the building blocks for jaw- dropping innovation. In this high-energy keynote, your audience will learn to embrace these powerful approaches in order to conquer adversity and fuel growth.

How did an oddball idea save the cattle industry over $1 billion? How did a large hotel chain create a new revenue stream and drive competitive differentiation without investing a penny? How did the leaders of a small organization stave off a near-certain extinction, even when they were overwhelmingly outmatched by a powerful enemy?

Each mindset is reinforced through surprising, real-world examples, laugh out loud moments, and practical takeaways. The five mindsets are portable and can be applied immediately to any role, job function, or industry. This memorable session will leave your audience inspired, moved, and better equipped.

The Creativity Upgrade: Lead your team to the next level of innovation, growth, and sustainable success


On a regular basis, we upgrade our cars, software, and wardrobe. But when was the last time you upgraded your imagination? Isn't it about time to give your team a boost of inventive thinking, creative problem solving, and everyday innovation to drive better outcomes?

From your upgrade, you will:



1. Learn

and understand the mindsets of innovators


2. Grasp

the need for – and urgency – of change


3. Become inspired

to take action and forge a new path


4. Acquire

specific techniques for creative problem solving


5. Leverage

human imagination to outpunch the competition


6. Understand

how and where to use inventive thinking to fuel

growth


7. Discover

fresh possibilities with heightened level of creative

awareness


8. Recognize

that we are all creative, and that everyday innovation is accessible for every role and job function


9. Demystify

the creative process


10. Emerge

with specific tools to close the Creativity Gap to achieve full

potential


11. Launch

a new version of you – as a powerful creative

force

In this inspiring keynote, Josh will help your team grow, as both business leaders and as people. Your audience will learn to solve problems in creative, non- traditional ways and expand their creative capacity to drive growth and sustainable success.

Your group will laugh hysterically, feel thoroughly energized, get deeply inspired, and leave better equipped. Now that's an upgrade that's simply irresistible.


Think and Act Like a Startup: How celebrity entrepreneurs generate game-changing solutions


Have you ever wondered how Oprah and Bill Gates think and act behind the scenes? How do the entrepreneurs we revere invent bold ideas, do more with less, and change the world as a result? What would happen if the founder of Snapchat or Zoom joined your organization?

Tech startups aren't the only ones who can think differently. We can all use this same creative thinking in our own careers, companies, and communities.

In this energizing and surprising keynote, five-time tech entrepreneur and venture capital investor Josh Linkner demystifies startup thinking and shares a specific methodology that we can put into practice immediately. Audience members will learn to embrace the creativity, grit, and vision of a startup and then channel this approach to drive growth, innovation, efficiency, and customer delight. Participants get an insider's look as Josh Linkner decodes startup thinking to help leaders of any size company in any industry or profession:

• Understand how an entrepreneur would attack their organization with the specific goal of dislodging it
• Reimagine their role through the lens of an

entrepreneur
• Harness the ferocity of entrepreneurial

thinking
• Embrace "startup speed" to increase velocity in their own

organizations
• Learn the five best approaches used by startups to create

disruption
• Avoid the weaknesses that plague entrepreneurs by exposing the four biggest startup death traps

The Music of Business: Translating Improvisational Thinking from the Jazz Stage to the Business World


Live jazz is an art form that equates to real-time innovation. To even navigate through a single song, jazz musicians must collaborate, adapt to rapidly changing circumstances, and make decisions in the face of ambiguity. As the baton of leadership gets passed from one musician to the next, individual contributors are constantly course correcting, inventing, and creatively solving problems.

Sounds just like your organization, doesn't it?

In this unique and memorable keynote, jazz guitarist and tech entrepreneur Josh Linkner uses a live musical performance as a metaphor for modern, innovative collaboration. Josh and his fellow musicians lead the audience on a musical journey, sharing an insider's look at this stunning art form. Through the lens of a jazz musician, participants will gain a fresh perspective and new techniques for creative problem solving, improved collaboration, and real-time agility.

This mesmerizing session's finale features live audience participation. After helping to "compose" a new jazz song, three audience members join the band and perform their new composition live in front of their peers (no musical experience necessary). Participants are given handheld percussion instruments - along with some fun props and costumes - and together with Josh and his fellow musicians, the group performs for the audience. This live performance brings the key learning principles to life, always ending in a cheering crowd and terrific pictures for social media.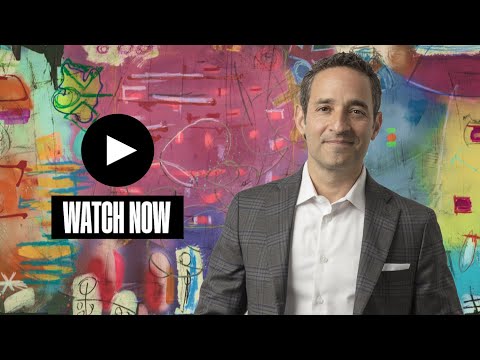 What is Josh Linkner's speaking fee?
The typical range for Josh Linkner's speaking fee is $17,000–$35,000. The low end of the fee range represents their standard virtual fee. The high end of the fee range represents their standard fee for a US-based in-person speaking engagement. Appearances which require an extended schedule of activities or international travel will possibly exceed this fee range. Speaker fees update frequently. To receive a personalized quote for Josh Linkner to speak at your event, please consult with a Key Speakers advisor for up to date information and assistance.
What factors influence the speaker's fee?
Other factors that influence a keynote speaker's fee include their reputation, expertise, demand, experience, duration of the presentation, travel requirements for the event location, and any additional services, activities or customization options they offer.
Are travel expenses included in the speaker's fee?
Travel expenses are typically not included in the listed speaker's fee and are quoted separately. If the speaker needs to travel internationally, fees will be higher. These expenses may include airfare, accommodation, ground transportation at home and in the event city, and meals. We can provide more detailed information about travel expenses and arrangements once you've selected a speaker.
How do I book Josh Linkner for my event?
The speaker booking process typically involves the following steps:
Browse our website or reach out to a Key Speakers advisor through our website to explore speaker ideas.
Select a keynote speaker based on their expertise, experience, and suitability for your event.
Contact Key Speakers to confirm the speaker's availability, fees, and any unique requirements. We can also help negotiate fees and terms.
Submit a firm offer to extend the invite to your speaker. These details will be used to create an agreement once the speaker accepts.
All parties coordinate and finalize the terms of the booking, including contract terms and conditions.
Confirm the booking by signing the contract and making the necessary payments.
What types of events do keynote speakers typically speak at?
Keynote speakers can speak at a wide range of events, virtual or in person, including conferences, corporate meetings, industry conventions, seminars, workshops, fundraising galas, educational programs, and other special occasions where an inspirational or informative address is desired.
How do I select the right keynote speaker for my event?
When selecting a keynote speaker, consider the following factors:
The speaker's expertise and knowledge relevant to your event's theme or industry.
Their speaking style, ability to engage the audience, and deliver impactful messages.
Past client testimonials, reviews, or references.
The speaker's availability and fee within your budget.
What are the payment terms and conditions?
A deposit is required upon signing the contract, with the remaining balance due 2–4 weeks before the event. If the event is taking place within 30 days, the full balance is due upon signing.
How far in advance should I book a keynote speaker?
It is generally advisable to book a keynote speaker as early as possible, especially if you have a specific speaker in mind or if your event is during a peak season holiday. Ideally, booking a speaker three to six months in advance can increase the chances of securing your desired speaker.
Can you help me with the logistics and technical requirements for the speaker's presentation?
Yes, we can assist you with the logistics and technical requirements for the speaker's presentation. We stay actively involved during pre-event planning to coordinate with you and ensure that the necessary audiovisual equipment, staging, lighting, and other technical aspects are in place for a successful presentation.
Are there any special requirements or accommodations that need to be considered for the speaker?
Keynote speakers may have specific requirements or accommodations that need to be considered, such as travel arrangements, accommodation preferences, dietary restrictions, or accessibility needs. Some speakers have a performance rider we include in the contract, others have minimal requirements.
Do keynote speakers offer customization options for their presentations?
Yes, many keynote speakers offer customization options for their presentations. They can tailor their content, examples, or case studies to align with your event's theme, industry, or specific audience. Discuss your customization needs with us so we can guide you accordingly.
Can the speaker participate in pre-event activities such as panel discussions or Q&A sessions?
Some keynote speakers are open to participating in pre-event activities such as panel discussions, Q&A sessions, or meet-and-greet sessions. Please share your specific requirements with us during the firm offer phase, so we can work on getting you everything you need.
How long is a typical keynote speech?
The duration of a standard keynote speech can vary depending on the speaker and the event's schedule. Typically, keynote speeches range from 30 minutes to 90 minutes, including any Q&A sessions or interactive elements. Some speakers can accommodate half or full day sessions and extended keynotes. Discuss the desired duration with your representative to determine the appropriate length for participation.
Can I provide feedback or reviews about the speaker's performance?
Yes, we encourage and appreciate feedback about the speaker's performance as well as our services. You can share your feedback via email after the event, or via our survey feedback form. Your feedback can help them improve our services and assist other clients in making informed decisions.
Are there any discounts or special offers available for booking multiple speakers or multiple events?
Often, yes. It's worth inquiring about such possibilities with your Key Speakers representative to explore any available cost-savings options.
Why book Josh Linkner though Key Speakers?
We provide a comprehensive service that takes the guesswork out of hiring a speaker—from speaker selection to logistics to post-event feedback. We know you have lots of responsibilities on top of finding and coordinating event speakers, so having a committed and proactive partner on your side that is an expert with the talent booking process is crucial. Every time you book a speaker with Key, your dedicated events manager will support you throughout the entire planning process. We work closely with you from speaker selection to post-event success and always ensure that your needs are addressed first.
We help you negotiate contractual details such as speaker fees and travel terms so that you end up with the most favorable deal. Leave the fine print to us so you can focus on other aspects of your event. Key Speakers mediates and absorbs some of the contractual risks that inherently come with booking a keynote speaker.
With our highly communicative booking and proposal model, you'll never be left in the dark with the status of your speaker. We pride ourselves on speedy response time and always keep you updated on all new developments relating to your event. Our experienced agents are personable (after our morning coffee!) and always eager to do whatever it takes to secure a fantastic speaker for your event.
To put it simply, Key Speakers is your one-stop resource for finding, booking and managing speakers for your event. We do the heavy lifting for you. Our dedicated and knowledgeable advisors ensure that your speaker's message and personal brand perfectly align to your event objectives.
Remember that the specific details and offerings may vary among different speakers, so it's always recommended to consult with your Key Speakers representative for accurate information and assistance.
Speaker Fee Range:
$17,000–$35,000
*Ranges are a guideline only, with the low end representing the speaker's virtual fee and the high end representing their in-person fee. Fees are subject to change. Contact us for an exact quote.
Travels From:
Michigan
Related Categories:
Request Josh Linkner
Connect with us to learn more about booking this speaker for your event.