Speaker Fee Range:
$30,000–$38,000
*Ranges are a guideline only, with the low end representing the speaker's virtual fee and the high end representing their in-person fee. Fees are subject to change. Contact us for an exact quote.
Travels From:
Georgia
Related Categories:
Myrtle Potter
Chief Executive Officer at Sumitovant Biopharma, and former President & COO at Genentech
Myrtle Potter is a best selling author and one of America's foremost and accomplished healthcare leaders and experts. Myrtle has dedicated three decades to serving the healthcare needs of millions of consumers through her leadership of some of America's most successful global healthcare companies. She was a vice president, at Merck, president at Bristol-Myers Squibb and later was named president and chief operating officer of Genentech, the world's biotechnology powerhouse, committed to developing powerful therapies for cancer, autoimmune diseases most successful biotechnology company.
In 2005 all of that came to an abrupt, shocking halt. Myrtle suffered a tragic, near-death experience in the healthcare system. After recovering and reflecting, Myrtle was inspired to completely change the course of her professional work. She decided to leave her corporate role and embark on a journey to combine her vast experience as healthcare expert, patient and caregiver to champion the needs of…
A View From the C-Suite: 5 Keys to "Yes" to Data Science Innovation




The Perfect Storm: Will America's Most Successful Industry Fight off Demise




The pharmaceutical industry is facing the "Perfect, Category 5 Storm": pipelines, patents, pricing and profits, are all converging in a manner that makes many gravely concerned. Here are a few facts: Currently 40% to 60% of industry pipelines are comprised of drugs that are externally sourced (in-licensing or acquisition, versus drug that are discovered in house. Approximately $218 billion of current worldwide branded drug sales are expected to come off patent between 2008 and 2015. The ever-growing U.S. healthcare costs means pricing pressures are expected to continue. It is not surprising then, that pharmaceutical company profits are also in decline, with the industry losing its position as the most profitable U.S. industry. All these factors together create the "Perfect, Category 5 Storm" that has the potential for widespread and lasting damage to the pharmaceutical industry. Yet, this perfect storm isn't just about pipelines, patents, profitability, and pricing. It's mostly about patients—and the inability of the pharmaceutical industry to meet their medical needs. A large proportion of the medications available don't work for large segments of patients. Drug adverse reactions remain a leading cause of death in the U.S. despite efforts aimed at making drugs safe. This results in tremendous waste in terms of healthcare spending, human quality of life, and life itself. So where does this vital and important industry find shelter from the storm? In this stimulating talk, Myrtle shares her views on what the pharmaceutical industry must do NOW to regain its position as a strong, innovative, leading business sector. She will also speak candidly about why she believes we should all be concerned. Change will not be easy and certainly it is not for the faint of heart. But, change is essential if this sector is to regain its place at the forefront of value creation for patients and investors.

Breaking The "Glass Ceiling" and Shooting Beyond




Against all odds, a young black girl from the dusty, dessert town of Las Cruces, New Mexico, has grown to be one of the healthcare industries' foremost leaders and America's "Trusted Voice in Healthcare™. Myrtle Potter has dedicated three decades of service and leadership to saving and enhancing the lives of patients through her leadership of America's most successful global life science companies. Myrtle Potter's story is a true American story of hard work, determination, and passion for making a difference. With the mastery of a great leader and the storytelling gifts of a great coach, Myrtle shares her life story and the 10 secrets to her success. You will walk her life journey – she will take you from her candid discussions about her childhood, to her revelations about her experiences running multinational, multi-billion dollar healthcare businesses, right through to the offices and board rooms of her own successful companies where she is shooting beyond the "glass ceiling" as a trailblazing entrepreneur. This talk is will make you laugh and cry and you will be inspired by Myrtle's belief that anyone can do what she has done. You will leave knowing that you too can break the glass ceiling and shoot beyond.

Healthcare Reform: The Good, The Bad, and The Unintended




Healthcare reform has captured all of our attention over the last twelve months, and yet, no topic in recent political history, has caused such divisiveness in our country. To understand why this topic has emerged to be such a lightening rod, one needs to understand the facts, the intended and unintended consequences of the decisions that have been made and the implications for the Country, your business and your family. Myrtle Potter, a 30-year healthcare industry veteran and one of America's foremost healthcare leaders, has made healthcare her business. She shares her candid, straightforward assessment of U.S. healthcare reform as only a strong, seasoned insider can. Her talk will leave you motivated to make healthcare your business too.

MPower! – Control Your Healthcare NOW!




At 45, Myrtle Potter was at the top of her game. At the time, she was president of Genentech, Inc., the world's most successful biotechnology company, and was directly responsible for bringing life-saving medications to patients. She simply seemed unstoppable. Yet, Myrtle lay in a hospital bed fighting for her life—failing lungs, failing liver and no kidney function. She was losing skin so badly that a vacuum was used to pick up her remains as it shed off her frail body. Myrtle was literally dying, ensnared in the same U.S. healthcare system for which she had made so many profound contributions. Myrtle ultimately wrested control of the direction of her care in order to save her own life. Myrtle came out of her frightening experience with one single focus: to dedicate her remaining working years to insuring that no-one goes through the same life-threatening healthcare maze that she endured. There are 85 million Americans just like Myrtle who bear the responsibility for directing and providing healthcare for themselves, their family or their loved ones. In Myrtle's, MPower speech, Myrtle introduces the audience to her emotional, true story and shares the lessons she learned about being a confident, effective director of your and your families' healthcare. Myrtle believes that it is essential for all of us to take control and be MPowered! to get the most out of our healthcare system where resources, time, and personal attention are increasingly difficult to come by.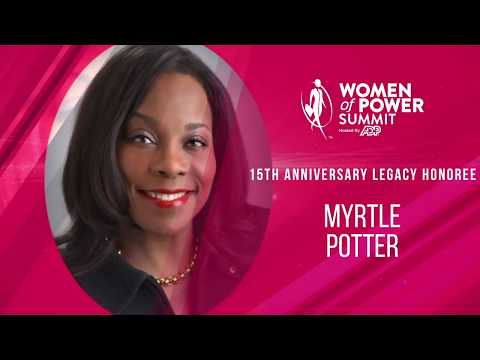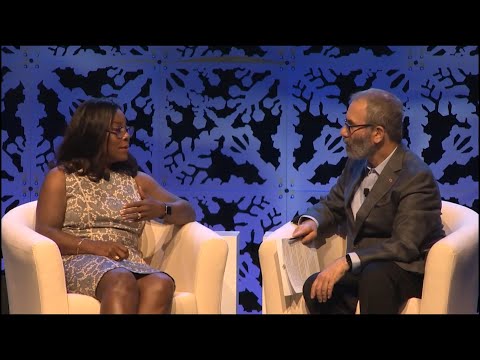 What is Myrtle Potter's speaking fee?
The typical range for Myrtle Potter's speaking fee is $30,000–$38,000. The low end of the fee range represents their standard virtual fee. The high end of the fee range represents their standard fee for a US-based in-person speaking engagement. Appearances which require an extended schedule of activities or international travel will possibly exceed this fee range. Speaker fees update frequently. To receive a personalized quote for Myrtle Potter to speak at your event, please consult with a Key Speakers advisor for up to date information and assistance.
What factors influence the speaker's fee?
Other factors that influence a keynote speaker's fee include their reputation, expertise, demand, experience, duration of the presentation, travel requirements for the event location, and any additional services, activities or customization options they offer.
Are travel expenses included in the speaker's fee?
Travel expenses are typically not included in the listed speaker's fee and are quoted separately. If the speaker needs to travel internationally, fees will be higher. These expenses may include airfare, accommodation, ground transportation at home and in the event city, and meals. We can provide more detailed information about travel expenses and arrangements once you've selected a speaker.
How do I book Myrtle Potter for my event?
The speaker booking process typically involves the following steps:
Browse our website or reach out to a Key Speakers advisor through our website to explore speaker ideas.
Select a keynote speaker based on their expertise, experience, and suitability for your event.
Contact Key Speakers to confirm the speaker's availability, fees, and any unique requirements. We can also help negotiate fees and terms.
Submit a firm offer to extend the invite to your speaker. These details will be used to create an agreement once the speaker accepts.
All parties coordinate and finalize the terms of the booking, including contract terms and conditions.
Confirm the booking by signing the contract and making the necessary payments.
What types of events do keynote speakers typically speak at?
Keynote speakers can speak at a wide range of events, virtual or in person, including conferences, corporate meetings, industry conventions, seminars, workshops, fundraising galas, educational programs, and other special occasions where an inspirational or informative address is desired.
How do I select the right keynote speaker for my event?
When selecting a keynote speaker, consider the following factors:
The speaker's expertise and knowledge relevant to your event's theme or industry.
Their speaking style, ability to engage the audience, and deliver impactful messages.
Past client testimonials, reviews, or references.
The speaker's availability and fee within your budget.
What are the payment terms and conditions?
A deposit is required upon signing the contract, with the remaining balance due 2–4 weeks before the event. If the event is taking place within 30 days, the full balance is due upon signing.
How far in advance should I book a keynote speaker?
It is generally advisable to book a keynote speaker as early as possible, especially if you have a specific speaker in mind or if your event is during a peak season holiday. Ideally, booking a speaker three to six months in advance can increase the chances of securing your desired speaker.
Can you help me with the logistics and technical requirements for the speaker's presentation?
Yes, we can assist you with the logistics and technical requirements for the speaker's presentation. We stay actively involved during pre-event planning to coordinate with you and ensure that the necessary audiovisual equipment, staging, lighting, and other technical aspects are in place for a successful presentation.
Are there any special requirements or accommodations that need to be considered for the speaker?
Keynote speakers may have specific requirements or accommodations that need to be considered, such as travel arrangements, accommodation preferences, dietary restrictions, or accessibility needs. Some speakers have a performance rider we include in the contract, others have minimal requirements.
Do keynote speakers offer customization options for their presentations?
Yes, many keynote speakers offer customization options for their presentations. They can tailor their content, examples, or case studies to align with your event's theme, industry, or specific audience. Discuss your customization needs with us so we can guide you accordingly.
Can the speaker participate in pre-event activities such as panel discussions or Q&A sessions?
Some keynote speakers are open to participating in pre-event activities such as panel discussions, Q&A sessions, or meet-and-greet sessions. Please share your specific requirements with us during the firm offer phase, so we can work on getting you everything you need.
How long is a typical keynote speech?
The duration of a standard keynote speech can vary depending on the speaker and the event's schedule. Typically, keynote speeches range from 30 minutes to 90 minutes, including any Q&A sessions or interactive elements. Some speakers can accommodate half or full day sessions and extended keynotes. Discuss the desired duration with your representative to determine the appropriate length for participation.
Can I provide feedback or reviews about the speaker's performance?
Yes, we encourage and appreciate feedback about the speaker's performance as well as our services. You can share your feedback via email after the event, or via our survey feedback form. Your feedback can help them improve our services and assist other clients in making informed decisions.
Are there any discounts or special offers available for booking multiple speakers or multiple events?
Often, yes. It's worth inquiring about such possibilities with your Key Speakers representative to explore any available cost-savings options.
Why book Myrtle Potter though Key Speakers?
We provide a comprehensive service that takes the guesswork out of hiring a speaker—from speaker selection to logistics to post-event feedback. We know you have lots of responsibilities on top of finding and coordinating event speakers, so having a committed and proactive partner on your side that is an expert with the talent booking process is crucial. Every time you book a speaker with Key, your dedicated events manager will support you throughout the entire planning process. We work closely with you from speaker selection to post-event success and always ensure that your needs are addressed first.
We help you negotiate contractual details such as speaker fees and travel terms so that you end up with the most favorable deal. Leave the fine print to us so you can focus on other aspects of your event. Key Speakers mediates and absorbs some of the contractual risks that inherently come with booking a keynote speaker.
With our highly communicative booking and proposal model, you'll never be left in the dark with the status of your speaker. We pride ourselves on speedy response time and always keep you updated on all new developments relating to your event. Our experienced agents are personable (after our morning coffee!) and always eager to do whatever it takes to secure a fantastic speaker for your event.
To put it simply, Key Speakers is your one-stop resource for finding, booking and managing speakers for your event. We do the heavy lifting for you. Our dedicated and knowledgeable advisors ensure that your speaker's message and personal brand perfectly align to your event objectives.
Remember that the specific details and offerings may vary among different speakers, so it's always recommended to consult with your Key Speakers representative for accurate information and assistance.
Speaker Fee Range:
$30,000–$38,000
*Ranges are a guideline only, with the low end representing the speaker's virtual fee and the high end representing their in-person fee. Fees are subject to change. Contact us for an exact quote.
Travels From:
Georgia
Related Categories: