Speaker Fee Range:
$14,000–$16,000
*Ranges are a guideline only, with the low end representing the speaker's virtual fee and the high end representing their in-person fee. Fees are subject to change. Contact us for an exact quote.
Travels From:
New Jersey
Related Categories:
Sampson Davis, MD
Emergency Medicine Physician, Author, and Frequent Medical Expert on Today and CNN
Sampson Davis, M.D. was raised as the fifth of six children in Newark, one of New Jersey's poorest cities. As a child Davis grew-up in cramped living quarters, surrounded by fragmented families, crime and drugs. Still, he was a good student, able to strike the fragile balance between being smart yet socially acceptable on the streets. It was this combination of skills, Davis says, that were most critical to his survival.
While attending University High School in Newark, Davis met Dr. Rameck Hunt and Dr. George Jenkins, two fellow students who together made a promise to become doctors. Davis and his two childhood friends each successfully fulfilled their pact and today Davis is a board certified emergency medicine physician.
In February 2013, Davis released his latest book, Living & Dying in Brick City–An E.R. Doctor Returns Home. In addition to discussing Davis' riveting experiences…
Brick City




In this motivational speech, Dr. Sampson Davis speaks about growing up in one of New Jersey's poorest cities, and his journey toward becoming an emergency medicine physician. With stories shared from his latest book, Living and Dying in Brick City, Dr. Davis explains how his city earned its nickname—Brick City. It is the grit and toughness of Newark that allows such a moniker to be born. His story is an inspiring one filled with dramatic details and anecdotes. He also explains how these issues complicate healthy life options that are further strained by an undersupply of health care providers and facilities.

The Pact




Success—what does it look like? How does one achieve it? Dr. Sampson Davis speaks adamantly about success. The first necessary step is to seek out like-minded friends to form a pact. When pursuing a goal, it is vital to have a team approach. This solidarity helps to drive you and keep one motivated especially during moments where you want to give up. We all need a muse. Show me a successful person and I will show you his successful circle. The pact approach is what saved Dr. Davis' life, when he and his two friends made a promise to each other to become doctors. This oath pushed him beyond his conceivable limits. He never realized he could reach such heights but knowing he was going to be held accountable served as motivation. Simply, he didn't want to disappoint his two friends. If we are able to form pacts across the country towards a common goal, then we can begin to achieve insurmountable success. His story of overcoming unfathomable odds is chronicled in his

New York Times

best seller

The Pact

.

The Power of Education—Investing in Your Most Precious Commodity




As the first member in his family to attend college, Dr. Sampson Davis speaks candidly about how education saved his life. Aiming to become "the Michael Jordan of education," Dr. Davis inspires high school, college and graduate students alike to remain steadfast in their pursuit of academics. Referencing stories from his best-selling books

The Pact, The Bond

and

We Beat the Street

, Dr. Davis will inspire all students in their pursuit of academic achievement. His blueprint toward higher education has served as a resource for community-wide reads, grammar school and high school assemblies, college first year experience lectures, college-themed talks and commencement speeches.

Your Health Matters




As a practicing ER physician, Dr. Sampson Davis focuses on steps needed so one doesn't land in the ER. He speaks candidly about health issues plaguing our communities and addresses firsthand the preventative measures required to defeat diabetes, obesity, hypertension, cancer, prescription drug abuse, heart disease and much more. His speech embodies the philosophy, "an ounce of prevention is worth a pound of cure." Dr. Davis has chronicled these important health issues in his book

Living and Dying in Brick City

. He addresses ailments ranging from common medical issues to the most life-threatening circumstances.

Know Who You Are and Always Give Back




Regardless of life circumstances, Dr. Sampson Davis believes wholeheartedly we all have something to give. Everything from paying a kind word on an elevator ride to saying good morning to a stranger, we have something to offer. This process of giving back not only impacts the person receiving the gift but also allows you, as the giver, to feel good about yourself, about life. It is vital to give back. It is one of life's most precious gifts that often goes unused because so many of us don't give it an opportunity. In the process of helping someone else, you may change your own life in redefining your purpose. Further, Dr. Davis believes it is important to know who you are as an individual. Believe in yourself and stand firm in defining yourself. Not everyone will embrace who you are and that is okay. We call such individuals "haters" and they are extremely successful at their job of hating. So allow haters to hate while you, as a "believer," believes.

The Sport Scholar




In this speech, Dr. Sampson Davis speaks about the importance of staying active. You must always keep moving. In life, aim to never retire; rather, switch gears into another pursuit of passion. As a teenager, Dr. Davis played high school baseball and even had visions of a professional sports career. It was the adrenaline of sports that helped his academics. The energy and excitement after exercising or taking part in sports-related activities release happy hormones from the brain known as endorphins. It is the body endorphins that helped drive Dr. Davis in his academics by allowing him to focus and push through long hours of studying. It is important to have balance in life. Playing sports and exercising is fun; not only do you gain the benefit of exercising from a healthy view point but the activity also spills over into other sectors of life. In this case, sports enabled Dr. Davis to focus more on his academics. Sports also kept him busy during tempting days of growing up on the streets of Newark. Never want a youth or an adult to sit idle.

The Health Inequality Gap in America




Living and Dying in Brick City: An E.R. Doctor Returns Home




Dr. Davis looks at the healthcare crisis in the inner city from a rare perspective: as a doctor who works on the front line of emergency medical care in the community where he grew up, and as a member of that community who has faced the same challenges as the people he treats every day.

Making the Case for the Affordable Care Act (ACA): An ER Doctor's Perspective




Through riveting personal and medical stories, Dr. Sampson Davis provides a never-before-seen look at health care in America, presenting not only the issues but also the complicated lives behind the statistics. Dr. Davis also looks at the ACA—how it may draw more doctors and nurses to return to abandoned areas of America, while technical barriers keep many patients form even signing up. Dr. Davis shares stories about the health care industry and how it personally affected his family. His father, diagnosed with prostate cancer and Alzheimer's, turned to him to guide him through the stages of the health care system.

I Have A Dream




Dr. Sampson Davis strongly believes we all have a dream. But what happens when the dream is interrupted or comes to a halt. How does one bounce back? How does one believe it is possible to achieve the unimaginable? In this speech, Dr. Davis will inspire all to remain vigilant in the pursuit of their dreams. Giving up is not an option. Work with what you have in place and believe you can make it happen. Dr. Davis will share his obstacles and pitfalls and how he never allowed his dream to be deferred even when faced with sure defeat. He will share the struggles he faced along the way. A college professor once told him to switch majors and that he wasn't cut out to be a doctor. He dealt with personal tragedies in his family, from addiction to watching his sister lose her life to a health battle. Dr. Davis remained firm in knowing he could achieve success and it was his sister's fight for life that inspired him to keep pushing.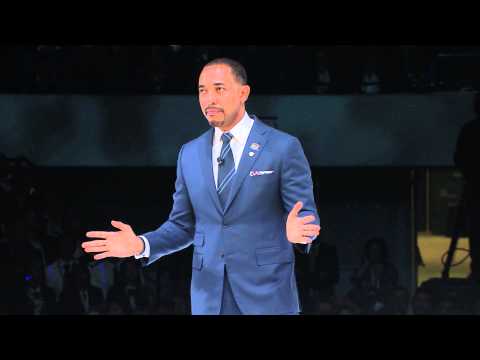 What is Sampson Davis, MD's speaking fee?
The typical range for Sampson Davis, MD's speaking fee is $14,000–$16,000. The low end of the fee range represents their standard virtual fee. The high end of the fee range represents their standard fee for a US-based in-person speaking engagement. Appearances which require an extended schedule of activities or international travel will possibly exceed this fee range. Speaker fees update frequently. To receive a personalized quote for Sampson Davis, MD to speak at your event, please consult with a Key Speakers advisor for up to date information and assistance.
What factors influence the speaker's fee?
Other factors that influence a keynote speaker's fee include their reputation, expertise, demand, experience, duration of the presentation, travel requirements for the event location, and any additional services, activities or customization options they offer.
Are travel expenses included in the speaker's fee?
Travel expenses are typically not included in the listed speaker's fee and are quoted separately. If the speaker needs to travel internationally, fees will be higher. These expenses may include airfare, accommodation, ground transportation at home and in the event city, and meals. We can provide more detailed information about travel expenses and arrangements once you've selected a speaker.
How do I book Sampson Davis, MD for my event?
The speaker booking process typically involves the following steps:
Browse our website or reach out to a Key Speakers advisor through our website to explore speaker ideas.
Select a keynote speaker based on their expertise, experience, and suitability for your event.
Contact Key Speakers to confirm the speaker's availability, fees, and any unique requirements. We can also help negotiate fees and terms.
Submit a firm offer to extend the invite to your speaker. These details will be used to create an agreement once the speaker accepts.
All parties coordinate and finalize the terms of the booking, including contract terms and conditions.
Confirm the booking by signing the contract and making the necessary payments.
What types of events do keynote speakers typically speak at?
Keynote speakers can speak at a wide range of events, virtual or in person, including conferences, corporate meetings, industry conventions, seminars, workshops, fundraising galas, educational programs, and other special occasions where an inspirational or informative address is desired.
How do I select the right keynote speaker for my event?
When selecting a keynote speaker, consider the following factors:
The speaker's expertise and knowledge relevant to your event's theme or industry.
Their speaking style, ability to engage the audience, and deliver impactful messages.
Past client testimonials, reviews, or references.
The speaker's availability and fee within your budget.
What are the payment terms and conditions?
A deposit is required upon signing the contract, with the remaining balance due 2–4 weeks before the event. If the event is taking place within 30 days, the full balance is due upon signing.
How far in advance should I book a keynote speaker?
It is generally advisable to book a keynote speaker as early as possible, especially if you have a specific speaker in mind or if your event is during a peak season holiday. Ideally, booking a speaker three to six months in advance can increase the chances of securing your desired speaker.
Can you help me with the logistics and technical requirements for the speaker's presentation?
Yes, we can assist you with the logistics and technical requirements for the speaker's presentation. We stay actively involved during pre-event planning to coordinate with you and ensure that the necessary audiovisual equipment, staging, lighting, and other technical aspects are in place for a successful presentation.
Are there any special requirements or accommodations that need to be considered for the speaker?
Keynote speakers may have specific requirements or accommodations that need to be considered, such as travel arrangements, accommodation preferences, dietary restrictions, or accessibility needs. Some speakers have a performance rider we include in the contract, others have minimal requirements.
Do keynote speakers offer customization options for their presentations?
Yes, many keynote speakers offer customization options for their presentations. They can tailor their content, examples, or case studies to align with your event's theme, industry, or specific audience. Discuss your customization needs with us so we can guide you accordingly.
Can the speaker participate in pre-event activities such as panel discussions or Q&A sessions?
Some keynote speakers are open to participating in pre-event activities such as panel discussions, Q&A sessions, or meet-and-greet sessions. Please share your specific requirements with us during the firm offer phase, so we can work on getting you everything you need.
How long is a typical keynote speech?
The duration of a standard keynote speech can vary depending on the speaker and the event's schedule. Typically, keynote speeches range from 30 minutes to 90 minutes, including any Q&A sessions or interactive elements. Some speakers can accommodate half or full day sessions and extended keynotes. Discuss the desired duration with your representative to determine the appropriate length for participation.
Can I provide feedback or reviews about the speaker's performance?
Yes, we encourage and appreciate feedback about the speaker's performance as well as our services. You can share your feedback via email after the event, or via our survey feedback form. Your feedback can help them improve our services and assist other clients in making informed decisions.
Are there any discounts or special offers available for booking multiple speakers or multiple events?
Often, yes. It's worth inquiring about such possibilities with your Key Speakers representative to explore any available cost-savings options.
Why book Sampson Davis, MD though Key Speakers?
We provide a comprehensive service that takes the guesswork out of hiring a speaker—from speaker selection to logistics to post-event feedback. We know you have lots of responsibilities on top of finding and coordinating event speakers, so having a committed and proactive partner on your side that is an expert with the talent booking process is crucial. Every time you book a speaker with Key, your dedicated events manager will support you throughout the entire planning process. We work closely with you from speaker selection to post-event success and always ensure that your needs are addressed first.
We help you negotiate contractual details such as speaker fees and travel terms so that you end up with the most favorable deal. Leave the fine print to us so you can focus on other aspects of your event. Key Speakers mediates and absorbs some of the contractual risks that inherently come with booking a keynote speaker.
With our highly communicative booking and proposal model, you'll never be left in the dark with the status of your speaker. We pride ourselves on speedy response time and always keep you updated on all new developments relating to your event. Our experienced agents are personable (after our morning coffee!) and always eager to do whatever it takes to secure a fantastic speaker for your event.
To put it simply, Key Speakers is your one-stop resource for finding, booking and managing speakers for your event. We do the heavy lifting for you. Our dedicated and knowledgeable advisors ensure that your speaker's message and personal brand perfectly align to your event objectives.
Remember that the specific details and offerings may vary among different speakers, so it's always recommended to consult with your Key Speakers representative for accurate information and assistance.
Speaker Fee Range:
$14,000–$16,000
*Ranges are a guideline only, with the low end representing the speaker's virtual fee and the high end representing their in-person fee. Fees are subject to change. Contact us for an exact quote.
Travels From:
New Jersey
Related Categories:
Request Sampson Davis, MD
Connect with us to learn more about booking this speaker for your event.