Speaker Fee Range:
$20,000–$25,000
*Ranges are a guideline only, with the low end representing the speaker's virtual fee and the high end representing their in-person fee. Fees are subject to change. Contact us for an exact quote.
Travels From:
Massachusetts
Related Categories:
Nataly Kogan
Happiness and Leadership Expert, Successful Tech Entrepreneur & Venture Capitalist
A leading expert on emotional fitness and leadership, Nataly Kogan is an entrepreneur, best-selling author, and keynote speaker on a mission to activate millions of people to struggle less, thrive more, and embrace their Awesome Human!
Nataly immigrated to the US as a refugee from the former Soviet Union when she was 13 years old. Starting her American life in the projects and on welfare, she learned English by watching "Who's the Boss?" on repeat.
She went on to reach the highest levels of success at McKinsey and Microsoft, as a Managing Director at a venture capital fund, and as founder or executive at 5 startups and tech companies.
But after years of chasing a non-existent state of nirvana, Nataly suffered a debilitating burnout that led her to find a new way to live and work.
Nataly is a sought-after international keynote speaker and has appeared…
THRIVING THROUGH CHANGE: Science-backed blueprint to thrive through adversity

Challenge and change are constant. Struggle is optional. Change is hard. It brings uncertainty and uncertainty is extremely difficult for the human brain to
handle. So the human brain responds by increasing stress and over-focusing on everything that could go wrong, which drains our energy and prevents us from using our fullest capacity to move through change with a sense of purpose and possibility. In this immediately actionable keynote, Nataly shares her science-backed T.H.R.I.V.E. blueprint for how to use emotional fitness skills to help your brain -- and yourself! -- struggle less so you
can thrive and grow through adversity and change.Key Takeaways:
• The neuroscience of change (and why it's so difficult for the human brain)
• 6 specific strategies to not just make it through, but thrive through change
• Powerful activational questions to move through change with more clarity, compassion, and a mindset of possibility

EMOTIONALLY FIT LEADERSHIP: Optimize your ability to positively impact other people's capacity to thrive

You are a leader if you positively impact other people's capacity to thrive. And you can only do this if you positively impact your own capacity to thrive, first.
For 15 years, Nataly was a successful leader in tech, finance, and start-up companies. But, as she shares in this powerful keynote, by trying to be a servant leader she became a martyr leader, a mistake that not only caused her own burnout, but hurt her ability to be a compassionate, authentic leader who could successfully empower her teams to succeed. Nataly shares specific lessons she learned and tangible, immediately actionable practices for leaders to improve their emotional fitness and optimize their ability to positively impact their teams' capacity to thrive.Key Takeaways:
• Research about the direct relationship between leader well-being and their team's well-being and performance
• An innovative concept of the Emotional Whiteboard, and practices to improve emotional awareness and psychological safety
• A fresh take on self-care as a skill of managing energy and how to make it a realistic daily priority

THE POWER OF EMOTIONAL FITNESS @ WORK: Science-backed skills to fuel your energy, reduce stress, and handle challenges with greater resilience

Exhaustion, stress, and burnout are at an all-time high. We're feeling less connected to ourselves, our work, and our colleagues. And constant change, uncertainty, and challenges have drained our energy reserves. But work doesn't have to be an emotional drain or cause of burnout. As Nataly
shares in this powerful keynote, it can be a source of meaning, connection, and joy -- yes, even during change and challenges! With her signature contagious energy, straight talk, and plenty of humor, Nataly shares research from neuroscience and psychology, and her powerful, personal story of success and overcoming burnout. Using her science-backed Happier Method™, she activates you to strengthen your emotional fitness by integrating simple practices into your daily routine (please don't call her a motivational speaker!)Key Takeaways:
• Emotional fitness skills to reduce stress and avoid daily burnout
• How to create a daily gratitude practice to experience more joy and satisfaction at work
• A fresh take on self-care as a skill of managing your energy and realistic ways to fit into your
busy schedule
• How practicing Intentional Kindness can help you feel more connected and happier at work

Nataly's science-backed method includes 5 Core Emotional Fitness Skills (Acceptance, Gratitude, Self-Care, Intentional Kindness, the Bigger Why) and she can focus her talk on a specific skill to best fit your organization's needs and goals.

HAPPINESS IS A SKILL: 5 science-backed skills to fuel your well-being and joy

(Based on Nataly's best-selling book HAPPIER NOW)

We've all gotten stuck in the "I'll be happy when…" trap, believing that achievements, big life changes, or seeking perfection in ourselves and our lives will bring us happiness. In this vulnerable and practical keynote, Nataly, the founder of Happier, a company that has helped more than one million people live happier lives, and author of the best-selling book Happier Now, shares her lifelong struggle of searching for the elusive "big happy" through achievements and
how she finally made the essential mindset shifts that allowed her to live with more selfcompassion, joy, and meaning. Nataly redefines happiness as a skill that anyone can cultivate. Using her science-backed Happier Method™, shares simple yet powerful skills and practices to activate the audience to
experience more joy in everyday moments and get through tough times with greater ease.

Key Takeaways:
• A fresh new mindset of seeing happiness as a skill you can practice and improve
• Introduction to the 5 happier skills, based on Nataly's Happier Method™
• The power of gratitude to fuel joy and reduce stress
• How kindness and compassion can fuel your happiness by cultivating a deeper sense of human connection
• Strategies to be happier at work, even amidst challenges and constant change

THE LENS OF MEANING: Live and work with greater purpose, fulfillment, and impact

We're overwhelmed with meetings, calls, emails, and daily to-dos and responsibilities -- and feeling disconnected from the purpose of what we do. But we have the power to change this by shifting the lens through which we see our days, our work, and our lives. In this moving and deeply transformative keynote, Nataly shares the 1 question we must ask ourselves daily to shift from obligation to enthusiasm, from overwhelm to resilience, from dread to
deep satisfaction and joy. Through powerful stories and research, she activates audience members to focus on what's truly meaningful and important, and by doing so, unleash their fullest capacities and unique gifts in their work and lives.Key Takeaways:
• How shifting into a pro-social mindset increases motivation and job satisfaction
• Simple yet surprisingly powerful ways to infuse your daily tasks with a sense of purpose
• How to reduce stress and improve resilience by shifting the lens through which you see your work

EMBRACE YOUR AWESOME HUMAN! Break free from daily burnout, struggle less and thrive more in work and life

(Based on Nataly's best-selling book, THE AWESOME HUMAN PROJECT)

Every single one of us has unique potential and capacity to create positive, meaningful impact -- at work and in life. But the only way we can unleash our full capacity to be a force of good without burning out is by making our emotional fitness a top, non-negotiable priority. As Nataly says in this powerful keynote: "You can't give what you don't have." As a successful entrepreneur, executive and refugee, Nataly learned this lesson the hard way. For decades, she pursued a successful and meaningful career by pushing herself beyond her limits, wearing exhaustion as a badge of honor, and ignoring her emotional health. Until she burned out and almost lost everything that was meaningful to her, including the company she had founded. With her signature straight talk, vulnerability, contagious energy, and humor, Nataly shares the essential mindset shifts, research, and super tangible practices to help you break free from daily burnout,struggle less and thrive more -- so you can embrace your Awesome Human!

Key Takeaways:
• Common symptoms of daily burnout and tangible strategies to address them
• Why emotional fitness is an essential ingredient in success and meaningful impact
• The Awesome Human Daily Checklist of 5 science-backed daily practices to reduce struggle,
create a more supportive relationship with yourself, and thrive!

Nataly can turn this keynote into a 90-minute interactive workshop, including her newly released Awesome Human Journal for every participant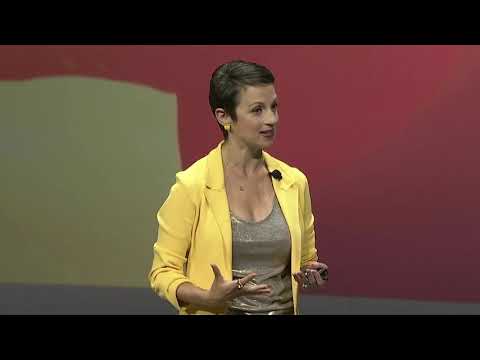 What is Nataly Kogan's speaking fee?
The typical range for Nataly Kogan's speaking fee is $20,000–$25,000. The low end of the fee range represents their standard virtual fee. The high end of the fee range represents their standard fee for a US-based in-person speaking engagement. Appearances which require an extended schedule of activities or international travel will possibly exceed this fee range. Speaker fees update frequently. To receive a personalized quote for Nataly Kogan to speak at your event, please consult with a Key Speakers advisor for up to date information and assistance.
What factors influence the speaker's fee?
Other factors that influence a keynote speaker's fee include their reputation, expertise, demand, experience, duration of the presentation, travel requirements for the event location, and any additional services, activities or customization options they offer.
Are travel expenses included in the speaker's fee?
Travel expenses are typically not included in the listed speaker's fee and are quoted separately. If the speaker needs to travel internationally, fees will be higher. These expenses may include airfare, accommodation, ground transportation at home and in the event city, and meals. We can provide more detailed information about travel expenses and arrangements once you've selected a speaker.
How do I book Nataly Kogan for my event?
The speaker booking process typically involves the following steps:
Browse our website or reach out to a Key Speakers advisor through our website to explore speaker ideas.
Select a keynote speaker based on their expertise, experience, and suitability for your event.
Contact Key Speakers to confirm the speaker's availability, fees, and any unique requirements. We can also help negotiate fees and terms.
Submit a firm offer to extend the invite to your speaker. These details will be used to create an agreement once the speaker accepts.
All parties coordinate and finalize the terms of the booking, including contract terms and conditions.
Confirm the booking by signing the contract and making the necessary payments.
What types of events do keynote speakers typically speak at?
Keynote speakers can speak at a wide range of events, virtual or in person, including conferences, corporate meetings, industry conventions, seminars, workshops, fundraising galas, educational programs, and other special occasions where an inspirational or informative address is desired.
How do I select the right keynote speaker for my event?
When selecting a keynote speaker, consider the following factors:
The speaker's expertise and knowledge relevant to your event's theme or industry.
Their speaking style, ability to engage the audience, and deliver impactful messages.
Past client testimonials, reviews, or references.
The speaker's availability and fee within your budget.
What are the payment terms and conditions?
A deposit is required upon signing the contract, with the remaining balance due 2–4 weeks before the event. If the event is taking place within 30 days, the full balance is due upon signing.
How far in advance should I book a keynote speaker?
It is generally advisable to book a keynote speaker as early as possible, especially if you have a specific speaker in mind or if your event is during a peak season holiday. Ideally, booking a speaker three to six months in advance can increase the chances of securing your desired speaker.
Can you help me with the logistics and technical requirements for the speaker's presentation?
Yes, we can assist you with the logistics and technical requirements for the speaker's presentation. We stay actively involved during pre-event planning to coordinate with you and ensure that the necessary audiovisual equipment, staging, lighting, and other technical aspects are in place for a successful presentation.
Are there any special requirements or accommodations that need to be considered for the speaker?
Keynote speakers may have specific requirements or accommodations that need to be considered, such as travel arrangements, accommodation preferences, dietary restrictions, or accessibility needs. Some speakers have a performance rider we include in the contract, others have minimal requirements.
Do keynote speakers offer customization options for their presentations?
Yes, many keynote speakers offer customization options for their presentations. They can tailor their content, examples, or case studies to align with your event's theme, industry, or specific audience. Discuss your customization needs with us so we can guide you accordingly.
Can the speaker participate in pre-event activities such as panel discussions or Q&A sessions?
Some keynote speakers are open to participating in pre-event activities such as panel discussions, Q&A sessions, or meet-and-greet sessions. Please share your specific requirements with us during the firm offer phase, so we can work on getting you everything you need.
How long is a typical keynote speech?
The duration of a standard keynote speech can vary depending on the speaker and the event's schedule. Typically, keynote speeches range from 30 minutes to 90 minutes, including any Q&A sessions or interactive elements. Some speakers can accommodate half or full day sessions and extended keynotes. Discuss the desired duration with your representative to determine the appropriate length for participation.
Can I provide feedback or reviews about the speaker's performance?
Yes, we encourage and appreciate feedback about the speaker's performance as well as our services. You can share your feedback via email after the event, or via our survey feedback form. Your feedback can help them improve our services and assist other clients in making informed decisions.
Are there any discounts or special offers available for booking multiple speakers or multiple events?
Often, yes. It's worth inquiring about such possibilities with your Key Speakers representative to explore any available cost-savings options.
Why book Nataly Kogan though Key Speakers?
We provide a comprehensive service that takes the guesswork out of hiring a speaker—from speaker selection to logistics to post-event feedback. We know you have lots of responsibilities on top of finding and coordinating event speakers, so having a committed and proactive partner on your side that is an expert with the talent booking process is crucial. Every time you book a speaker with Key, your dedicated events manager will support you throughout the entire planning process. We work closely with you from speaker selection to post-event success and always ensure that your needs are addressed first.
We help you negotiate contractual details such as speaker fees and travel terms so that you end up with the most favorable deal. Leave the fine print to us so you can focus on other aspects of your event. Key Speakers mediates and absorbs some of the contractual risks that inherently come with booking a keynote speaker.
With our highly communicative booking and proposal model, you'll never be left in the dark with the status of your speaker. We pride ourselves on speedy response time and always keep you updated on all new developments relating to your event. Our experienced agents are personable (after our morning coffee!) and always eager to do whatever it takes to secure a fantastic speaker for your event.
To put it simply, Key Speakers is your one-stop resource for finding, booking and managing speakers for your event. We do the heavy lifting for you. Our dedicated and knowledgeable advisors ensure that your speaker's message and personal brand perfectly align to your event objectives.
Remember that the specific details and offerings may vary among different speakers, so it's always recommended to consult with your Key Speakers representative for accurate information and assistance.
Speaker Fee Range:
$20,000–$25,000
*Ranges are a guideline only, with the low end representing the speaker's virtual fee and the high end representing their in-person fee. Fees are subject to change. Contact us for an exact quote.
Travels From:
Massachusetts
Related Categories: