Speaker Fee Range:
$30,000–$40,000
*Ranges are a guideline only, with the low end representing the speaker's virtual fee and the high end representing their in-person fee. Fees are subject to change. Contact us for an exact quote.
Travels From:
New York
Related Categories:
Erica Dhawan
Authority on Digital Teamwork, Collaboration, Empathy and Inclusion; Bestselling Author; Named "Oprah of Management Thinkers"
As a shy, introverted Indian-American girl growing up in Pittsburgh, Erica Dhawan struggled to find her voice and her place. She juggled two languages and two cultures, and, eventually learned the skills needed to build connections across difference. She became fascinated with human connection. She's been studying teamwork and collaboration ever since.
When leaders want to break team silos, drive exponential growth and innovate through teamwork, they call Erica Dhawan.
Erica Dhawan is an internationally recognized leading authority, speaker and advisor on 21st century teamwork, collaboration and innovation. Named by Thinkers50 as the "Oprah of Management Thinkers", she is the author of two books Get Big Things Done: The Power of Connectional Intelligence and Digital Body Language: How to Build Trust and Connection, No Matter the Distance.
It's 2021, the world of business is increasingly digital and…
Leadership - Get Big Things Done: The Power of Connectional Intelligence

Learn new insights and tools to accelerate the connected power of teams, become more agile and innovative, and drive breakthrough ideas and outcomes in a digital workplace.

We live in a world of endless meetings, emails, and constant cross-team dysfunction, duplication and delays. Our collaboration skills aren't always working to unlock better value in our business. As radical a concept as Emotional Intelligence was in the 90s, Connectional Intelligence is turning people into superconnectors who accelerate innovation, break down silos and foster breakthrough bottom line impact by harnessing the power of networks.

Learning Outcomes:
•Learn successful tactics to address communication overload and foster authentic, innovation-driving relationships
•Discover tools to break down silos and keep teams aligned, accountable, and motivated both in-person and online
•Gain specific actions to foster loyalty, respect, collaboration, and innovation across stakeholder networks, regardless of physical distance

Collaboration - Collaborate Faster and Further, Together

Learn the new common sense rules of effective communication on digital teams across business silos, levels, backgrounds and regions.

We all leave a digital impression on each other. If someone doesn't text back for hours or even days, do you think they are being rude? Is using an emoji or LOL unprofessional, or creating a human connection with your team? What impression does your boss, team, or colleague think of that kind of behavior? Whether your team works on separate floors, buildings or even countries, they have to connect online in order to collaborate. These new misunderstandings are happening all day, every day. They're reducing your employee engagement, morale, and team performance each time.

In this keynote, you will learn new rules and nuances of Digital Body Language, the new requirement to innovate faster and further together, led by collaboration expert Erica Dhawan.

Learning Outcomes:
•Understand your collaboration style and what digital body language signals you are broadcasting (even if you don't intend to!)
•Create cultures of maniacal clarity in email, phone, IM, text, video mediums and even live meetings in the new normal
•Develop a collaboration strategy to create the highest performing teams and relationships

Communication - Maniacal Clarity: Reimagine Leadership to Drive Impactful Innovation

Inspire Anyone, Anytime, Anywhere

We used to think of leadership as constant hustle and grit - the leader that never slept, sent profits through the roof, and embodied the classic rags-to-riches story… But this tired playbook doesn't seem to work as well as it once did. What changed? What makes a 21st century leader and a great team now? Is it their ability to tell stories? Their decision-making skills? Their communication style?

The critical missing factor is Maniacal Clarity. This is when leaders give their teams exactly what they need to do their absolute best work and enable them to be empowered to influence anyone, anytime, anywhere. Without it, even skilled, motivated and effective teams languish, with cross-team dysfunction, duplicative work, and unhealthy internal competition. Maniacal Clarity in our modern world delivers the ability to spark overarching optimism, inspirational imagination, continuous courage and fast focus.

In her new keynote, WSJ bestselling author and world-renowned speaker Erica Dhawan constructs a new framework for truly shifting minds and changing hearts, in the office, across any distance and with customers. Based on years of research and advising the respected companies around the world, this keynote promises a ground-breaking look into the science, frameworks, and stories of how to inspire anyone, anytime, anywhere to deliver their best results.

Key outcomes include:
· Conduct your own clarity audit of your workplace and assess your own Maniacal Clarity habits
· Learn the 4 foundations of Maniacal Clarity and how to bring it to everyone around you with optimism, imagination, courage and focus
· Assess your strengths and opportunities to become a Maniacal Clarity change agent
· Develop an action plan to inspire your teams, customers, and the world around you to drive performance, teamwork and innovation

Inclusion - Concrete Empathy: A Playbook for Leading Modern Teams

We live in a culture defined by a distinct empathy deficit: The boss who expresses displeasure without giving valuable feedback. The mansplaining colleague who has no interest in the opinions of others. The team member who spends most of the meeting texting and answering emails. Why is empathy today at such a low point? Fewer face-to-face interactions, an ever-accelerating pace of change, and an increasing number of matrixed teams working remotely. In this keynote, attendees will learn practical ways to activate Concrete Empathy to create cultures of psychological safety, employee engagement, wellbeing and innovation. Learning Outcomes:

•Discover simple ways to signal understanding and empathy across difference and distance
•Learn rules of thumb to avoid misunderstanding, ambiguity, and conflict
•Gain tools to foster innovation and create lasting relationships both within your organization and with clients, customers and other key stakeholders

Digital Body Language - Collaborate Faster and Further Together


Email replies that show up a week later. Video chats full of "oops... sorry no you go" and "can you hear me?!" Ambiguous text-messages. Is it any wonder communication takes us so much time and effort to figure out? How did we lose our innate capacity to understand each other? Humans rely on body language to connect and build trust, but with most of our communication happening from behind a screen, traditional body language signals are no longer visible - or are they? In her keynote, Erica combines cutting edge research with engaging storytelling to decode the new signals and cues that have replaced traditional body language across genders, generations, and culture. In person, we lean in, uncross our arms, smile, nod and make eye contact to show we listen and care. Online, reading carefully is the new listening. Writing clearly is the new empathy. And a phone or video call is worth a thousand emails. In this keynote, Erica will supercharge your teams with collectively understood rules that foster connection, build trust and drive innovation. Learning Outcomes:

•Understand your collaboration style and the digital body language signals you may be broadcasting (even if you don't intend to!)
•Create cultures of maniacal clarity across email, phone, IM, text, video and even live meetings
•Develop a collaboration strategy that fosters valuable relationships, both in-person and online
•End cultures of useless meetings, missed deadlines, and digital misunderstandings


Microlearning Packages


Leaders in the digital era need concise, actionable learnings that meet their specific needs. Erica has produced hundreds of on-demand videos, making the content usually reserved for exclusive executive engagements available for participants around the world. Her fun, engaging videos can maximize your organization's effectiveness, all hosted directly from your Learning Management system. Her videos are supplemented by additional learning material for continued engagement.

Microlearning includes:
-Actionable takeaways in 5-10 minute videos
-Approximately 10 videos per package above
-Worksheets to enhance learning
-Integration into LMS or other systems

4 Microlearning Options:

1. Hybrid Work Management
-Learn the critical elements of becoming a great hybrid work manager
-Use modern communication strategies to decode digital signals, build trust, and unlock the value of your teams using the 4 pillars of hybrid work
-Understand the 10 key questions for defining success in a hybrid team with theHybrid Team Agreement
-Sustain hybrid team performance across team spirit, meeting culture, digital communication and collaboration tools
-Develop best practices for hybrid team skills from on-boarding to career development and managing upward

2. Hybrid Work Leadership
-Establish executive presence in a hybrid world, mastering digital communication styles of yourself and your teams
-Overcome digital fatigue and silos to create interdepartmental collaboration and innovation
-Create an organizational environment that allows authentic and inclusive team building
-Foster psychological safety, empathy and collaborative leadership
-Learn the 4 crucial levers of driving cultural change in your organization

3. Win Sales with Digital Body Language
-Understand and master the concept of digital body language, the nonverbal cues we send and receive to communicate in a hybrid world
-Embrace omni channel communications while understanding your customers' digital preferences
-Create personal and emotional experiences over virtual channels
-Know when to use different communication channels (e.g., video, email, text) to maximize your connection and legitimacy with customers

4. Digital Communication Skills
-Network effectively within and outside your organization to accelerate your influence and career growth
-Stand out professionally with finely tuned digital communication and presence Identify the best methods for game-changing collaboration with your teams and peers
-Learn the intricacies of trusting relationships and power dynamics in the hybrid workplace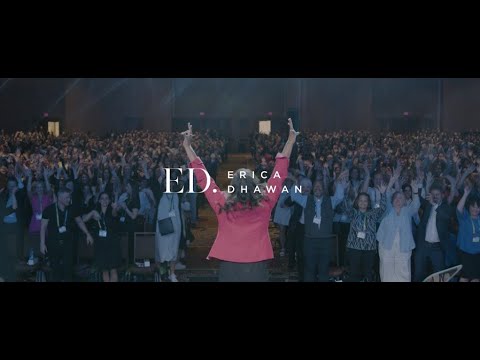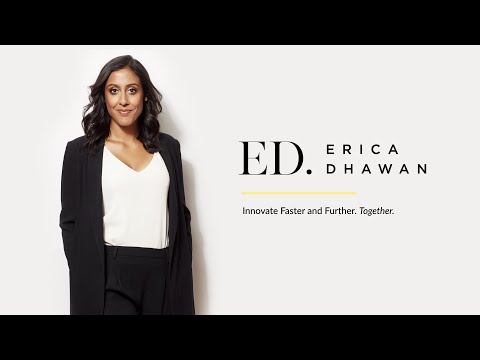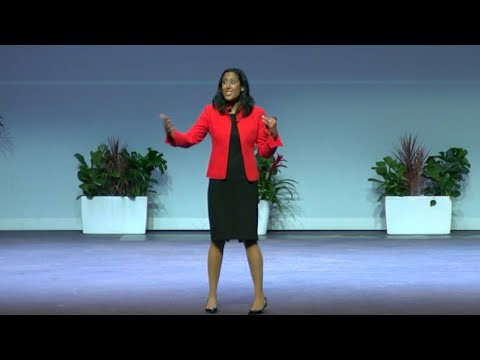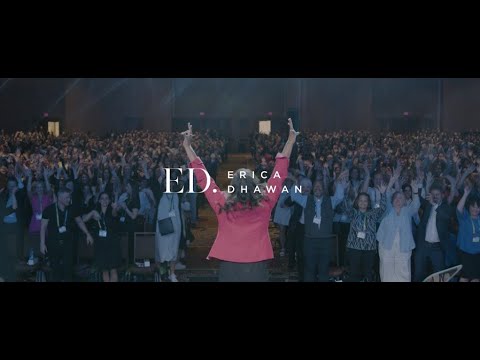 What is Erica Dhawan's speaking fee?
The typical range for Erica Dhawan's speaking fee is $30,000–$40,000. The low end of the fee range represents their standard virtual fee. The high end of the fee range represents their standard fee for a US-based in-person speaking engagement. Appearances which require an extended schedule of activities or international travel will possibly exceed this fee range. Speaker fees update frequently. To receive a personalized quote for Erica Dhawan to speak at your event, please consult with a Key Speakers advisor for up to date information and assistance.
What factors influence the speaker's fee?
Other factors that influence a keynote speaker's fee include their reputation, expertise, demand, experience, duration of the presentation, travel requirements for the event location, and any additional services, activities or customization options they offer.
Are travel expenses included in the speaker's fee?
Travel expenses are typically not included in the listed speaker's fee and are quoted separately. If the speaker needs to travel internationally, fees will be higher. These expenses may include airfare, accommodation, ground transportation at home and in the event city, and meals. We can provide more detailed information about travel expenses and arrangements once you've selected a speaker.
How do I book Erica Dhawan for my event?
The speaker booking process typically involves the following steps:
Browse our website or reach out to a Key Speakers advisor through our website to explore speaker ideas.
Select a keynote speaker based on their expertise, experience, and suitability for your event.
Contact Key Speakers to confirm the speaker's availability, fees, and any unique requirements. We can also help negotiate fees and terms.
Submit a firm offer to extend the invite to your speaker. These details will be used to create an agreement once the speaker accepts.
All parties coordinate and finalize the terms of the booking, including contract terms and conditions.
Confirm the booking by signing the contract and making the necessary payments.
What types of events do keynote speakers typically speak at?
Keynote speakers can speak at a wide range of events, virtual or in person, including conferences, corporate meetings, industry conventions, seminars, workshops, fundraising galas, educational programs, and other special occasions where an inspirational or informative address is desired.
How do I select the right keynote speaker for my event?
When selecting a keynote speaker, consider the following factors:
The speaker's expertise and knowledge relevant to your event's theme or industry.
Their speaking style, ability to engage the audience, and deliver impactful messages.
Past client testimonials, reviews, or references.
The speaker's availability and fee within your budget.
What are the payment terms and conditions?
A deposit is required upon signing the contract, with the remaining balance due 2–4 weeks before the event. If the event is taking place within 30 days, the full balance is due upon signing.
How far in advance should I book a keynote speaker?
It is generally advisable to book a keynote speaker as early as possible, especially if you have a specific speaker in mind or if your event is during a peak season holiday. Ideally, booking a speaker three to six months in advance can increase the chances of securing your desired speaker.
Can you help me with the logistics and technical requirements for the speaker's presentation?
Yes, we can assist you with the logistics and technical requirements for the speaker's presentation. We stay actively involved during pre-event planning to coordinate with you and ensure that the necessary audiovisual equipment, staging, lighting, and other technical aspects are in place for a successful presentation.
Are there any special requirements or accommodations that need to be considered for the speaker?
Keynote speakers may have specific requirements or accommodations that need to be considered, such as travel arrangements, accommodation preferences, dietary restrictions, or accessibility needs. Some speakers have a performance rider we include in the contract, others have minimal requirements.
Do keynote speakers offer customization options for their presentations?
Yes, many keynote speakers offer customization options for their presentations. They can tailor their content, examples, or case studies to align with your event's theme, industry, or specific audience. Discuss your customization needs with us so we can guide you accordingly.
Can the speaker participate in pre-event activities such as panel discussions or Q&A sessions?
Some keynote speakers are open to participating in pre-event activities such as panel discussions, Q&A sessions, or meet-and-greet sessions. Please share your specific requirements with us during the firm offer phase, so we can work on getting you everything you need.
How long is a typical keynote speech?
The duration of a standard keynote speech can vary depending on the speaker and the event's schedule. Typically, keynote speeches range from 30 minutes to 90 minutes, including any Q&A sessions or interactive elements. Some speakers can accommodate half or full day sessions and extended keynotes. Discuss the desired duration with your representative to determine the appropriate length for participation.
Can I provide feedback or reviews about the speaker's performance?
Yes, we encourage and appreciate feedback about the speaker's performance as well as our services. You can share your feedback via email after the event, or via our survey feedback form. Your feedback can help them improve our services and assist other clients in making informed decisions.
Are there any discounts or special offers available for booking multiple speakers or multiple events?
Often, yes. It's worth inquiring about such possibilities with your Key Speakers representative to explore any available cost-savings options.
Why book Erica Dhawan though Key Speakers?
We provide a comprehensive service that takes the guesswork out of hiring a speaker—from speaker selection to logistics to post-event feedback. We know you have lots of responsibilities on top of finding and coordinating event speakers, so having a committed and proactive partner on your side that is an expert with the talent booking process is crucial. Every time you book a speaker with Key, your dedicated events manager will support you throughout the entire planning process. We work closely with you from speaker selection to post-event success and always ensure that your needs are addressed first.
We help you negotiate contractual details such as speaker fees and travel terms so that you end up with the most favorable deal. Leave the fine print to us so you can focus on other aspects of your event. Key Speakers mediates and absorbs some of the contractual risks that inherently come with booking a keynote speaker.
With our highly communicative booking and proposal model, you'll never be left in the dark with the status of your speaker. We pride ourselves on speedy response time and always keep you updated on all new developments relating to your event. Our experienced agents are personable (after our morning coffee!) and always eager to do whatever it takes to secure a fantastic speaker for your event.
To put it simply, Key Speakers is your one-stop resource for finding, booking and managing speakers for your event. We do the heavy lifting for you. Our dedicated and knowledgeable advisors ensure that your speaker's message and personal brand perfectly align to your event objectives.
Remember that the specific details and offerings may vary among different speakers, so it's always recommended to consult with your Key Speakers representative for accurate information and assistance.
Speaker Fee Range:
$30,000–$40,000
*Ranges are a guideline only, with the low end representing the speaker's virtual fee and the high end representing their in-person fee. Fees are subject to change. Contact us for an exact quote.
Travels From:
New York
Related Categories:
Request Erica Dhawan
Connect with us to learn more about booking this speaker for your event.