Speaker Fee Range:
$8,000–$13,000
*Ranges are a guideline only, with the low end representing the speaker's virtual fee and the high end representing their in-person fee. Fees are subject to change. Contact us for an exact quote.
Travels From:
Florida
Related Categories:
Meridith Alexander
Expert on Grit and Resilience Mindset During Times of Change
How do we consistently emerge as the best versions of ourselves regardless of the circumstances? And how do we reflect that greatness in our businesses, our personal lives, and in the impact that we have on the world around us?
Those are the two powerful questions that have captivated Meridith from the moment that she realized that, although humanity had figured out how to put a man on the moon, we had still not figured out how to be consistently "happy".
These questions also propelled Meridith to begin a lifetime of exploration into the art and science of personal development. From studying the works of ancient philosophers Plato, Socrates and Hobbes to religious works of both eastern and western cultures while at Georgetown University, Meridith made it her mission to better understand "how to choose to live (or not live)" if we want to be genuinely…
Unleash the Epic You - Thriving Through "The Impossible"!

Is your team showing signs of resilience fatigue? Are you looking for new ways to help your current and future leaders navigate through times of unpredictability, challenge and change? Not simply the inspiration to show up as the best version of themselves but actual strategies that will insure that they can do that?

Meridith Alexander's UNLEASH THE EPIC YOU keynote experience has evolved into her signature talk. Poignant, timely and impactful, this is THE TALK for the team that needs the perfect combination of inspiration and call to action. Your team will be following along with each twist and turn as the story unfolds, but throughout the story they will be learning strategy after strategy of how to ramp up their own inner game, especially when facing circumstances that at first glance may seem "impossible".

Centering around Meridith's experience of getting "the call" that her daughter had been crushed by a boulder and was fighting "impossible odds" to survive, UNLEASH THE EPIC YOU captivates but also educates.

Key learning points include:

•How something as simple as language can inspire optimal performance and amplify ground-breaking results
•Why "playing the inner game to win" is so much more than positive thinking
•How to push beyond the place where fears and beliefs typically stop you
•How deliberate focus can allow teams to use change as a catalyst for opportunity
•How to transform disruption, change and unpredictability into impact, influence and income without burning out your teams
•Why "impossible times" can offer limitless growth and opportunity

The compelling story combined with Meridith's actionable strategies, final challenge and call to action make UNLEASH THE EPIC YOU the ideal talk if you want a keynote to do more than simply "inspire" your team. This is a keynote experience that actually leads toward lasting transformation and true elevation of everyone in your audience.

Note: this keynote is also designed to flow perfectly into Meridith's EPIC GAMES team building and/or "EPIC YOU" 5-DAY CHALLENGE" for teams that want to fortify the concepts and maximize the full potential of this talk.

Amplify your G.R.I.T and Resilience by "Epic-ing Up" Your Inner Game

How can we leaders emerge from times of challenge as even better versions of ourselves? How do we nurture and amplify the greatness, resilience and impact within our teams? This keynote explores how learning to master 3 of the critical components of G.R.I.T. can transform your biggest obstacles into unforeseen opportunities even in the face of change and unpredictability.

Meridith's innovative message inspires audiences to look at their own goals from a new perspective. Using innovative strategies and perspectives, she leaves audiences with tools to get out of their own way so that they can go forward united with even more passion, clarity and vision. Perhaps to go on to achieve results that might previously have seemed impossible.

In this inspirational and empowering keynote experience, Meridith shares the impact that a deliberately focused mindset has had on her own journey– a journey that began when a random boulder came plummeting down a mountain in South America, injuring her youngest daughter so severely that she was not expected to live. Through the twists and turns of this inspiring story, the audience sees how Meridith's unwavering vision and focus on the "I'm Possible" seemed to influence the results — even when the desired outcome was something that most believed to be impossible.

Combining her own experiences with case studies through the decades, Meridith helps her audiences learn new techniques for overcoming the limitations and conditioning that often lead to fear, self-doubt and "thinking small". The outcome of Meridith's keynote will be an audience that feels a dramatically boosted sense of momentum and positivity with an eagerness to embrace the "I'm Possible" and create thriving new breakthroughs even in the presence of dramatic change, personal challenge and uncertainty.

Key Learning Points:

•Discover the keys to creating a mindset that thrives in the midst of change and unpredictability by regulating your fear, focus and communication
•Learn new techniques for setting powerful goals, tapping into overlooked possibilities and performing at your highest level
•Understand how the hidden language of your inner narrative can be the catalyst for you and your associates' consistent success
•Pull back the curtain on the "blind spot thinking" that prevents most people from transforming the "impossible" into the "I'm Possible"
•Learn the 3 questions that differentiate great leaders from epic ones

Limitless Possibilities - Meridith and Schuyler: Redefining Resilience and Mindfulness in a Bold, New World

LIMITLESS IMPOSSIBILITIES combines the already EPIC IMPACT of Meridith Alexander's UNLEASH THE EPIC YOU keynote with a live appearance from Meridith's daughter Schuyler.

Meridith's keynote already captivates the listener both with the story and with the strategies so imagine the impact when Schuyler herself comes on stage (using either walker or wheelchair) as the embodiment of pure grit, resilience and the epitome of joyous mindfulness. Schuyler shares her own message of inspiration and possibility before Meridith and Schuyler open the floor to questions from your leaders and team members.

This is the perfect talk for companies, associations and organizations that are facing change, uncertainty and challenges with morale. There is no better way to push the reset button and get your team firmly and fiercely on a unified trajectory upward.

Redefining The Way Leaders Embrace Their Boulders (Even Remotely!)

How can we consistently show up playing at our highest level regardless of the circumstances? How can we tap into new levels of potential within ourselves so that we can go on to achieve even more extraordinary levels of success? How can we project presence and create culture, camaraderie and cohesion in today's remote environment?

"Our only true disability is when we buy into the belief that it's impossible to adapt to the obstacles that we are suddenly facing."

Let's face it: sometimes, mere grit and resilience just aren't enough. There are times when Life demands that we dig even deeper — to uncover that epic version of ourselves, even if we're not sure that an "epic version" actually exists.

Meridith Alexander provides a captivating, visionary experience for high-level leadership and team members by combining her real-life story of living through the "impossible" with actionable strategies for uncovering the audience's own visionary potential and for inspiring even more greatness, passion, and impact from their teams. Even when leaders have to achieve this impact via technology and innovation remotely.

This keynote redefines the way team members and leaders embrace their big boulders. Team members and leaders go from resisting change and unpredictability to seeing the massive potential within that change. With actual examples and proven strategies, audiences emerge understanding how the big boulders can actually amplify their ability to influence and impact change — enhancing their ability to create a positive, deliberate vision that helps team members begin to embrace their own value and purpose within a bigger mission.

It is an experience of "coming even more alive to the possibilities ahead" that results in showing up more boldly both at work and at home.

By combining her own incredible story with unique tools and strategies, Meridith Alexander inspires teams and leaders to consistently opt to play at their highest level (in person AND remotely), to tap into their most visionary self, and to thrive in the new quantum world ahead where the speed is fast, change is frequent and life is unpredictable — and where those big boulders often lead toward "impossibilities" that will become the next generation's "new normal".

Key Learning Points:

•Understand the potential of your biggest "boulders" to ignite you and your organization's highest levels of success even when working remotely
•Learn how to embrace disruption and unfamiliarity as your rocket fuel
•Explore how visionary thinking creates unstoppable momentum and unprecedented success beyond the boundaries of mere resilience
•Discover actionable strategies to achieve even more forward momentum within your team regardless of the circumstances or proximity
•Uncover why the "old approach" toward managing teams can leave teams struggling and how you can transform this downward trend into an energized, "future focused" upward trend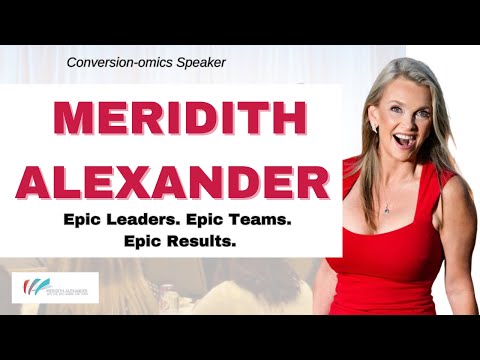 What is Meridith Alexander's speaking fee?
The typical range for Meridith Alexander's speaking fee is $8,000–$13,000. The low end of the fee range represents their standard virtual fee. The high end of the fee range represents their standard fee for a US-based in-person speaking engagement. Appearances which require an extended schedule of activities or international travel will possibly exceed this fee range. Speaker fees update frequently. To receive a personalized quote for Meridith Alexander to speak at your event, please consult with a Key Speakers advisor for up to date information and assistance.
What factors influence the speaker's fee?
Other factors that influence a keynote speaker's fee include their reputation, expertise, demand, experience, duration of the presentation, travel requirements for the event location, and any additional services, activities or customization options they offer.
Are travel expenses included in the speaker's fee?
Travel expenses are typically not included in the listed speaker's fee and are quoted separately. If the speaker needs to travel internationally, fees will be higher. These expenses may include airfare, accommodation, ground transportation at home and in the event city, and meals. We can provide more detailed information about travel expenses and arrangements once you've selected a speaker.
How do I book Meridith Alexander for my event?
The speaker booking process typically involves the following steps:
Browse our website or reach out to a Key Speakers advisor through our website to explore speaker ideas.
Select a keynote speaker based on their expertise, experience, and suitability for your event.
Contact Key Speakers to confirm the speaker's availability, fees, and any unique requirements. We can also help negotiate fees and terms.
Submit a firm offer to extend the invite to your speaker. These details will be used to create an agreement once the speaker accepts.
All parties coordinate and finalize the terms of the booking, including contract terms and conditions.
Confirm the booking by signing the contract and making the necessary payments.
What types of events do keynote speakers typically speak at?
Keynote speakers can speak at a wide range of events, virtual or in person, including conferences, corporate meetings, industry conventions, seminars, workshops, fundraising galas, educational programs, and other special occasions where an inspirational or informative address is desired.
How do I select the right keynote speaker for my event?
When selecting a keynote speaker, consider the following factors:
The speaker's expertise and knowledge relevant to your event's theme or industry.
Their speaking style, ability to engage the audience, and deliver impactful messages.
Past client testimonials, reviews, or references.
The speaker's availability and fee within your budget.
What are the payment terms and conditions?
A deposit is required upon signing the contract, with the remaining balance due 2–4 weeks before the event. If the event is taking place within 30 days, the full balance is due upon signing.
How far in advance should I book a keynote speaker?
It is generally advisable to book a keynote speaker as early as possible, especially if you have a specific speaker in mind or if your event is during a peak season holiday. Ideally, booking a speaker three to six months in advance can increase the chances of securing your desired speaker.
Can you help me with the logistics and technical requirements for the speaker's presentation?
Yes, we can assist you with the logistics and technical requirements for the speaker's presentation. We stay actively involved during pre-event planning to coordinate with you and ensure that the necessary audiovisual equipment, staging, lighting, and other technical aspects are in place for a successful presentation.
Are there any special requirements or accommodations that need to be considered for the speaker?
Keynote speakers may have specific requirements or accommodations that need to be considered, such as travel arrangements, accommodation preferences, dietary restrictions, or accessibility needs. Some speakers have a performance rider we include in the contract, others have minimal requirements.
Do keynote speakers offer customization options for their presentations?
Yes, many keynote speakers offer customization options for their presentations. They can tailor their content, examples, or case studies to align with your event's theme, industry, or specific audience. Discuss your customization needs with us so we can guide you accordingly.
Can the speaker participate in pre-event activities such as panel discussions or Q&A sessions?
Some keynote speakers are open to participating in pre-event activities such as panel discussions, Q&A sessions, or meet-and-greet sessions. Please share your specific requirements with us during the firm offer phase, so we can work on getting you everything you need.
How long is a typical keynote speech?
The duration of a standard keynote speech can vary depending on the speaker and the event's schedule. Typically, keynote speeches range from 30 minutes to 90 minutes, including any Q&A sessions or interactive elements. Some speakers can accommodate half or full day sessions and extended keynotes. Discuss the desired duration with your representative to determine the appropriate length for participation.
Can I provide feedback or reviews about the speaker's performance?
Yes, we encourage and appreciate feedback about the speaker's performance as well as our services. You can share your feedback via email after the event, or via our survey feedback form. Your feedback can help them improve our services and assist other clients in making informed decisions.
Are there any discounts or special offers available for booking multiple speakers or multiple events?
Often, yes. It's worth inquiring about such possibilities with your Key Speakers representative to explore any available cost-savings options.
Why book Meridith Alexander though Key Speakers?
We provide a comprehensive service that takes the guesswork out of hiring a speaker—from speaker selection to logistics to post-event feedback. We know you have lots of responsibilities on top of finding and coordinating event speakers, so having a committed and proactive partner on your side that is an expert with the talent booking process is crucial. Every time you book a speaker with Key, your dedicated events manager will support you throughout the entire planning process. We work closely with you from speaker selection to post-event success and always ensure that your needs are addressed first.
We help you negotiate contractual details such as speaker fees and travel terms so that you end up with the most favorable deal. Leave the fine print to us so you can focus on other aspects of your event. Key Speakers mediates and absorbs some of the contractual risks that inherently come with booking a keynote speaker.
With our highly communicative booking and proposal model, you'll never be left in the dark with the status of your speaker. We pride ourselves on speedy response time and always keep you updated on all new developments relating to your event. Our experienced agents are personable (after our morning coffee!) and always eager to do whatever it takes to secure a fantastic speaker for your event.
To put it simply, Key Speakers is your one-stop resource for finding, booking and managing speakers for your event. We do the heavy lifting for you. Our dedicated and knowledgeable advisors ensure that your speaker's message and personal brand perfectly align to your event objectives.
Remember that the specific details and offerings may vary among different speakers, so it's always recommended to consult with your Key Speakers representative for accurate information and assistance.
Speaker Fee Range:
$8,000–$13,000
*Ranges are a guideline only, with the low end representing the speaker's virtual fee and the high end representing their in-person fee. Fees are subject to change. Contact us for an exact quote.
Travels From:
Florida
Related Categories:
Request Meridith Alexander
Connect with us to learn more about booking this speaker for your event.