Speaker Fee Range:
$7,000–$10,000
*Ranges are a guideline only, with the low end representing the speaker's virtual fee and the high end representing their in-person fee. Fees are subject to change. Contact us for an exact quote.
Travels From:
Arizona
Related Categories:
Larry Johnson
Expert in Total Quality Management, Customer Service, Project Management and Team Dynamics
Larry Johnson, CSP, makes behaviors change, interpersonal skills increase, employee attitudes improve, and group performance climb when he speaks. An expert in management practices, human relations, and customer service, Larry presents more than 200 seminars and speeches per year. His humor-filled, content-packed programs will give your people positive, practical ideas for achieving organizational and individual excellence.
His background includes four years in health care management, seven years as a training manager in government and private sector, and fifteen years as president of his own consulting firm and a Master of Arts degree in counseling psychology. Larry was awarded the City of Phoenix Award of Excellence for designing and implementing that city's team based quality improvement program. This program was featured in a PBS televised documentary by Tom Peters (co-author of In Search of Excellence). Larry is one of only 20 speakers in the world who have been certified…
Managing Employees From Different Generations


Anyone who has raised a teenager, lived with an older relative, or worked with someone significantly younger or older than they are will tell you that the differences between age groups often goes beyond hairstyles, tattoos or nose rings.

Whether you're working on a committee with a Gen Xer, serving on a board with a Traditional, planning a party with a Baby Boomer, or receiving "customer service" from a Linkster, it is likely that if you and that person are from different generations, you and she will see the world quite differently. And though many of these differences can be attributed to the normal variations among all human beings, some can be traced to the time period in which each generation was raised and the common experiences it had. We call these events "generational signposts" and they influence how we think and behave long after our childhoods are over.

For example, you may be irritated when the Gen Y person on your committee fails to show you the deference that you, as an older, experienced Baby Boomer feel you deserve – until you realize that many Gen Yers were raised by Baby Boomer parents who believed in running their families like democracies – where children often had a say and being the parent did not mean you always had the final say. So is it any surprise that this youngster isn't willing to bow down and recognize your grandeur?

In the Managing Employees From Different Generations, Generation Expert Meagan Johnson and her father, well-known speaker and Corporate Culture Expert Larry Johnson explain the differences between generations, the reasons each generation tends to behave as it does, and what the audience can actually do to improve their intergenerational relationships. Throughout their funny and insightful delivery, Meagan offers insightful content with outrageous humor while Larry adds real-life illustrations based on their daughter-father history. It's a personal touch that really connects with audiences.

Cultivating Employee Accountability


"It's not my fault." "It's not my job." "I didn't know."

"My car broke down." "I'm not to blame." "He did it."

Excuses. We've heard them all. Wouldn't you love to have all your employees see what needs to be done, take the necessary actions to do it and accept responsibility for the results? Larry Johnson offers you practical strategies to raise the odds everyone behaves responsibly and enthusiastically.

Creating an Insanely Positive Workplace Culture


Year after year, companies like Google, Johnson & Johnson, and Zappos.com are consistently listed in Fortune Magazine's 100 Best Companies To Work For. How do they do it? It's more than onsite health centers and gourmet cafeterias. It's management practices that inspire employees to contribute their best and then some.

In this presentation, Larry shows how you can apply the same principles to create a great work culture for your own team.

Taking Care: An Inspirational Message For Anyone Who Works in Healthcare


A presentation of the good, the bad, and the wonderful aspects of one family's journey through the health care system.

While on a bicycling vacation in 2003, CJ Johnson, wife of well-known author, speaker and corporate culture expert Larry Johnson was involved in an accident that changed their world. Despite wearing a helmet, CJ sustained a closed-head injury that put her in a coma for eight weeks, and a persistent vegetative state for seven months. Going from hospitalization in intensive care, to skilled nursing facilities to home health care, CJ and Larry experienced first-hand what it's like to be served by care takers, technicians, nurses, doctors, therapists, administrators.

Turning Customers Into Outrageously Loyal Fans


First: Make sure your customers DON'T like you.

Research at the University of Texas found that customer satisfaction is no guarantee of customer loyalty. Customers who indicated on questionnaires that they were simply "happy" with a product or service were as likely as those who had no opinion at all to abandon the vendor. The only indicator that predicted long-term loyalty was when customers used emotional words like "love" and "adore" to describe the vendor. In other words, if you want your customers to stay with you, they are more likely to do so if they LOVE YOU.

So the question is, how to you get your customers to LOVE YOU? More to the point, how does staff that will be attending this presentation with you get your customers to LOVE YOU?

Larry Johnson will show you how to make customers become your loyal fan by providing outrageous customer service.

Mastering the Storm of Change




Right now, while some organizations are seeing improvement in their economic outlook, many are still facing falling revenues, restricted budgets, and reduced growth. Like past fluctuations in the economy, this downturn will eventually pass. In the meantime, those who survive, both organizationally and individually will be those who keep their spirits up and never stop looking for new ways to perform more efficiently, effectively and creatively. Drawing on 30 years of investigation and consulting experience with some of the world's foremost corporations and governmental organizations, Larry Johnson will show you how to make the most of these difficult times through leadership and change management.

Straight Talk: Communicating With Honesty & Integrity


Let's face it. Straight, honest, no nonsense communication in organizations today is more rare than common. Whether it's fear of reprisal, natural timidity, or not wanting to hurt someone's feelings, many of us avoid telling the truth when the truth needs to be told. The same applies to many of those who work for us.

The cost of such reticence can be high. If managers can't get honest feedback from their associates, they, like the emperor in the fable of the Emperor's New Clothes, will make foolish decisions. If associates can't get honest feedback from their managers, they don't improve, and their poor performance devalues the organization.

In this dynamic, fast-moving and delightfully humorous presentation, Larry shows you how to enhance your leadership skills by establishing a new standard of communication – a standard that encourages honest and candid discussions, frank expression of opinions, and healthy debate. A standard that does not mince words, insists on accountability, respects the dignity of others and is guided by a clear sense of ethics.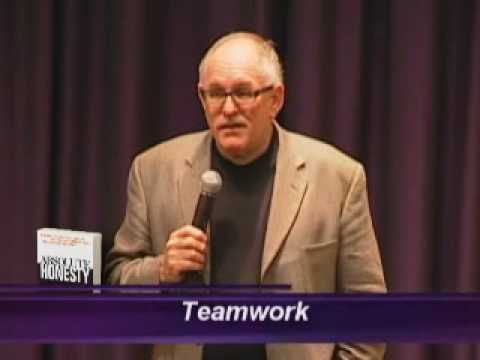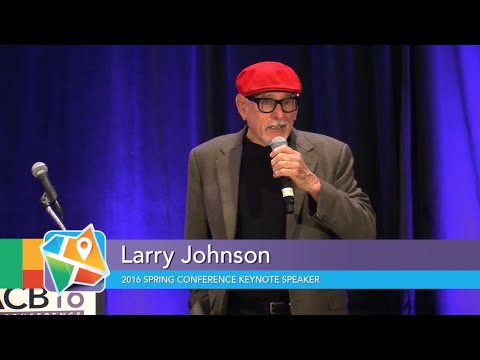 What is Larry Johnson's speaking fee?
The typical range for Larry Johnson's speaking fee is $7,000–$10,000. The low end of the fee range represents their standard virtual fee. The high end of the fee range represents their standard fee for a US-based in-person speaking engagement. Appearances which require an extended schedule of activities or international travel will possibly exceed this fee range. Speaker fees update frequently. To receive a personalized quote for Larry Johnson to speak at your event, please consult with a Key Speakers advisor for up to date information and assistance.
What factors influence the speaker's fee?
Other factors that influence a keynote speaker's fee include their reputation, expertise, demand, experience, duration of the presentation, travel requirements for the event location, and any additional services, activities or customization options they offer.
Are travel expenses included in the speaker's fee?
Travel expenses are typically not included in the listed speaker's fee and are quoted separately. If the speaker needs to travel internationally, fees will be higher. These expenses may include airfare, accommodation, ground transportation at home and in the event city, and meals. We can provide more detailed information about travel expenses and arrangements once you've selected a speaker.
How do I book Larry Johnson for my event?
The speaker booking process typically involves the following steps:
Browse our website or reach out to a Key Speakers advisor through our website to explore speaker ideas.
Select a keynote speaker based on their expertise, experience, and suitability for your event.
Contact Key Speakers to confirm the speaker's availability, fees, and any unique requirements. We can also help negotiate fees and terms.
Submit a firm offer to extend the invite to your speaker. These details will be used to create an agreement once the speaker accepts.
All parties coordinate and finalize the terms of the booking, including contract terms and conditions.
Confirm the booking by signing the contract and making the necessary payments.
What types of events do keynote speakers typically speak at?
Keynote speakers can speak at a wide range of events, virtual or in person, including conferences, corporate meetings, industry conventions, seminars, workshops, fundraising galas, educational programs, and other special occasions where an inspirational or informative address is desired.
How do I select the right keynote speaker for my event?
When selecting a keynote speaker, consider the following factors:
The speaker's expertise and knowledge relevant to your event's theme or industry.
Their speaking style, ability to engage the audience, and deliver impactful messages.
Past client testimonials, reviews, or references.
The speaker's availability and fee within your budget.
What are the payment terms and conditions?
A deposit is required upon signing the contract, with the remaining balance due 2–4 weeks before the event. If the event is taking place within 30 days, the full balance is due upon signing.
How far in advance should I book a keynote speaker?
It is generally advisable to book a keynote speaker as early as possible, especially if you have a specific speaker in mind or if your event is during a peak season holiday. Ideally, booking a speaker three to six months in advance can increase the chances of securing your desired speaker.
Can you help me with the logistics and technical requirements for the speaker's presentation?
Yes, we can assist you with the logistics and technical requirements for the speaker's presentation. We stay actively involved during pre-event planning to coordinate with you and ensure that the necessary audiovisual equipment, staging, lighting, and other technical aspects are in place for a successful presentation.
Are there any special requirements or accommodations that need to be considered for the speaker?
Keynote speakers may have specific requirements or accommodations that need to be considered, such as travel arrangements, accommodation preferences, dietary restrictions, or accessibility needs. Some speakers have a performance rider we include in the contract, others have minimal requirements.
Do keynote speakers offer customization options for their presentations?
Yes, many keynote speakers offer customization options for their presentations. They can tailor their content, examples, or case studies to align with your event's theme, industry, or specific audience. Discuss your customization needs with us so we can guide you accordingly.
Can the speaker participate in pre-event activities such as panel discussions or Q&A sessions?
Some keynote speakers are open to participating in pre-event activities such as panel discussions, Q&A sessions, or meet-and-greet sessions. Please share your specific requirements with us during the firm offer phase, so we can work on getting you everything you need.
How long is a typical keynote speech?
The duration of a standard keynote speech can vary depending on the speaker and the event's schedule. Typically, keynote speeches range from 30 minutes to 90 minutes, including any Q&A sessions or interactive elements. Some speakers can accommodate half or full day sessions and extended keynotes. Discuss the desired duration with your representative to determine the appropriate length for participation.
Can I provide feedback or reviews about the speaker's performance?
Yes, we encourage and appreciate feedback about the speaker's performance as well as our services. You can share your feedback via email after the event, or via our survey feedback form. Your feedback can help them improve our services and assist other clients in making informed decisions.
Are there any discounts or special offers available for booking multiple speakers or multiple events?
Often, yes. It's worth inquiring about such possibilities with your Key Speakers representative to explore any available cost-savings options.
Why book Larry Johnson though Key Speakers?
We provide a comprehensive service that takes the guesswork out of hiring a speaker—from speaker selection to logistics to post-event feedback. We know you have lots of responsibilities on top of finding and coordinating event speakers, so having a committed and proactive partner on your side that is an expert with the talent booking process is crucial. Every time you book a speaker with Key, your dedicated events manager will support you throughout the entire planning process. We work closely with you from speaker selection to post-event success and always ensure that your needs are addressed first.
We help you negotiate contractual details such as speaker fees and travel terms so that you end up with the most favorable deal. Leave the fine print to us so you can focus on other aspects of your event. Key Speakers mediates and absorbs some of the contractual risks that inherently come with booking a keynote speaker.
With our highly communicative booking and proposal model, you'll never be left in the dark with the status of your speaker. We pride ourselves on speedy response time and always keep you updated on all new developments relating to your event. Our experienced agents are personable (after our morning coffee!) and always eager to do whatever it takes to secure a fantastic speaker for your event.
To put it simply, Key Speakers is your one-stop resource for finding, booking and managing speakers for your event. We do the heavy lifting for you. Our dedicated and knowledgeable advisors ensure that your speaker's message and personal brand perfectly align to your event objectives.
Remember that the specific details and offerings may vary among different speakers, so it's always recommended to consult with your Key Speakers representative for accurate information and assistance.
Speaker Fee Range:
$7,000–$10,000
*Ranges are a guideline only, with the low end representing the speaker's virtual fee and the high end representing their in-person fee. Fees are subject to change. Contact us for an exact quote.
Travels From:
Arizona
Related Categories:
Request Larry Johnson
Connect with us to learn more about booking this speaker for your event.