Speaker Fee Range:
Travels From:
California
Related Categories:
Chad Williams
Former U.S. Navy SEAL; Frequent Television Guest; Author of
Seal of God
Having been a featured guest on Fox News Channel, CNN News Room, "Anderson Cooper 360" and more; former U.S. Navy SEAL Chad Williams draws from his experience in the SEAL Teams to communicate an instructive perspective on teamwork, resilience, leadership and self-motivation.
Just days prior to entering SEAL training Chad's motivation and mental toughness would be tested as he turned on a television one morning to see unexpected graphic video footage of his mentor and training partner Navy SEAL Scott Helvenston brutally killed, mutilated and dragged through the streets of Fallujah, Iraq. Hung upside-down from the Euphrates River Bridge while an incensed Iraqi mob repeatedly celebrated and chanted in Arabic, "Fallujah is the graveyard of Americans." Helvenston's body was set ablaze as Chad witnessed and learned an unwelcome firsthand lesson in what it was to be forged by adversity.
Steeled in his resolve to follow in his Helvenston's…
7 Leadership Takeaways From a Navy Seal


Chad extracts essential precepts from the SEAL Creed and presents them through his experiences on and off the battlefield in way that is relatable to civilian pursuits.

-COMMON MAN WITH UNCOMMON DESIRE TO SUCCEED

-HUMBLY I SERVE (Servant Leadership)

-FORGED BY ADVERSITY

-EARN YOUR TRIDENT EVERYDAY

-ABILITY TO CONTROL EMOTIONS AND ACTIONS REGARDLESS OF CIRCUMSTANCES

-IN THE WORST OF CONDITIONS RELYING ON LEGACY TO STEADY RESOLVE

-THE ULTIMATE MOTIVATION FOUND INSIDE YOUR HAT

Leadership, Communication, Safety


Utilizing U.S. Navy SEAL ethos, Chad lends his first hand knowledge and experience as one of America's most elite to relate the vision and character of an effective Navy SEAL leader.

-Aim small, miss small. As a Navy SEAL looks through his scope down range, he first identifies and acquires his target in the crosshairs of his scope before he makes the irreversible commitment to pulling the trigger. Aiming small ensures that should he miss, it will be to such a small degree that he will still be on target. Similarly the effective leader in the civilian world cast their vision, identifying the target as they look down range into the future, aiming small (particular) ensuring that missing small will still hit the targeted vision.

-Common man with an uncommon desire to succeed. It is not enough for a common man to have the vision of becoming a Navy SEAL; it requires that the common man obtains an uncommon desire to succeed. Success is not a matter of DNA. It is not in the bones or muscles of man, but the mind. The effective civilian leader will succeed when his vision comes to fruition, not by uncommon natural born ability but by being a common man that embraces an uncommon desire to succeed. This principle is easily depicted in the lives of those that didn't make it through my SEAL training and those that did.

-Beware of the pitfalls of pride. A trademark of those who serve in the SEAL Teams is humility. All too often with great position can come great pride. There is no place for prideful arrogance in the SEAL teams or the civilian leader. Prideful arrogance is a sure fire way to lose the loyalty of those who will respect your position but not you. Those lead by the prideful leader will not give their best efforts but just enough to keep their job or get the task at hand completed. Humble leaders a.k.a "Servant Leaders" put the needs of others ahead of themselves, they pour into and develop those around them, investing into their people, investing into their loyalty. When you have their loyalty they will give you their all. They will run into a hail of bullets if you asked them to. That is literally the type of loyalty my platoon had for our servant leader "Chief." When the fellas were called to advance forward into an ambush that we were on the wrong end of, there was no hesitation as that command came from Chief.

-We demand discipline. Those who demand discipline must demonstrate that discipline themselves. It comes down to habits. Often times when one thinks about habits they think of bad habits but good habits can be developed in a similar fashion. The civilian leader must display discipline before he can honestly expect those around him to be disciplined themselves. I had the personal privilege of being led by such a SEAL leader: Scott Helvenston. He demonstrated discipline as: the youngest man to make it through SEAL training at 17 years old, world champion pentathlete, fastest SEAL on the training obstacle course and much more. Scott's example inspired me to obtain the discipline he demanded of me; ultimately leading to my successful completion of the military's most grueling SEAL training.

-Shoot, move and communicate. Putting it all together is what SEALs do best. The right vision, uncommon desire to succeed, humble and loyal warriors that demand and demonstrate discipline…those principles are the very foundation to good communication. Such a leader can communicate and expect those around him to listen and run with it- not because they have to but because the want to. It was our ability. That's loyalty!

-Ability to control emotions and actions regardless of the circumstances. The absolute worst circumstances a soldier can get thrown into is a premeditated ambush. That is exactly where my platoon found itself on our last operation in Iraq. It started with Chief and trickled down to each combatant, a calm and cool collectedness that enabled each man to do what he does best –in our case, use deadly force– keeping us safe in the moment and getting us back to safety at the end of the night.

One of the final lines in our SEAL creed reads like this, "In the worst of conditions, the legacy of my teammates steadies my resolve and silently guides my every deed." Never forget that freedom isn't free but paid for in the blood of warriors on the battlefield like U.S. Navy SEAL Mike Monsoor who smothered a grenade, absorbing the blast upon himself to save the lives of his teammates. "Greater love has no one than this, than to lay down one's life for his friends." My mentor Scott Helvenston sacrificed his life for the love of his country and desire to help the helpless.

That is the legacy of teammates like Scott, Mikey and may the legacy warriors like them steady your resolve and silently guide your every deed to accomplish goals that are only made possible by the blood sacrifice of those that are willing to lay it all down for us!

Freedom Isn't Free




Chad Williams, former US Navy Seal and author of SEAL of God, shares his personal experiences of SEAL bravery. Chad communicates the power of sacrifice and leadership through the story of his experiences.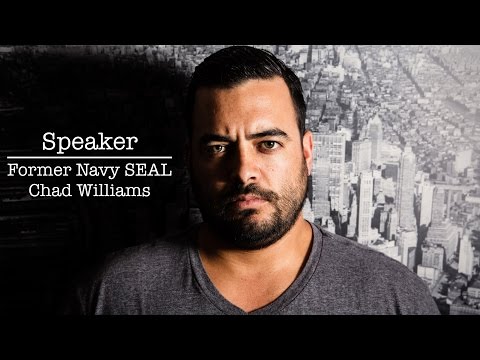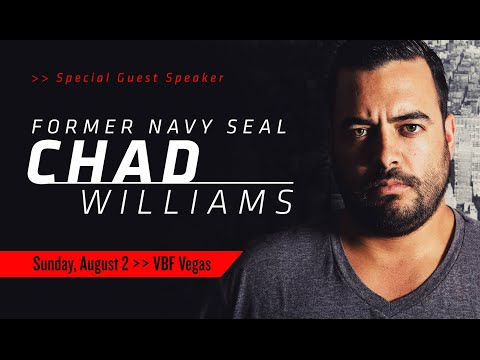 What factors influence the speaker's fee?
Other factors that influence a keynote speaker's fee include their reputation, expertise, demand, experience, duration of the presentation, travel requirements for the event location, and any additional services, activities or customization options they offer.
Are travel expenses included in the speaker's fee?
Travel expenses are typically not included in the listed speaker's fee and are quoted separately. If the speaker needs to travel internationally, fees will be higher. These expenses may include airfare, accommodation, ground transportation at home and in the event city, and meals. We can provide more detailed information about travel expenses and arrangements once you've selected a speaker.
How do I book Chad Williams for my event?
The speaker booking process typically involves the following steps:
Browse our website or reach out to a Key Speakers advisor through our website to explore speaker ideas.
Select a keynote speaker based on their expertise, experience, and suitability for your event.
Contact Key Speakers to confirm the speaker's availability, fees, and any unique requirements. We can also help negotiate fees and terms.
Submit a firm offer to extend the invite to your speaker. These details will be used to create an agreement once the speaker accepts.
All parties coordinate and finalize the terms of the booking, including contract terms and conditions.
Confirm the booking by signing the contract and making the necessary payments.
What types of events do keynote speakers typically speak at?
Keynote speakers can speak at a wide range of events, virtual or in person, including conferences, corporate meetings, industry conventions, seminars, workshops, fundraising galas, educational programs, and other special occasions where an inspirational or informative address is desired.
How do I select the right keynote speaker for my event?
When selecting a keynote speaker, consider the following factors:
The speaker's expertise and knowledge relevant to your event's theme or industry.
Their speaking style, ability to engage the audience, and deliver impactful messages.
Past client testimonials, reviews, or references.
The speaker's availability and fee within your budget.
What are the payment terms and conditions?
A deposit is required upon signing the contract, with the remaining balance due 2–4 weeks before the event. If the event is taking place within 30 days, the full balance is due upon signing.
How far in advance should I book a keynote speaker?
It is generally advisable to book a keynote speaker as early as possible, especially if you have a specific speaker in mind or if your event is during a peak season holiday. Ideally, booking a speaker three to six months in advance can increase the chances of securing your desired speaker.
Can you help me with the logistics and technical requirements for the speaker's presentation?
Yes, we can assist you with the logistics and technical requirements for the speaker's presentation. We stay actively involved during pre-event planning to coordinate with you and ensure that the necessary audiovisual equipment, staging, lighting, and other technical aspects are in place for a successful presentation.
Are there any special requirements or accommodations that need to be considered for the speaker?
Keynote speakers may have specific requirements or accommodations that need to be considered, such as travel arrangements, accommodation preferences, dietary restrictions, or accessibility needs. Some speakers have a performance rider we include in the contract, others have minimal requirements.
Do keynote speakers offer customization options for their presentations?
Yes, many keynote speakers offer customization options for their presentations. They can tailor their content, examples, or case studies to align with your event's theme, industry, or specific audience. Discuss your customization needs with us so we can guide you accordingly.
Can the speaker participate in pre-event activities such as panel discussions or Q&A sessions?
Some keynote speakers are open to participating in pre-event activities such as panel discussions, Q&A sessions, or meet-and-greet sessions. Please share your specific requirements with us during the firm offer phase, so we can work on getting you everything you need.
How long is a typical keynote speech?
The duration of a standard keynote speech can vary depending on the speaker and the event's schedule. Typically, keynote speeches range from 30 minutes to 90 minutes, including any Q&A sessions or interactive elements. Some speakers can accommodate half or full day sessions and extended keynotes. Discuss the desired duration with your representative to determine the appropriate length for participation.
Can I provide feedback or reviews about the speaker's performance?
Yes, we encourage and appreciate feedback about the speaker's performance as well as our services. You can share your feedback via email after the event, or via our survey feedback form. Your feedback can help them improve our services and assist other clients in making informed decisions.
Are there any discounts or special offers available for booking multiple speakers or multiple events?
Often, yes. It's worth inquiring about such possibilities with your Key Speakers representative to explore any available cost-savings options.
Why book Chad Williams though Key Speakers?
We provide a comprehensive service that takes the guesswork out of hiring a speaker—from speaker selection to logistics to post-event feedback. We know you have lots of responsibilities on top of finding and coordinating event speakers, so having a committed and proactive partner on your side that is an expert with the talent booking process is crucial. Every time you book a speaker with Key, your dedicated events manager will support you throughout the entire planning process. We work closely with you from speaker selection to post-event success and always ensure that your needs are addressed first.
We help you negotiate contractual details such as speaker fees and travel terms so that you end up with the most favorable deal. Leave the fine print to us so you can focus on other aspects of your event. Key Speakers mediates and absorbs some of the contractual risks that inherently come with booking a keynote speaker.
With our highly communicative booking and proposal model, you'll never be left in the dark with the status of your speaker. We pride ourselves on speedy response time and always keep you updated on all new developments relating to your event. Our experienced agents are personable (after our morning coffee!) and always eager to do whatever it takes to secure a fantastic speaker for your event.
To put it simply, Key Speakers is your one-stop resource for finding, booking and managing speakers for your event. We do the heavy lifting for you. Our dedicated and knowledgeable advisors ensure that your speaker's message and personal brand perfectly align to your event objectives.
Remember that the specific details and offerings may vary among different speakers, so it's always recommended to consult with your Key Speakers representative for accurate information and assistance.
Speaker Fee Range:
Travels From:
California
Related Categories:
Request Chad Williams
Connect with us to learn more about booking this speaker for your event.