Speaker Fee Range:
$15,000–$25,000
*Ranges are a guideline only, with the low end representing the speaker's virtual fee and the high end representing their in-person fee. Fees are subject to change. Contact us for an exact quote.
Travels From:
Minnesota
Related Categories:
Jack Uldrich
Global Futurist, Scholar and Best-Selling Author
Jack Uldrich is a well­-recognized global futurist, speaker, and author of eleven books, including a number of award-winning best sellers. He is a frequent speaker on technology, change management and leadership and has addressed hundreds of corporations, associations and not-for-profit organizations on five continents. He regularly makes television appearances on the Science Channel's FutureScape program and the Discovery Channel show Inside Out, and is a frequent guest on major media outlets, including CNN, CNBC and National Public Radio.
Jack is also an ongoing contributor on emerging technologies and future trends for a number of publications, including The Wall Street Journal, Forbes, Wired Magazine and BusinessWeek.
Jack is a former naval intelligence officer and Defense Department official. He previously served as…
The Great Reset: The Emergin Age of Reimagination and Renewal - and Generation RE


A great reset is now upon us. Less obvious is the reality that the world was quietly being reset prior to the pandemic. The rules of business were being rewritten by an extraordinary cadre of leaders, enterprises, and organizations willing to rethink long-held assumptions, reinvent products and processes, and reestablish new and innovative ways to re-engage with both their employees and the wider world. These leaders are at the vanguard Generation RE--an ageless cohort of change agents working to recreate the world anew. In this refreshing, entertaining, and insightful keynote presentation, global futurist and best-selling author Jack Uldrich shares key insights from his forthcoming book, The Rise of Generation RE (Greenleaf Books 2022). He also explains how leaders can embrace and leverage the principles of "Generation RE" in order to reframe problems into opportunities, restore communities and our natural world, reconnect with employees and customers at a deeper, more meaningful level, and reimagine a better, bolder and more beautiful future.



Business as Unusual: How to Future-Proof Your Business in Transformational Times




The pandemic has catapulted the world into a future of deep change. In this engaging, provocative, and insightful keynote session acclaimed global futurist and best-selling author Jack Uldrich will not only discuss how COVID is transforming the world of tomorrow, he explains why it is accelerating many of the trends that were already at work prior to the epidemic. History reminds us that great crises produce great change – as well as great opportunities. To take advantage of these extraordinary opportunities, leaders must position their businesses to operate in a world where "business as unusual" is the new "usual." This session will help people develop ten "unconventional" leadership techniques needed to succeed in today's–and tomorrow's–transformational times.

Quick Thoughts on Our Post-COVID-19 World




As a futurist, Jack has been asked by a number of media outlets and popular podcasts to offer some of his early thoughts on the emerging post-CoVid19 world. As a way to jumpstart your thinking, he will present various trends, encouraging his audiences to begin pondering what some of the current developments might mean to you and your business.

The Future Requires Unlearning


The pace of technological change is accelerating and today's organizations are living in a world where "constant change is the only constant." New advances in biotechnology, nanotechnology, and information technology are bringing forth exciting and unexpected discoveries every day, while the expansive and growing power of the Internet, social networking and the open-source movement are fueling the fires which threaten to consume much of today's existing business landscape. Life-long learning will obviously be more essential than ever in this chaotic and churning environment; but often lost in this new emerging reality of exponential change is the fact that before an organization can seize tomorrow's opportunities it must first unlearn old, obsolete knowledge as well as unlearn the old ways of doing business. In this fascinating, informative, entertaining, interactive, and enlightening presentation, noted global futurist and best-selling author, Jack Uldrich—who has been hailed by BusinessWeek as "America's Chief Unlearning Officer"—not only explains why unlearning is a critical skill for a company or an organization's employees, but also demonstrates how unlearning can help:

•Successfully navigate a future where the pace of scientific and technological knowledge is doubling every seven years;
•Prepare for competition that doesn't yet exist; and
•Seize opportunities which are, today, only on the periphery of their imagination.

How to Think Like a Futurist


The average lifespan of a Fortune 1000 company is 15 years–and dropping. Why is this happening? Primarily, it's because companies are so focused on the present, they fail to appreciate how the world of tomorrow is changing. Smart companies hire futurists to survive. Wise companies learn how to think like a futurist and instill a "future mindset" throughout their organization.

In this interactive, engaging and educational seminar, best-selling author and renowned global futurist Jack Uldrich will instruct you and your team on how to "think like a futurist" and "future-proof" your organization in the process.

Specifically, you will:
•Understand the trends transforming the world of tomorrow and learn how to become aware of what is coming next before your competitors;
•Develop an appreciation for both why humility is critical in navigating the uncharted waters of tomorrow and why unlearning will be as important as learning in the future;
•Learn how to take action in the face of uncertainty, ambiguity, and rapidly changing conditions;
•Most importantly, you will adopt the mindset and acquire the tools to begin creating the future yourself.


Vuja De: A Futurist Takes a Backwards Stroll into the World of Tomorrow


"The perfect keynote for any company, organization or association celebrating a major anniversary".

Winston Churchill once said, "The farther back one can look, the farther ahead one can see." He was right. And what better time for any organization to look into the future than when celebrating 25, 50 or 100 years of success?

Global futurist and best-selling author Jack Uldrich has the unique ability to use yesterday's history lessons as a prism for helping his clients and his audiences understand how the world of tomorrow will be transformed. He has created dozens of customized keynote presentations for centennial celebrations as well as diamond, golden and silver anniversaries. From organizations as diverse as the Casualty Actuarial Society and Stiles Machinery to the Cleveland Community College and the International Card Manufacturers Association, Jack always leaves his audiences proud of their rich tradition and past accomplishments but poised to confidently create their new future. Find out how he can do the same for your organization or company.

Foresight is 20/20


The next decade is less than a handful of years away. What might the world of 2020 like look like? How will you and your business have changed? More importantly, how will you and your organization need to change? The answer, in two short words, is: a lot!

Consider this: Six years ago Facebook, YouTube, Twitter, Smartphones and cloud computing were all still in their infancy, and Uber, "The Internet of Things," and the "sharing economy" didn't yet exist. Now, fast forward a few years into the future and try to comprehend how accelerating advances in cognitive computing, artificial intelligence, mobile web video communications, virtual and augmented reality, social media, robotics, gaming dynamics, renewable energies, "Big Data", cyber-security advances and, quite possibly, quantum computing will continue to drive seismic change and deliver paradigm-shattering transformation to nearly every facet of society. It's not easy.

In this engaging and entertaining keynote presentation based on his book (Foresight 20/20: A Futurist Explores the Trends Transforming Tomorrow), globally renowned futurist and best-selling author Jack Uldrich takes the guess-work out of understanding the near future by providing an in-depth exploration of how 10 technological trends will transform the world of 2020.


The Big "Aha"


In the near future, the greatest change will be the accelerating rate of change itself. In this enlightening, entertaining and educational session, Jack shares insights from his book, Business as Unusual: How to Future-Proof Yourself Against Tomorrow's Transformational Trends, Today. He outlines the ten trends that will transform the world of tomorrow. Jack also identifies concrete actions businesses can take today to future-proof themselves against "the tides of tomorrow."


How the Internet of Things Will Open Up a Future of Opportunity




By 2020, it is estimated that 50 billion physical objects will be connected to the Internet. What does this mean for your business? In a word, everything. The "Internet of Things" is poised to radically transform customer behavior, business models and the nature of business itself. In this powerful keynote session, Jack will not only explain the Internet of Everything, he will help participants understand how they can prepare today in order to prosper tomorrow.

Question the Future!




Today, the greatest change is the rate of change itself. Put another way, society is transitioning to a period of constant transition. The net effect is that "answers" about the future are decreasing in value. This reality is, paradoxically, placing greater emphasis on the need to ask better questions. In this thought-provoking but practical presentation, global futurist and best-selling author Jack Uldrich shares with his audience how the art and science of framing and asking better questions cannot only help individuals and organizations survive tomorrow's rapidly changing environment but thrive by providing the key insights necessary for confidently creating their own future.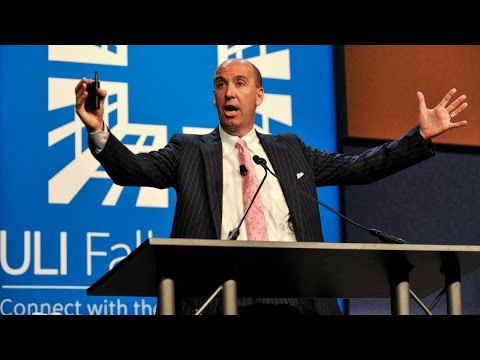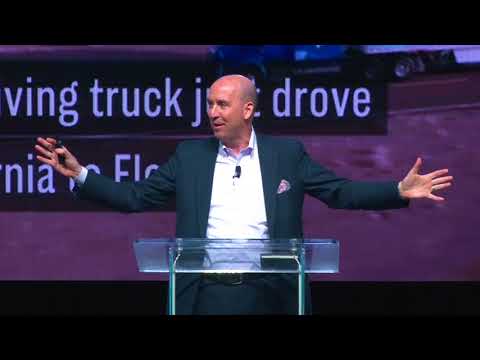 What is Jack Uldrich's speaking fee?
The typical range for Jack Uldrich's speaking fee is $15,000–$25,000. The low end of the fee range represents their standard virtual fee. The high end of the fee range represents their standard fee for a US-based in-person speaking engagement. Appearances which require an extended schedule of activities or international travel will possibly exceed this fee range. Speaker fees update frequently. To receive a personalized quote for Jack Uldrich to speak at your event, please consult with a Key Speakers advisor for up to date information and assistance.
What factors influence the speaker's fee?
Other factors that influence a keynote speaker's fee include their reputation, expertise, demand, experience, duration of the presentation, travel requirements for the event location, and any additional services, activities or customization options they offer.
Are travel expenses included in the speaker's fee?
Travel expenses are typically not included in the listed speaker's fee and are quoted separately. If the speaker needs to travel internationally, fees will be higher. These expenses may include airfare, accommodation, ground transportation at home and in the event city, and meals. We can provide more detailed information about travel expenses and arrangements once you've selected a speaker.
How do I book Jack Uldrich for my event?
The speaker booking process typically involves the following steps:
Browse our website or reach out to a Key Speakers advisor through our website to explore speaker ideas.
Select a keynote speaker based on their expertise, experience, and suitability for your event.
Contact Key Speakers to confirm the speaker's availability, fees, and any unique requirements. We can also help negotiate fees and terms.
Submit a firm offer to extend the invite to your speaker. These details will be used to create an agreement once the speaker accepts.
All parties coordinate and finalize the terms of the booking, including contract terms and conditions.
Confirm the booking by signing the contract and making the necessary payments.
What types of events do keynote speakers typically speak at?
Keynote speakers can speak at a wide range of events, virtual or in person, including conferences, corporate meetings, industry conventions, seminars, workshops, fundraising galas, educational programs, and other special occasions where an inspirational or informative address is desired.
How do I select the right keynote speaker for my event?
When selecting a keynote speaker, consider the following factors:
The speaker's expertise and knowledge relevant to your event's theme or industry.
Their speaking style, ability to engage the audience, and deliver impactful messages.
Past client testimonials, reviews, or references.
The speaker's availability and fee within your budget.
What are the payment terms and conditions?
A deposit is required upon signing the contract, with the remaining balance due 2–4 weeks before the event. If the event is taking place within 30 days, the full balance is due upon signing.
How far in advance should I book a keynote speaker?
It is generally advisable to book a keynote speaker as early as possible, especially if you have a specific speaker in mind or if your event is during a peak season holiday. Ideally, booking a speaker three to six months in advance can increase the chances of securing your desired speaker.
Can you help me with the logistics and technical requirements for the speaker's presentation?
Yes, we can assist you with the logistics and technical requirements for the speaker's presentation. We stay actively involved during pre-event planning to coordinate with you and ensure that the necessary audiovisual equipment, staging, lighting, and other technical aspects are in place for a successful presentation.
Are there any special requirements or accommodations that need to be considered for the speaker?
Keynote speakers may have specific requirements or accommodations that need to be considered, such as travel arrangements, accommodation preferences, dietary restrictions, or accessibility needs. Some speakers have a performance rider we include in the contract, others have minimal requirements.
Do keynote speakers offer customization options for their presentations?
Yes, many keynote speakers offer customization options for their presentations. They can tailor their content, examples, or case studies to align with your event's theme, industry, or specific audience. Discuss your customization needs with us so we can guide you accordingly.
Can the speaker participate in pre-event activities such as panel discussions or Q&A sessions?
Some keynote speakers are open to participating in pre-event activities such as panel discussions, Q&A sessions, or meet-and-greet sessions. Please share your specific requirements with us during the firm offer phase, so we can work on getting you everything you need.
How long is a typical keynote speech?
The duration of a standard keynote speech can vary depending on the speaker and the event's schedule. Typically, keynote speeches range from 30 minutes to 90 minutes, including any Q&A sessions or interactive elements. Some speakers can accommodate half or full day sessions and extended keynotes. Discuss the desired duration with your representative to determine the appropriate length for participation.
Can I provide feedback or reviews about the speaker's performance?
Yes, we encourage and appreciate feedback about the speaker's performance as well as our services. You can share your feedback via email after the event, or via our survey feedback form. Your feedback can help them improve our services and assist other clients in making informed decisions.
Are there any discounts or special offers available for booking multiple speakers or multiple events?
Often, yes. It's worth inquiring about such possibilities with your Key Speakers representative to explore any available cost-savings options.
Why book Jack Uldrich though Key Speakers?
We provide a comprehensive service that takes the guesswork out of hiring a speaker—from speaker selection to logistics to post-event feedback. We know you have lots of responsibilities on top of finding and coordinating event speakers, so having a committed and proactive partner on your side that is an expert with the talent booking process is crucial. Every time you book a speaker with Key, your dedicated events manager will support you throughout the entire planning process. We work closely with you from speaker selection to post-event success and always ensure that your needs are addressed first.
We help you negotiate contractual details such as speaker fees and travel terms so that you end up with the most favorable deal. Leave the fine print to us so you can focus on other aspects of your event. Key Speakers mediates and absorbs some of the contractual risks that inherently come with booking a keynote speaker.
With our highly communicative booking and proposal model, you'll never be left in the dark with the status of your speaker. We pride ourselves on speedy response time and always keep you updated on all new developments relating to your event. Our experienced agents are personable (after our morning coffee!) and always eager to do whatever it takes to secure a fantastic speaker for your event.
To put it simply, Key Speakers is your one-stop resource for finding, booking and managing speakers for your event. We do the heavy lifting for you. Our dedicated and knowledgeable advisors ensure that your speaker's message and personal brand perfectly align to your event objectives.
Remember that the specific details and offerings may vary among different speakers, so it's always recommended to consult with your Key Speakers representative for accurate information and assistance.
Speaker Fee Range:
$15,000–$25,000
*Ranges are a guideline only, with the low end representing the speaker's virtual fee and the high end representing their in-person fee. Fees are subject to change. Contact us for an exact quote.
Travels From:
Minnesota
Related Categories:
Request Jack Uldrich
Connect with us to learn more about booking this speaker for your event.