Speaker Fee Range:
Travels From:
Colorado
Related Categories:
Peter Zeihan
Futurist, Geopolitical Strategist; Global Energy, Demographic and Security Expert.
Peter Zeihan is a geopolitical strategist, which is a fancy way of saying he helps people understand how the world works. Peter combines an expert understanding of demography, economics, energy, politics, technology, and security to help clients best prepare for an uncertain future.
Over the course of his career, Peter has worked for the US State Department in Australia, the DC think tank community, and helped develop the analytical models for Stratfor, one of the world's premier private intelligence companies. Peter founded his own firm — Zeihan on Geopolitics — in 2012 in order to provide a select group of clients with direct, custom analytical products. Today those clients represent a vast array of sectors including energy majors, financial institutions, business associations, agricultural interests, universities and the U.S. military.
Peter is a critically acclaimed author whose books — The Accidental Superpower and The Absent Superpower — have been…
Global Perspective on the Covid Crisis




Peter Zeihan presents on a wide range of topics that hit on the ways various industries and countries are adapting – or not – to the Covid crisis and what we can expect next.

At The Edge of Disorder




The concept of countries being able to buy and sell their wares openly on the international marketplace is inviolable. The freedom to sail one's products around the world is a given. Everything from the transfer of money to the accessibility of energy is sacrosanct. Yet all this and more is artificial: an unintended — if happy — side effect of the American-led global Order. With that Order in its final days, all countries and all industries must learn to operate in a world as unstructured as it is dangerous. Join us as Peter Zeihan lays out how we got to where we are, and what the future holds for sectors as diverse as energy, agriculture, finance, manufacturing and transport.

The American Age




Americans think of themselves as set apart from the rest of the world, and to a certain degree they are correct. But it is not that Americans are 'better' or 'more free' that makes them different, instead that they enjoy supreme geographic positioning and favorable demography — something that is not currently enjoyed by any other major power. Played as little as twenty years forward, this will result in an American-dominated international system with all of the economic and strategic benefits that such implies. But it is a very different world from the one we now know.

The End of the World... And Other Opportunities




Conflicts Russian, Middle Eastern and Asian are about to trigger the greatest energy crisis in history. Dozens of countries are slipping into deflationary spirals from which there is little hope of escape. And America's swerving into demagogic populism will unhinge its entire alliance network. The world as we know it is in its final days. Find out how and why it all came to be, how and why it is all falling apart. But most of all find out how the world's end heralds the greatest expansion in American power and security in the history of the Republic.

The New Middle East




For decades the Middle East has been trapped in a simple, irresistible tension: the world needs the region's oil, so the global superpower keeps the region locked in place. Within a very few short years that lock will be removed, and the region's politics will unravel explosively. What comes next will challenge every country in the region — many to the breaking point.

A World Without China




Three pillars support modern China's success: global trade, internal political unity, and easy money. With those three pillars, China has managed to shake 2000 years of war and occupation and remake itself as one of the world's most powerful countries. Yet none of these three pillars can stand without American assistance, and that cooperation is ending. China's "inevitable" rise isn't simply over, it is about to go into screeching, unrelenting, dismembering reverse. But that's hardly the end of history. When a country falls — particularly the world's top manufacturing power — the ripples affect countries and industries near and far. Learn who benefits and who loses in a world without China.

The Shale Revolution




The advent of the shale era is remaking the American energy complex. The combination of at-home investment and a lower need for Middle Eastern involvement frees up considerable American resources. The result will be a different sort of American economy, a different sort of American diplomacy, and a different role for the United States on the global stage.

Supersize Me: The Future of Global Energy




The global energy sector is as complicated and opaque as it is omnipresent and essential, and it has adapted to not simply the changes in the global economic system, but the global political system. Countries that were weak to nonexistent in ages past now are major players in global energy markets, both as producers and consumers. The system that has allowed this evolution now is under fire, and soon the stability that has enabled the energy sector to create its global webwork will end. What will follow will be a world both more chaotic and poorer, one in which the process of finding, producing, transporting and refining energy will simply be beyond the military and financial capacity of most players. Only the largest, smartest and richest entities will be able to maintain – much less expand – their networks. Far from its final days, the era of the supermajor has not yet begun.

No Assembly Required: The Future of Global Manufacturing




The world of manufacturing is an endlessly specialized venture, with most manufacturers sourcing components from scores of facilities across a dozen or more countries. But what if the ability to sail components from site to site became compromised? What if capital availability proves insufficient to update industrial bases as technology evolves? What if intermediate and end markets become less desirable – or less accessible? All that and more is about to happen, which signals the end of manufacturing as we know it. The successful manufacturers of the future will be those who can command access to raw materials, capital, labor and markets – all in the same location.

Amber Waves of (American) Grain: The Future of Global Agriculture




Modern agricultural patterns are the result of three largely unrelated factors: low-risk global trade, insatiable Asian demand, and unlimited cheap credit. Within the next five years, all three of these trends will not just evaporate, but invert. When that happens, the only thing that will hurt more than the gradual loss of demand will be the sudden collapse of supply. However, none of this impacts the American producer – it therefore will be the United States that will reap the benefits of its productivity and stability for decades to come.

The End of Europe




Five recessions in nine years. A litany of debt debacles. Ossified institutions incapable of change. Rising populism. Refugee floods. Russians growling at the border. And that's the good news. Despite a decade of crisis none of Europe's problems have had their root causes addressed, and now time is simply up. Everything that makes modern, wealthy, cosmopolitan, democratic Europe possible is breaking apart, and the Europeans are about to lose far more than "merely" a decade. Discover what makes Europe tick, what is tearing it down, and most of all, what is next.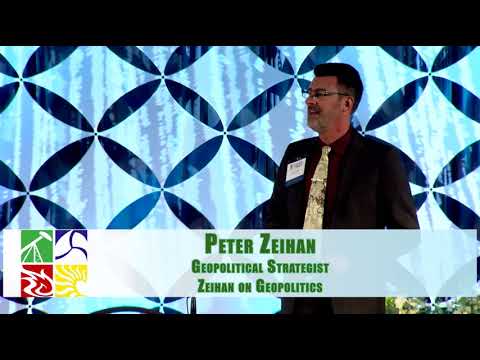 What factors influence the speaker's fee?
Other factors that influence a keynote speaker's fee include their reputation, expertise, demand, experience, duration of the presentation, travel requirements for the event location, and any additional services, activities or customization options they offer.
Are travel expenses included in the speaker's fee?
Travel expenses are typically not included in the listed speaker's fee and are quoted separately. If the speaker needs to travel internationally, fees will be higher. These expenses may include airfare, accommodation, ground transportation at home and in the event city, and meals. We can provide more detailed information about travel expenses and arrangements once you've selected a speaker.
How do I book Peter Zeihan for my event?
The speaker booking process typically involves the following steps:
Browse our website or reach out to a Key Speakers advisor through our website to explore speaker ideas.
Select a keynote speaker based on their expertise, experience, and suitability for your event.
Contact Key Speakers to confirm the speaker's availability, fees, and any unique requirements. We can also help negotiate fees and terms.
Submit a firm offer to extend the invite to your speaker. These details will be used to create an agreement once the speaker accepts.
All parties coordinate and finalize the terms of the booking, including contract terms and conditions.
Confirm the booking by signing the contract and making the necessary payments.
What types of events do keynote speakers typically speak at?
Keynote speakers can speak at a wide range of events, virtual or in person, including conferences, corporate meetings, industry conventions, seminars, workshops, fundraising galas, educational programs, and other special occasions where an inspirational or informative address is desired.
How do I select the right keynote speaker for my event?
When selecting a keynote speaker, consider the following factors:
The speaker's expertise and knowledge relevant to your event's theme or industry.
Their speaking style, ability to engage the audience, and deliver impactful messages.
Past client testimonials, reviews, or references.
The speaker's availability and fee within your budget.
What are the payment terms and conditions?
A deposit is required upon signing the contract, with the remaining balance due 2–4 weeks before the event. If the event is taking place within 30 days, the full balance is due upon signing.
How far in advance should I book a keynote speaker?
It is generally advisable to book a keynote speaker as early as possible, especially if you have a specific speaker in mind or if your event is during a peak season holiday. Ideally, booking a speaker three to six months in advance can increase the chances of securing your desired speaker.
Can you help me with the logistics and technical requirements for the speaker's presentation?
Yes, we can assist you with the logistics and technical requirements for the speaker's presentation. We stay actively involved during pre-event planning to coordinate with you and ensure that the necessary audiovisual equipment, staging, lighting, and other technical aspects are in place for a successful presentation.
Are there any special requirements or accommodations that need to be considered for the speaker?
Keynote speakers may have specific requirements or accommodations that need to be considered, such as travel arrangements, accommodation preferences, dietary restrictions, or accessibility needs. Some speakers have a performance rider we include in the contract, others have minimal requirements.
Do keynote speakers offer customization options for their presentations?
Yes, many keynote speakers offer customization options for their presentations. They can tailor their content, examples, or case studies to align with your event's theme, industry, or specific audience. Discuss your customization needs with us so we can guide you accordingly.
Can the speaker participate in pre-event activities such as panel discussions or Q&A sessions?
Some keynote speakers are open to participating in pre-event activities such as panel discussions, Q&A sessions, or meet-and-greet sessions. Please share your specific requirements with us during the firm offer phase, so we can work on getting you everything you need.
How long is a typical keynote speech?
The duration of a standard keynote speech can vary depending on the speaker and the event's schedule. Typically, keynote speeches range from 30 minutes to 90 minutes, including any Q&A sessions or interactive elements. Some speakers can accommodate half or full day sessions and extended keynotes. Discuss the desired duration with your representative to determine the appropriate length for participation.
Can I provide feedback or reviews about the speaker's performance?
Yes, we encourage and appreciate feedback about the speaker's performance as well as our services. You can share your feedback via email after the event, or via our survey feedback form. Your feedback can help them improve our services and assist other clients in making informed decisions.
Are there any discounts or special offers available for booking multiple speakers or multiple events?
Often, yes. It's worth inquiring about such possibilities with your Key Speakers representative to explore any available cost-savings options.
Why book Peter Zeihan though Key Speakers?
We provide a comprehensive service that takes the guesswork out of hiring a speaker—from speaker selection to logistics to post-event feedback. We know you have lots of responsibilities on top of finding and coordinating event speakers, so having a committed and proactive partner on your side that is an expert with the talent booking process is crucial. Every time you book a speaker with Key, your dedicated events manager will support you throughout the entire planning process. We work closely with you from speaker selection to post-event success and always ensure that your needs are addressed first.
We help you negotiate contractual details such as speaker fees and travel terms so that you end up with the most favorable deal. Leave the fine print to us so you can focus on other aspects of your event. Key Speakers mediates and absorbs some of the contractual risks that inherently come with booking a keynote speaker.
With our highly communicative booking and proposal model, you'll never be left in the dark with the status of your speaker. We pride ourselves on speedy response time and always keep you updated on all new developments relating to your event. Our experienced agents are personable (after our morning coffee!) and always eager to do whatever it takes to secure a fantastic speaker for your event.
To put it simply, Key Speakers is your one-stop resource for finding, booking and managing speakers for your event. We do the heavy lifting for you. Our dedicated and knowledgeable advisors ensure that your speaker's message and personal brand perfectly align to your event objectives.
Remember that the specific details and offerings may vary among different speakers, so it's always recommended to consult with your Key Speakers representative for accurate information and assistance.
Speaker Fee Range:
Travels From:
Colorado
Related Categories:
Request Peter Zeihan
Connect with us to learn more about booking this speaker for your event.